"It was an amazing event and it was a blow to lose it. Free outdoor events that give people access to the arts are a rarity,"

By Noah Schaffer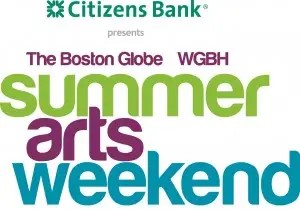 The Summer Arts Weekend is no more.
For the past four years, the Boston Globe and WGBH have co-sponsored the free multiday festival, which brought an eclectic roster of live performers to Copley Square Park.
It's quiet demise was mentioned during an interview with Georgia Lyman, the artistic director of another free event, Outside the Box, which returns next month from July 13 to 17. (Lyman's full interview with the Arts Fuse).
"It was an amazing event and it was a blow to lose it. Free outdoor events that give people access to the arts are a rarity," said Lyman. (The Globe is on board as an OTB sponsor this year.)
The 2015 edition included Emmylou Harris and Rodney Crowell, Bettye LaVette, the Handel and Haydn Society, and a Blue Man Group drumoff. Besides live performances, the event featured exhibits and offers from a variety of local arts organizations.
We've reached out to the Globe and WGBH for comment. This is the response from Ellen London, WGBH's Media Relations Manager:
The Summer Arts Weekend was an exciting undertaking and we were pleased to be part of creating it at a time when there were no other events like it in the city. Unfortunately, we simply didn't have the resources to continue it. But, of course, the arts constitute a central part of the WGBH mission and we remain committed to providing meaningful programming to engage our community in the arts locally and beyond.
The move comes as the Boston Globe's arts coverage has continued to shrink. The paper no longer runs a daily arts section, and neither of its two recently-departed pop music critics have been replaced. The Arts Fuse's Jonathan Blumhofer (here) and Bill Marx (here) have commented on this fade out of arts coverage at the Boston Globe.
Back in 2012, Marx wrote about the curtailment of arts programming at WGBH while, at the same time, the station sponsored the initial Summer Arts Weekend.