Alan Brody's play is a pleasant valentine, and it will likely find a life in regional and community theaters.
The Midvale High School Fiftieth Reunion by Alan Brody. Directed by Lee Mikeska Gardner. Choreography by Marlena Yanetti and Felton Sparks. Scenic design by Steven Royal. Costume design by Chelsea Kerl. Lighting design by John Malinowski. Sound design by Nathan Leigh. Staged by The Nora Theatre Company at the Central Square Theatre, Massachusetts Avenue, Cambridge, MA, through July 2.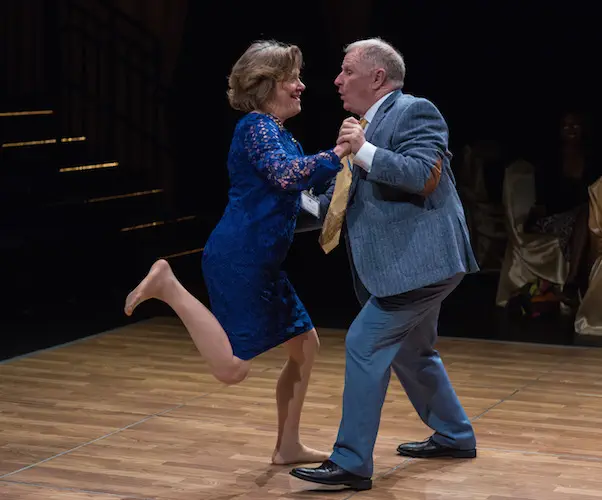 By David Greenham
Early in Alan Brody's The Midvale High School Fiftieth Reunion, Bettina Belknap (Debra Wise) explains that "memories are just stories we tell ourselves about the past in the present." Conveniently, she is an accomplished neuroscientist and has been researching how our memories work. She's also a 1954 graduate of Midvale High, where she has returned to see how her memories of being the most intelligent student in school have fared half a century later. After several unsuccessful and strained encounters, she meets Tom Terres (Gordon Clapp), an independent bookstore owner from a college town in Maine, who is also a writer. Tom has also had a variety of uneasy encounters with former classmates.
In the opening few moments of the play, Brody arranges to have his character experience the kind of discomfort that most anyone would feel at the beginning of a high school reunion. For those of us who graduated pre-Facebook, high school graduation was usually the last time we saw (or learned much about) most of our classmates. Now we have the mixed blessings of social media, so we can have keep up with close friends from high school (or at least pretend to), even if we still never see them.
Bettina and Tom don't seem to know very many people at their reunion. Tom was acquainted with Bettina because she was the most popular and smartest girl in the school. He was the archetypal quiet guy, the one who didn't have many friends. Eventually, of course, the invisible reunion attendees fade out of focus, and Bettina and Tom strike up a conversation.
Brody, a MIT professor and successful playwright, dramatizes Bettina and Tom's budding friendship with ease. There are the awkward exchanges of safe information and a discussion of memory and the brain, thanks to Bettina's career path. Slowly, the walls of protective insecurity fall away. Brody goes deeper into the past, through the use of a series of flashbacks, conveyed via actors Matthew Zahzinger and Sarah Elizabeth Bedard, who play a variety of roles. Both Bettina and Tom were married; she lost her husband to cancer, and his wife left him because he was too focused on his books. Bettina's first sexual encounter occurred in high school biology: Tom's young bookstore employee confessed her crush on him. The most compelling of these flashbacks takes place between Bettina and an academic advisor who refused to give her a scholarship because of the fear that she'd most likely get married and have kids instead of pursue a career in neuroscience. Her anger at that decision remains fresh.
Each time the play jumps back to the present we've learned more about these two strangers, people who share little else then their experience at Midvale High. Predictably, new possibilities bloom. "This reunion might be a little trickier than we thought," they agree. Tom confesses he's a successful writer who uses a pen name. It turns out that Bettina loves the series of books he has written. But they don't linger on this connection or any topic for very long. As the evening (90 minutes) winds to a conclusion, Bettina and Tom agree to participate in the dance competition. The story ends there. Or could it be that it really begins? The message seems to be that memories are important, but the present and the future is where living really takes place.
Wise and Clapp carry the load of The Midvale High School Fiftieth Reunion, and they are muscular lifters — together,  they are charming and generous.
Wise, the Artistic Director of Underground Railway Theater, is familiar (as is director Mikeska Gardner) with Central Square Theater's rectangular thrust stage, and that know-how is crucial. You have to know how to move in this space, which is both intimate and too large at the same time. It is not easy.
Wise's Bettina is full of energy, and her directness is given a strong edge that it would be fun to see expanded upon. In the scene where the character deals with the sexist academic advisor, for instance, Wise stands her ground without resorting to whining or an even more clichéd response. She's disgusted by the short-sighteness yet somehow dignified because it gives her a good chance to respond.
Clapp, a veteran television and stage actor, is possibly a little too endearing as Tom. His claims of being a wallflower are at odds with his impish grin and warmth. Clapp is comfortable and funny, though there are times when the actors seems to be wandering about in the space. When he's with Wise, the two of them make for a very sweet couple. During a moment of emotional connection, the large room seems smaller.
As the gaggle of supporting characters, Bedard and Zahnzinger are quite capable and crisp, though sometimes to the point of being a little abrupt. But that probably has more to do with the telegraphic approach of the play than with the actors or direction.
Brody's script is a pleasant valentine, and it will likely find a life in regional and community theaters. Still, the premise sometimes comes off as forced, and the playwright clings to its feel-good superficiality too tenaciously. The flashback memories are unconnected to each other and somewhat detached from the characters. They are personal and private vignettes shared with us — the irony is that we seem know more about Bettina and Tom (as individuals) than they do about each other. Presumably, of course, the flashbacks are stories that they're sharing with each other; but there's little in the text to support that idea.
Mikeska Gardner directs this world premiere production with agreeable swiftness. Except for the flashback scenes, the actors never sit or slow down. The production seems to have more energy than the play's 68 year olds might be able to drum up. It would have been nice, from time to time, for Tom and Bettina to sit and breathe and take in the warmly surprising evening. Ironically, a good portion of Steven Royal's set design is seats. At either end of the stage there are available chairs and tables. It would have been fascinating to see what would happen if audience members were seated at tables around the action, with the iconic tiny cup of butter mints and helium balloon centerpieces. This is a script that calls for the intimacy of a black box space; it would be of interest to see a staging that made more of that.
When the dance competition begins, we're pretty sure how it will end — there's only one duo dancing. But it's fun to sit back and watch the protagonists float around the room on their way to a future.
I live in Maine, so when Tom announced that he was an independent bookstore owner in a college town, I wondered where that could be. I very much doubt that playwright Brody had this in mind, but there is a bookstore owner/writer in Maine who fits Tom's description. Gary Lawless owns Gulf of Maine Books, in Brunswick, home to Bowdoin College. Gary probably is about the same age as Tom; he is also an accomplished writer – a poet. He and Brody share a similar idea about our memories and the way dancing might lead to intriguing possibilities. Lawless' poem "Which World" concludes:
You begin to dance and
nothing else matters,
the words start to come,
and we can't stop laughing.
It's a lovely thought, and thanks to Wise and Clapp you'll most likely leave The Midvale High School Fiftieth Reunion with a smile on your face and a spring in your step.
---
David Greenham is an adjunct professor of Drama at the University of Maine at Augusta, and is the Program Director for the Holocaust and Human Rights Center of Maine. He spent 14 years leading the Theater at Monmouth, and has been a theater artist and arts administrator in Maine for more than 25 years.