Sara Baume's sophomore novel insists that we rethink the value of empathy: depend on it, yes, but also be suspicious.
A Line Made by Walking by Sara Baume. Houghton Mifflin, 320 pages, $25.
By Lucas Spiro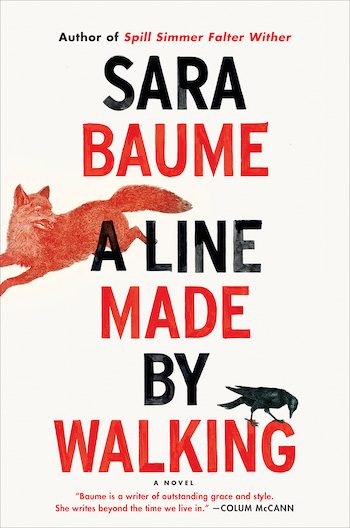 Empathy is the rage, but it isn't always easy. Trying to sympathize with another's suffering can often backfire; a good book challenges our understanding of what it takes to be compassionate, to listen. In real life this is difficult enough, particularly when dealing with those afflicted with mental illness, ennui, or — and I hesitate to use the phrase — millennial angst. Sara (Spill Simmer Falter Wither) Baume's sophomore novel, A Line Made by Walking, insists that we rethink the value of empathy: depend on it, yes, but also be suspicious. The narrative's problematic protagonist is Frankie: she is twenty-five, done with art school, and having a difficult time with the fact that she exists. After a breakdown, she retreats to her recently deceased grandmother's empty bungalow in the Irish countryside to either "get better or die altogether."
The plot deftly switches back and forth between present and past tense. Frankie's life in her grannie's house (soon to be sold) is filled with poignant experiences of her coming across traces of her grandmother's life, cycling around, drinking too much, and shouting at the banalities of Irish TV. She starts a photo series of dead animals that she finds along the way — a rat, a fox, a robin. Chapter titles take the names of animals she photographs, demarcating the story by way of the objects decaying around her, the lens through which she views her world.
The rest of A Line Made By Walking is filled with episodes from Frankie's childhood and glimpses of her troubled adjustment to urban life in Dublin. She reflects on the foundations of her youth and how easily air-brushed illusions — the promises of parents, schools, and Walt Disney — disintegrate when faced with the challenges of adult, workaday life. She is particularly hobbled by the idea that she is decidedly not a genius, disappointed by the mediocrity of her artistic pursuits. She admires a work by an artist who captures the reality of "The despair of trying to think something which has never been thought before…"
As we learn more about Frankie, it become clear that her agony is deep-seeded, her current crisis the latest manifestation of an endemic depression. Baume's elegant and brilliant style sustains our interest in the sparse narrative. This is a portrait of a young woman raging against despair that manages to be convincing and heartfelt. Baume does not draw Frankie as melodramatic, or extravagantly sentimental, which makes her tolerable, and worthy of compassion. Some of the writing here is pure poetry: "I dabble in the shallows of sleep, listening to the rain-murmur, the turbine's beat." Baume crafts the story with such lyrical, precise, imagistic prose — and maintains such an enchanting rhythm — that we can't help but identify with Frankie's suffering.
Throughout the novel, Frankie "tests" herself by thinking about art (usually from conceptual artists) that comments, at times critically, on her emotional, and psychological responses to her environment. "Works about Flight, I test myself," "Works about Sea, I test myself"; she considers works by Richard Long, Yves Klein, and Bas Jan Ader. Frankie possesses an impressive encyclopedic knowledge of art yet, ironically enough, by exercising her intellect she ends up making her depression all the more severe. Clearly, she is talented and capable, but in the time that she has left home she admits she "never once successfully used a washing machine." It's in the living that she falters, in the doing.
"What about her privilege?" some will ask. Not all of us have dead grannies with bungalows in the country where we can wallow in despair about how real life isn't as it should be. Frankie might strike some readers as yet another version of Jude from 2015's A Little Life, devastated and tortured to the point of irritation. Undoubtedly, many will find Frankie's voice insufferable, selfish, irrationally cynical. All of this is true, to a point. Were it not for Baume's accurate rendering of intense, long-lasting bouts of mental illness, and her stylistic aptitude, we wouldn't care. In an interview with the The Guardian, Baume herself confessed that, after losing her own father and re-reading her book, she hated Frankie's voice. Of course, that doesn't make the book any less authentic.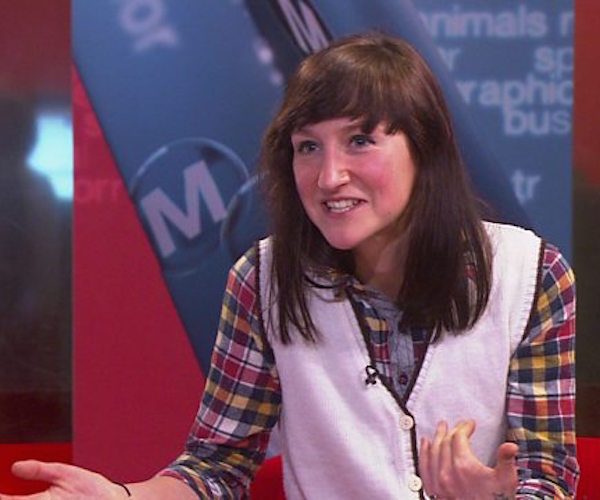 We might hate her, too, especially older readers. But Frankie is also funny and believable. When she books a hair appointment in order to cover up the lie she told her mother about making it, Frankie has trouble shirking the responsibility of whipping up small talk with the shop's employee: "I am running out of different ways to rephrase refusal," she thinks, "I feel like such a disappointment to my hairdresser." She then gets honest, which most people might find mean: "Don't you ever get sick of asking all that stuff?" After she's done in the chair, Frankie thinks her haircut is "a good little piece of revenge for my conversational insubordination."
"Conversational insubordination," and much else of Frankie's behavior, can be seen as examples of performance art. Frankie has many ideas about the nature of art. Art is absolute and indefinable, is found in everything, "is every inexplicable thing." It is also manipulative, intrusive, and appropriative. She listens to the radio constantly; her deadpan descriptions of what is considered to be news (often obscure tragedies) take on an absurd, comic tone  redolent of conceptual art. None of the stories she hears ever come to satisfying conclusions. She is convinced progress is an illusion, a cycle of leaving and returning to the same place. And, in a way, the novel takes on this quality too. Baume eschews resolution by resisting a linear plot; instead, she focuses on the nooks and crannies of character. Frankie can't succeed because there is nothing worth accomplishing; she can only try to survive.
Baume's book takes its place within a recognizable Anglo-Irish literary tradition. Frankie embodies a familiar Beckettian figure: she can't go on, but must go on in order to "fail better." The way Baume's imagery  plucks objects from the Irish landscape and puts them in a striking new context draws on the hallowed tradition of Yeats, Heaney, and McGahern. Paralyzed by artistic ambition, Frankie mirrors Joyce's Stephen Dedalus. And Frankie's taking up residence at her grandmother's house reimagines the classic narrative of being lost in the 'big house.' With A Line Made by Walking, Baume has firmly established herself in Irish letters, a "portrait of the artist" that paints a compellingly millennial picture.
---
Lucas Spiro is a writer living outside Boston. He studied Irish literature at Trinity College Dublin and his fiction has appeared in the Watermark. Generally, he despairs. Occassionally, he is joyous.