Apollinaire Theatre Company has done delightful justice to this zesty rejuvenation of a didactic dramatic chestnut.
Everyman by Carol Ann Duffy. Directed by Danielle Fauteux Jacques. Presented by Apollinaire Theatre Company at the Chelsea Theatre Works, Chelsea MA, through May 6.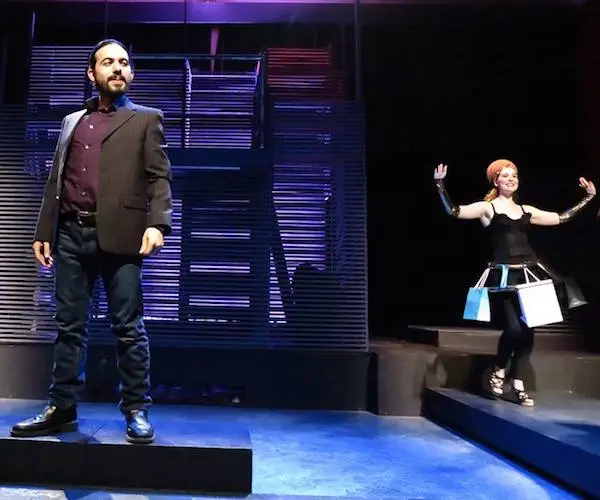 By Ian Thal
God (a wonderfully bombastic Ann Carpenter) is the cleaning woman at a dance club, mopping up the puke and used condoms off the floor at the end of a night's debauchery. Humanity — once again — has disappointed Her.
On the dance floor, Everyman (Armando Rivera) is celebrating his birthday with his friends and occasional lovers. He is very successful in business, and obscene profit means that he's ready (and able) to pay for everyone else's good time, which calls for lots of booze and cocaine. After emptying his liquid dinner into a bucket, he steps up to the roof to fill his lungs with fresh air and take a piss. He is met by one of God's minions, Death (a charismatic Julee Antonellis), who informs Everyman that he must ready himself to present his soul to his Creator. She has sufficient supernatural strut to convince this secular Everyman that the cosmological stakes are very real.
Carol Ann Duffy's Everyman is, of course, an adaptation the fifteenth century English morality play. While the name of its original author (or authors) is unknown, many scholars believe the text is a line-for-line translation of the Dutch play Elckerlijc, which is generally attributed to Peter van Deist. Dame Carol Ann Duffy, the current Poet Laureate of the UK, has adroitly updated the original – her own verses are woven seamlessly around the original poetry. And, though it maintains the script's roots in Catholicism, her version embraces a liberal ecumenical vision that expresses concern for the lives of Jews and Muslims as well as LGBT people. Duffy's Everyman concerns itself with twenty-first century manifestations of the seven deadly sins – but her proletarian Supreme Being suggests some creative deconstruction: God is usually seen as a King of Kings.
At the core of this Everyman is his ego, made up of equal parts vanity and insecurity. Everyman ("Ev" as his friends and family call him) isn't a villain painted in broad strokes. His determination to succeed in business is an expression of the spiritual failings of the age. His fallen nature is rooted in superficiality: virtues and vices are bought, sold or are simply the means to purchase and consume commodities. His friends and lovers have never known him to have a spiritual life; he has been dedicated to a hedonistic pursuit of sex, buzz, blow, and money, more money, and even more money. Everyman's idea of lovemaking is more about technique than affection; his generosity is strictly a product of his cash flow. Once he comes back to the club and asks who will stand by his immortal soul, his peeps think he's gone quite mad. The birthday party is over.
His family members are also surprised by his cosmic awakening. His mother (Mariela Lopez-Ponce), who is dependent on an oxygen tank to breathe, is elated; his father (Evelyn Holley), who suffers from dementia, communicates chiefly through strangely relevant quotations; his sister (Charlotte Kinder), who takes care of both parents, is immensely suspicious.
It looks as if Everyman must face God's judgement alone, but he figures that his round-up of worldly goods must count for something. The parade of gaudy goodies, fit for the lifestyles of the rich and famous, is one of the production's highlights: it is a world of luxury items modeled by a chorus made up of Kinder, Lopez-Ponce, Emily Edström, and Micaela Kluver The scene amusingly bridges the gap between the spiritual concerns of the late middle ages and the over-the-top bling of today's hyper-consumerism. No matter how many gifts Everyman has bought, no matter what debts he has settled, and no matter how many carbon offsets he has purchased – he cannot buy salvation. The sin of unfettered consumerism is not just dragging down Everyman, but the world's population. His ability to buy whatever he wants when he wants it has contributed to all forms of environmental destruction, whether it be polluted waters, or poisoned air, or global warming. The result is the creation of a tsunami that threatens those of the Abrahamic faiths (sorry Hindus, sorry Buddhists, sorry Jains).
Duffy's revisionist theology isn't about spiritual redemption by way of a renunciation of the material world, the ascetic impulse behind the original. Her target is the crass, unbounded materialism that drives our consumer culture. Everyman's redemption comes when he confronts his mortality and the fleetingness of time. Then he embraces a healthy sensuality and the strengths of community: the connection between humans and nature and the bonds of the human family.
Just as Duffy thematically updates the subject matter, she also modernizes the poetry. She sticks largely with rhyming verse, often choosing to quote or echo the original text. Still, she also incorporates a variety of meters, sometimes drawing on the exotic rhythms of rap, free verse, and skeltonics. Interestingly, Duffy gave director Danielle Fauteux Jacques permission to adapt the script further to reflect the production's New England setting (many of the pop-culture references in Duffy's text were specific not just to Britain, but to Yorkshire.) The dramaturgy also gets an update: what was once a preachy work that instructed Catholics how to get to heaven now incorporates concepts from both naturalistic and epic drama.
Jacques' direction is as nervily ambitious as Duffy's revamped cosmological vision. In fact, when illuminated by Christopher Bocchiaro's superb lighting design, the staging's striking discotheque setting (designed in collaboration with Marc Poirier) is a more effective use of the "theatrical night club" concept than anything I've ever seen at the American Repertory Theater's Club Oberon in Cambridge.
Costume designer Susan Paino has her work cut out for her, given that the cast members go through multiple costume changes. Her most jaw-dropping contribution: the costumes concocted for the worldly goods chorus: its members sport skirts made of neckties and their shopping bags are emblazoned with boutique brands, the signs of secular grace. Other accessories include corsets, bustiers, and flashy sunglasses.
Composers Lee Schuna and Dan Whitelock share musical duties; between them they cover the stylistic gamut called for here. Whitelock creates gorgeous vocal arrangements, while Schuna crafts a soundscape of worldly despair.
Antonellis plays Death as a stone butch dandy, complete with an Elvis Presley pompadour and lip curl. Her glam rock swagger is so potent that she steals every scene she's in. Antonellis' expert way with physical movement is especially valuable given that she is also the production's choreographer, in charge of Everyman's mortal conga line — from disco to worldly goods to final dissolution.
Rivera manages to strike the right balance for Everyman; not so smarmy as to become irredeemably unsympathetic, but flawed enough to suggest that the threat to his mortal soul is very real. The rest of the cast carry the narrative with spirited aplomb and artistry, taking on a number of roles as Everyman's journey rolls toward eternity. Apollinaire Theatre Company has done delightful justice to Duffy's zesty rejuvenation of a didactic dramatic chestnut.
---
Ian Thal is a playwright, performer, and theater educator specializing in mime, commedia dell'arte, and puppetry, and has been known to act on Boston area stages from time to time, sometimes with Teatro delle Maschere. He has performed his one-man show, Arlecchino Am Ravenous, in numerous venues in Massachusetts and Rhode Island. One of his as-of-yet unproduced full-length plays was picketed by a Hamas supporter during a staged reading. He is looking for a home for his latest play, The Conversos of Venice, which is a thematic deconstruction of Shakespeare's The Merchant of Venice. Formerly the community editor at The Jewish Advocate, he blogs irregularly at the unimaginatively entitled The Journals of Ian Thal, and writes the "Nothing But Trouble" column for The Clyde Fitch Report