Sometimes, it seems, new music isn't really new and old music isn't actually old; the best of it exists on some other plane entirely.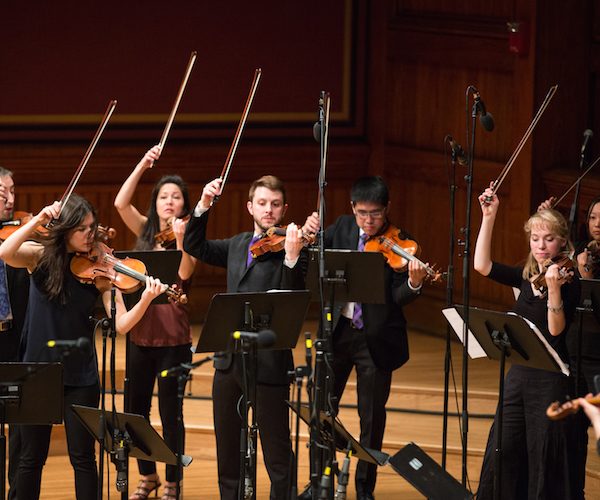 By Jonathan Blumhofer
If nothing else (and it did do a few other things), the Celebrity Series-presented concert of the vocal ensemble Roomful of Teeth and the string orchestra A Far Cry at Sanders Theater on Thursday night blew up the myth that new music is some sort of monolithic, inexpressive entity. Of course, if you spend any time listening to a broad cross-section of music from any era, you know that already. But it seems to be a point that can't be made enough, especially when it comes to contemporary music by young composers.
Take the music of Ted Hearne, which filled out the concert's first half. On the one hand, it's thoroughly of the present day, drawing on everything from the extended instrumental techniques of the avant-garde to sampling and electronic music. It leaps in all sorts of directions, often rather unpredictably and, with some frequency, takes as its subject contemporary events and/or issues. And Hearne seems to have embraced Ligeti's dictum that virtuosity need not be just for show but can offer deep intellectual and expressive rewards.
At the same time, both pieces of his heard on Thursday – excerpts from Law of Mosaics and Coloring Book – draw heavily, either through allusion or direct quotation, on familiar works and/or genres. The three movements from Law of Mosaics, for instance, ran the gamut from snatches of Bach ("Palindrome for Andrew Norman") to references to hip-hop ("Beats") to pulsing Minimalism ("Excerpts from the middle of something").
The whole piece is a showcase for the Criers (Hearne wrote it for them in 2014) and it plays to their strengths stylistically, technically, and dramatically. Thursday's performance was (unsurprisingly) brilliantly performed, as much a show of flying bows and vigorous, full-body string playing as it was musically intriguing.
That said, the whole piece as presented Thursday came over a bit ambiguous, expressively. The long "Palindrome" movement, a clever remix of Bach, Beethoven, Mahler, Kanye West, and others is a brilliant technical achievement but perhaps not much more. And the good-natured "Excerpts from the middle of something" makes for a genial opening to the piece but, by itself, doesn't dig too deeply, emotionally. It was the coda to "Beats" that proved most affecting: an unexpectedly reflective turn after three minutes of driving, pulsing rhythmic tattoos suggesting that all isn't quite what it seems.
The evening's other Hearne score, three movements Roomful of Teeth sang from Coloring Book, was a very different matter. A piece "addressing the idea of identity" as it relates to the experience of black Americans over the last century, there's a certain in-built incongruity to it: Hearne is, after all, white. Roomful of Teeth is majority Caucasian. So was Thursday's audience.
But Hearne's music, from the early Katrina Ballads to his most recent Sound from the Bench, rarely shies away from contradictions or thematic difficulties. So it is with Coloring Book, which has drawn music from him of real depth and complexity. The three movements heard on Thursday featured echoes of gospel music and the blues (Zora Neal Hurston's "The game of keeping"), furiously swinging pseudo-scat (Claudia Rankine's "You are not the guy), and pure hymn-like colors (Hurston's "Letter to my father").
It was sung on Thursday with dazzling precision by Roomful of Teeth. Hearne, who's a member of the group, pushes them to their limits, with music of pungent harmonic complexity, intricate counterpoint, and no-let-up of energy. They (and he – Hearne had a prominent solo at the beginning of "You are not the guy") did the piece proud.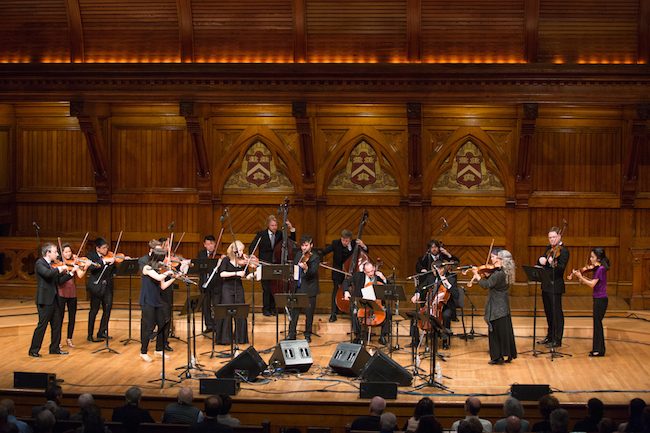 Along with Hearne, the ensemble's other most-celebrated composer-member is Caroline Shaw, who won the Pulitzer Prize for music in 2013 for her Partita. And if any recent Pulitzer has been more-than justified by subsequent pieces, its hers. Shaw's music straddles any number of fine lines very well but, most of all, it's fresh, thoughtful, inviting, and endlessly creative.
It also abounds in personality. The two movements from Partita that Roomful of Teeth sang on Thursday (the Sarabande and Courante) gleefully demonstrated this: when was the last time you saw members of a vocal ensemble almost breaking out in laughter during a performance (as these guys nearly seemed to at the raw, nasal climax of the Sarabande)? Perhaps there was some residue left over from the piece that preceded it, Rinde Eckert's yodeling-inspired Cesca's View, but the fact remains that Shaw writes music that clearly revels in joy.
And it plumbs significant depths, too. Music in Common Time, her self-styled meditation on the passage of time that closed Thursday's concert, is plenty exuberant, with constantly-shifting textures and various vocal and instrumental extended techniques. Yet it turns, at the end, after a short pause, into something profoundly touching with a simple, repeated refrain; vocal block chords; and subdued string arpeggios.
Most remarkable of all, she's managed to find a way to write music that is clearly connected to but never tied down by what's come before it. There's a lack of pretense to her craft that is rare to encounter and can be tricky, from a compositional angle, to achieve. Thursday's audience got some sense of this by the juxtaposition of Music in Common Time with Shaw's arrangement of Josquin de Prez's Nymphes des bois. The latter, with its pure lyricism and clean textures, sang with the same directness and immediacy of Shaw's other works on the program. Sometimes, it seems, new music isn't really new and old music isn't actually old; the best of it exists on some other plane entirely.
---
Jonathan Blumhofer is a composer and violist who has been active in the greater Boston area since 2004. His music has received numerous awards and been performed by various ensembles, including the American Composers Orchestra, Kiev Philharmonic, Camerata Chicago, Xanthos Ensemble, and Juventas New Music Group. Since receiving his doctorate from Boston University in 2010, Jon has taught at Clark University, Worcester Polytechnic Institute, and online for the University of Phoenix, in addition to writing music criticism for the Worcester Telegram & Gazette.