Wakka Wakka's puppetry skills are highly impressive, its staging inventive and undeniably entertaining.
Made in China, written and performed by Wakka Wakka. A co-production with Nordland Visual Theatre and the Hopkins Center for the Arts at Dartmouth College at Moore Theater, Hopkins Center for the Arts, Dartmouth College, 2 W. Wheelock St., Hanover, March 31 and April 1.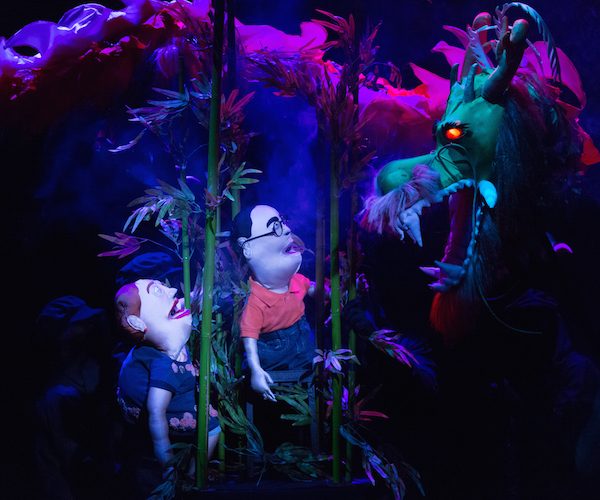 By Susan B. Apel
Wakka Wakka's Made In China is a visual carnival filled with puppets who are meant to both charm and alarm. The giant panda that peers around a scrim at audience members as they take their seats is an example of the show's cuddliness. But, once the pace picks up during the opening scenes, the story takes a more satiric turn: various other less huggable puppets — including a flying toilet plunger, a telephone, and a gun — begin dancing, singing, and occasionally screeching out a story of love, consumerism, and human rights abuses in China.
Made in China is fresh from its off-Broadway run and making its way through New England venues. It played at the Hopkins Center at Dartmouth College last weekend, a homecoming of sorts. Wakka Wakka created the piece in New York City, Connecticut, Norway, China — and in Hanover, New Hampshire. In March of 2015, Dartmouth offered the Obie award-winning company its first residency to develop the show. Yan Li, author of the show's music and lyrics, remarked in a post-production discussion that he wrote one of the major numbers, "Innovation," in the Hopkins Center garage.
The premise of the narrative may seem contrived, but it is based on a true story. Our anti-heroine is Mary, a lonely, 56-year old American woman with a loyal dog for a companion. She is the kind of whiny, grumpy neighbor you hope never moves next door. Her unflinchingly sardonic conversations with herself are amusing — she's witty, and her laughter, sometimes self-deprecatory, helps make her sympathetic despite her perpetual grumbling.
The plot: Mary goes on a shopping spree for holiday decorations and returns home to find, inside a box of Xmas ornaments, a letter written in English and Chinese. Its author claims to be a worker in a Chinese labor camp and begs that whoever reads the note contact human rights organizations in the United States and complain about the camp's deplorable conditions. Is this cry for help a hoax? Mary takes the letter and her question to Eddie, her Chinese neighbor who, coincidentally, is also canine-companioned, middle-aged, and lonely.
Made in China then takes a turn into dramatic (and at times comic) surrealism. My advice is to get into children's book mode and accept the implausible. Mary and Eddie are sucked headfirst into Mary's toilet and end up on a karst-like mountain in China, after which they are delivered to Beijing. Mary, in her clueless American style, mouths off to the Chinese police. As a result, she and Eddie end up in a Chinese labor camp. They bicker, but sweetly, like in old Hepburn-Tracy movies, which is how you know they are destined to fall in love.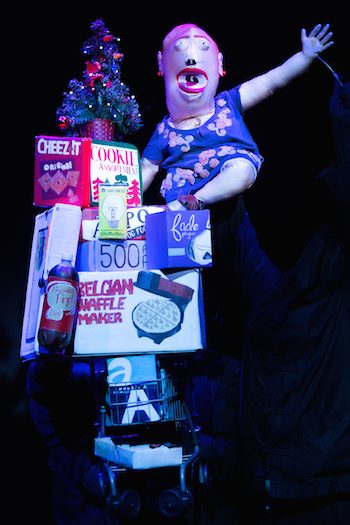 Over 30 puppets are used in this production, voiced and mobilized by a number of puppeteers, black-shrouded performers who blend nimbly into the background, adroitly manipulating, with dizzying speed and impeccable timing, the props and scenery. They build a fantastical world that includes Mary's refrigerator, a supermarket that magically appears in seconds, a sinuous dragon, and that all important toilet portal. Their skill at recreating the micro-movements of physical gestures is dazzling: lumpy Mary and Eddie become in-depth human characters. (Avenue Q was ballyhooed for its unclothed puppets, but this is the first time — at least for me — that a show's promotional material includes a warning about puppet nudity.) The inevitable sex scene isn't much, but Mary's catching Eddie with no pants on makes for an endearing episode; it highlights his fragility and her developing warmth. Toward the end of Made in China, Mary's voice even begins to modulate away from its earlier characteristic screech.
If the love story, quirky as it is, satisfies, the political criticism isn't as filling. The important issues raised in the show (American consumerism, slave labor in China, among others) are as disturbing as they are challenging; it is wishful thinking to believe that they can be tackled in a ninety minute entertainment. One's acceptance of the simplified line of moral attack in Made in China will probably depend on your tolerance for political critique that scratches the surface. Condemnation of authoritarianism and its business supporters about the world is not upfront. The show is more about raising questions than rousing the audience to support what are sure to be difficult answers. In this sense, the closing musical number is revealingly ambiguous — either hopeful or naive, depending on your point of view.
Still, it is well worth keeping an eye on Wakka Wakka. The company's puppetry skills are highly impressive, its staging inventive and undeniably entertaining. Now the troupe has to work harder on sharpening up its political messaging.
---
Susan B. Apel is a writer and law professor whose creative nonfiction and poetry has appeared in Vine Leaves Literary Journal, Best of Vine Leaves 2015, Rhizomes, The Vignette Review, Woven Tale Press, Bloodroot, and the Fredericksburg Literary and Art Review. Her blog, ArtfulEdge, in which she writes about arts in the Upper Connecticut River Valley, appears regularly on the dailyUV.com. She is also a contributor to the newspaper, Vermont Woman. She lives in Lebanon, NH.