The Red Turtle is a poem to individual visual artistry and not to the anonymous machinery of technology.
The Red Turtle directed by Michaël Dudok de Wit. Screening at the Kendall Square Cinema, Cambridge, MA, and the Landmark Embassy Cinema, Waltham, MA.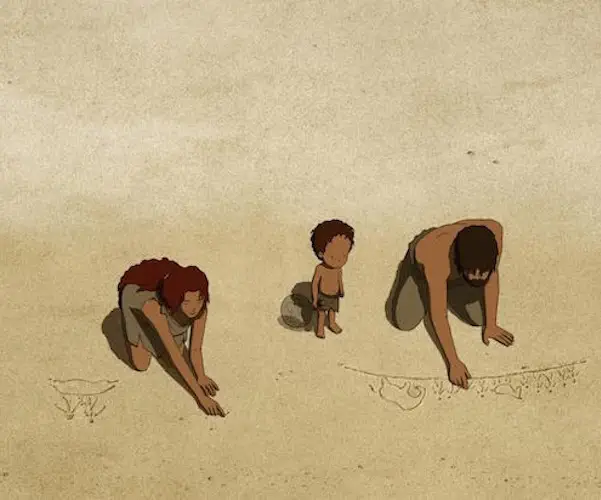 By Gerald Peary
Am I a little less enamored of The Red Turtle than other critics because I'm not than crazy about animation features? That could be. Though I gobbled up Disney features as a kid, that's along time ago. As an adult, I've avoided such heralded treats as The Lion King or Pocahontas. I'm just not interested, nor, indeed, in most animation films which are released. There are exceptions over the years. I do adore The Triplets of Belleville, Toy Story 2, and two ingenious rotoscoped works, Richard Linklater's Waking Life and this year's The Tower. In general, though, I prefer movies with live actors to drawn ones.
Anyway, here's The Red Turtle, which arrives in Boston with pedigreed credentials (its nominated for an Oscar, Best Animated Feature Film of the Year). It's a final film out of Tokyo's revered Studio Ghibli, where the legendary Hayao Miyazaki, now retired, made Spirited Away and other beloved animated works. How curious for this Studio to put its prestigious stamp on a first feature film by a Dutch filmmaker, Michaël Dudok de Wit, to be made not in Japan but in France. It must be obvious in his short works that he's a singular talent.
Actually, he is. The Red Turtle is beautifully, brilliantly rendered and storyboarded by Dudok de Wit the old-fashioned way: real line drawings, backgrounds charcoaled on paper, and his enchanted beach settings coming from his time contemplating the austere environment on the Seychelles Island near Madagascar. There is limited use of CGI and Photoshop, but basically The Red Turtle is a poem to individual visual artistry and not to the anonymous machinery of technology.
I like that, in the European vein, The Red Turtle begins mid-action, with no explanation anywhere how our why our hero, let's call him The Man, got dropped into the sea, and now he swims desperately to an island before him. He gets to the island, but how will he survive and perhaps get off it? He's Robinson Crusoe without a name, a literary voice, a backstory. The Man only grunts and squawks, mostly in frustration at his failures to escape. (Does a "Hey!" at minute 52 count as real speaking, in this 80-minute film?)
The best part of The Red Turtle is it's gripping first thirty minutes. The Man Alone. There's a truly frightful scene in which, standing on high, he slips down rocks into a pool of water far below without any possibility to climb out of there or swim away. There's a lovely moment of gentle surrealism when The Man is convinced he sees a string quartet in periwigs on their chairs playing away in the sand beside the ocean. At minute 24, when The Man has floated to sea in a raft, the titular Red Turtle makes a startling appearance in the water, as large as a Minotaur, and bent on havoc.
At minute 32, The Red Turtle becomes, I think, a lesser movie. I can't explain how it happens, but A Woman enters the picture. I guess it's the eternal boy in me–yuck! girls!—but it's a downer having her mermaid-like presence about. She's not Robinson Crusoe's delightful cannibal, Friday. And there's more bad news: a child, a cherub, arrives and The Red Turtle gets cutesy and sentimental. Also, Act Two lags, runs out of story.
Improbable Act Three: Enter Pursued by a Tsunami. (Though the very ending is OK, subdued and philosophical.)
---
Gerald Peary is a retired film studies professor at Suffolk University, Boston, curator of the Boston University Cinematheque, and the general editor of the "Conversations with Filmmakers" series from the University Press of Mississippi. A critic for the late Boston Phoenix, he is the author of nine books on cinema, writer-director of the documentaries For the Love of Movies: the Story of American Film Criticism and Archie's Betty, and a featured actor in the 2013 independent narrative Computer Chess.