Years (or would that be decades?) ago, editors had the self-respect to be embarrassed by critical incompetence, perhaps because there was the assumption that knowledgeable people were reading the paper. Those discriminating readers are long gone from the marginalized arts section of The Boston Globe . . .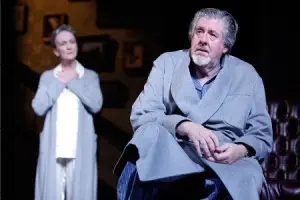 By Bill Marx
I haven't seen the Yale Repertory Theatre's production of Edward Albee's 1966 play A Delicate Balance, so it may be as "cheerless" and "sometimes airless" as Don Aucoin, The Boston Globe theater critic, proclaims it to be in his review. But given the myopia of his comments, I have my doubts. I love the play (it is my personal favorite among Albee's dramas), and Aucoin's evaluation borders on nonsense. It is not only that he obviously doesn't understand the script, but he can't articulate his objections above the wit and whimsy of an eighth grader.
As Aucoin makes it clear, "a laugh riot Balance ain't" (Why would anyone think A Delicate Balance was a laugh riot? Are any of Albee's plays knee slappers?) But his review is good for a few laughs, as least to anybody who knows something about the play and theater.
So what is A Delicate Balance about, according to Aucoin, who is disappointed there are no big laughs?
"The playwright was trying to dramatize spiritual emptiness, dread, and disconnection . . . But Balance remains an exercise rather than a drama in which ideas are made flesh. It's never made clear what the stakes are for the unhappy family at its center, or for us in the audience. From the play's beginning to its end, the main characters don't move a whole lot, psychologically speaking."
Albee explores the fear of the unknown, but the play dramatizes the attempts, from the pathetic to the quasi-heroic, to resist encroaching oblivion. Death takes on a malignant, magical quality in this play—some scratch at it, others embrace it. I have no idea what "ideas made flesh" means—is it a theatrical form of voodoo? Albee makes the stakes for the dysfunctional family abundantly clear—survival, the desperate struggle to maintain a secure sense of a home. What in the world would the stakes be for the audience? Are we placing bets on Albee's characters? Rooting against non-being? And as for moving "a whole lot, psychologically speaking," that childlike assumption was passé in the late 19th century. God knows what Aucoin will do with Beckett—in Endgame the dramatist fails to get the old folks out of those trash cans, psychologically speaking.
It is also arrogant that Aucoin writes off A Delicate Balance after seeing only one production—he mentions the film version starring Katherine Hepburn, praising her performance as a model (Hey, it must be good, it's on film!) when it is really a misbegotten stab at turning Albee's character into a monster. For those who had the privilege of sitting through the superb 1996 Tony-Award-winning revival of the play in New York—with a dream cast that included Rosemary Harris, George Grizzard, Elaine Stritch, and Mary Beth Hurt, under the direction of Gerald Gutierrez—the uncanny power of this play, its indelibly delicate portrait of American suburban angst, was evident. I heard the production of A Delicate Balance at the Berkshire Theatre Festival this summer was extremely good, another testament to the play's enduring strengths.
Anyone who has seen these or other first-rate Albee productions will scoff at Aucoin's generalization that "no one comes to an Edward Albee play looking for uplift . . ." Well, I do—illumination and vision are exhilarating. I suspect others do as well. Granted, you don't go to Albee for "fun," the fashionable requirement for theater these days— supposedly smart, but that is negotiable.
I could go on, but there is not much analysis in the piece—most of the review is plot, aside from adjectives tossed like bones at the performers and plenty of bad writing ("unhinged surreality"—do you know of any sane surreality?)
I thought that Aucoin was chosen to be a safe placeholder for the Globe—the serious, respectable critics are retained for the arts that pull in advertising and media attention, such as movies and classical music, while for theater, dance, jazz, etc., the equivalent of the bedazzled cub reporter, kicked up from the ink-stained ranks, will do, supplying blurbs and huzzahs as in the days of yore. The goal is to plug in somebody that knows enough and does no harm, keeping the box offices humming.
But years (or would that be decades?) ago, editors had enough professional self-respect to be embarrassed by critical incompetence, perhaps because there was the assumption that knowledgeable people were reading the paper. Those discriminating readers are long gone from the marginalized Arts section of the Globe, so the editorial honchos figure that they can get away with a critic who doesn't know his Aeschylus from his Albee.
---
Bill Marx is the editor-in-chief of The Arts Fuse. For over three decades, he has written about arts and culture for print, broadcast, and online. He has regularly reviewed theater for National Public Radio Station WBUR and The Boston Globe. He created and edited WBUR Online Arts, a cultural webzine that in 2004 won an Online Journalism Award for Specialty Journalism. In 2007 he created The Arts Fuse, an online magazine dedicated to covering arts and culture in Boston and throughout New England.