BMOP releases a fitting, moving tribute to a giant of contemporary music, taken from us far too soon, while Johannes Moser turns in a sweeping performance of Elgar's beautiful, nostalgic Cello Concerto.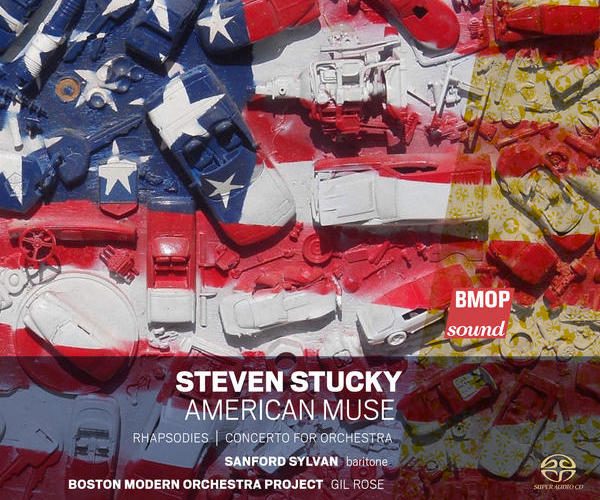 By Jonathan Blumhofer
One of the bitterest losses of 2016 was the sudden death of Steven Stucky, a widely admired and much loved composer (and teacher) who succumbed last February to a battle with brain cancer. He left behind a singular catalogue, one that's marked by a brilliant handling of instruments, a latent understanding of drama, and a powerful sense of harmonic progression. All of these qualities – and then some – are demonstrated on American Muse, the 50th release from the Boston Modern Orchestra Project's (BMOP) in-house label, BMOP/Sound.
The high level of Stucky's craft is no where better demonstrated than in Rhapsodies, the disc's opening track. Here's a piece that takes a seemingly simple concept – canonic textures – and spins it out into a compelling, nine-minute-long musical essay. In the process, Rhapsodies references all sorts of 20th-century musical touchstones: the sensuous colors of Ravel and Messiaen, the sardonic energy of Lutoslawski, even subtle hints of Korngold and Holst.
But those allusions don't cheapen Stucky's musical argument. Quite the contrary: they help urge it along. And it's not carefree music – the tone of the ending comes as something of a surprise, after all – but the writing's warm, brilliant, and inviting, all the same.
Similarly direct, though of a rather different expressive cast, is American Muse, a turn-of-the-Millennium setting of poems by John Berryman, e.e. cummings, A. R. Ammons, and Walt Whitman. There's a bit of humor here, some of it sly (the jazzy "American lights, seen from abroad"), some dark ("Buffalo Bill's"). The third song, Ammons' "Delaware Water Gap," taps one of Stucky's lushest veins, while the finale, Whitman's "I Hear America Singing," stands out for its stark, declamatory character.
Sung here by the exceptional Sanford Sylvan (for whom American Muse was written in 1999), Muse proves a rather unsettling piece, one that looks back and forward with at least a hint of trepidation.
The disc's oldest score, Stucky's 1988 Concerto for Orchestra, presents another side of his musical personality. Its outer movements are fairly ecstatic and notably disjunct: ideas – all sorts of them – come and go, all tied together by the spirited energy unleashed in the work's opening flourish. In between comes a powerful Adagio that, in its expansiveness and intensity, evokes the Mahler of Das Lied von der Erde and the Tenth Symphony.
As in the other works, Gil Rose leads BMOP in a confident, robust reading of the Concerto for Orchestra. It's a proud testament both to the excellent, expressive instrument that is BMOP and a fitting, moving tribute to a giant of contemporary music, taken from us far too soon.
---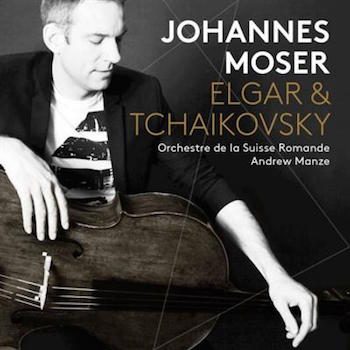 Who says the book is closed on new interpretations of Elgar's beautiful, nostalgic Cello Concerto? Certainly not Johannes Moser, who turns in a sweeping performance of the piece with Andrew Manze and the Orchestre de la Suisse Romande (OSR) on Pentatone.
Nothing in Moser's performance comes across as ho-hum. He identifies with the music on a very deep level, whether that's the big, brooding sections in the outer movements or the giddy moments in the spirited, skipping second movement. As for the lovely, songful third, it glows. Throughout, Moser's playing is intense, well-calibrated, and focused on what critic Virgil Thomson called the Grand Line.
For their part, Manze and the OSR turn in a clear, sure-footed accompaniment. The swirling winds in the second movement churn like an English summer breeze. The martial rhythms of the finale drive with biting efficiency. Everything's lively and played very much in-the-moment.
Filling out the album is music by Tchaikovsky.
Moser's Variations on a Rococo Theme are winningly done: warm and soulful, brimming with a virtuosity that's always put to the service of advancing the musical line (such as it is), not merely as an end in itself.
But the best of the Russian's selections are two of the three pieces that follow the Variations. The brooding Nocturne, a piece Tchaikovsky arranged from an earlier set of piano miniatures, speaks with the mournful lyricism only he could conjure up so well. And the Pezzo capriccioso offers perhaps the saddest morceau de concert in the catalogue. Moser makes both shine, as he does an arrangement of the Andante cantabile from Tchaikovsky's String Quartet no. 1, which completes the album.
In each piece, Manze again leads the OSR in a tight, idiomatic accompaniment. As usual for Pentatone, the recorded sound is superb, so you can hear everything going on between orchestra and soloist. The listening experience – if not all the music, much of which is tinged by grief – is sheer joy.
---
Jonathan Blumhofer is a composer and violist who has been active in the greater Boston area since 2004. His music has received numerous awards and been performed by various ensembles, including the American Composers Orchestra, Kiev Philharmonic, Camerata Chicago, Xanthos Ensemble, and Juventas New Music Group. Since receiving his doctorate from Boston University in 2010, Jon has taught at Clark University, Worcester Polytechnic Institute, and online for the University of Phoenix, in addition to writing music criticism for the Worcester Telegram & Gazette.