Profoundly conservative and radically fresh, Mass Appeal justifies its title in the Peterborough Players production.
Mass Appeal by Bill C. Davis. Directed by Keith Stevens. Staged by Peterborough Players, 55 Hadley Road, Peterborough, NH, through February 11.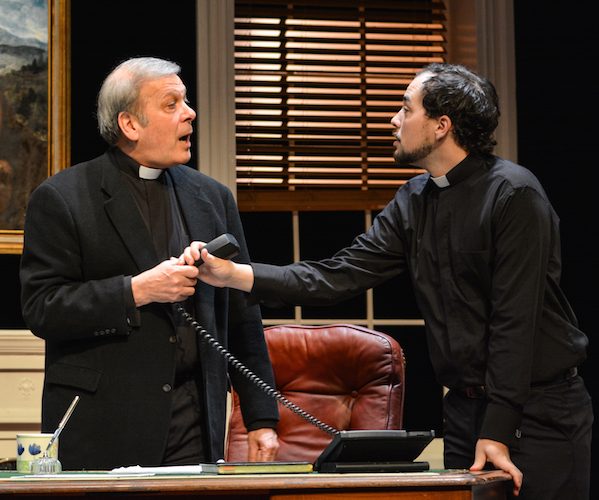 By Jim Kates
The Peterborough Players are trying something new this year — a winter season. The idea may be hard to imagine — if you're not in the immediate area of the Monadnock region — risking winter weather for the dark, evening trip three miles north of Peterborough, New Hampshire, picturesque as it is.
But when the roads are clear, as they usually are, you might consider the adventure. When the Players enclosed their barn-stage some years ago, they banished the bats and mosquitoes of summer. Now they've laid in winter heat and a warm fire in the lobby.
Oh yes, good theater, too. The current offering, Mass Appeal by Bill C. Davis, although set in a contemporary Catholic church, is really a very old play. I don't just mean that there are hints of minor outdatedness left over from its 1980 premiere, nor do I mean that there's anything odd or worrisome about its being "old." The Catholic mass itself replays a venerable and dramatic story of conflict and redemption every week, and that's exactly the story Mass Appeal tells.
At the same time, the script also replays another classic, Sophocles' Antigone, in the generational, attitidinal clash of principle and accommodation between Father Tim Farley (Gus Kaikkonen) in the figure of Creon and his aspiring deacon Mark Dolson (Adam Sowers) as the firebrand Antigone.
Father Farley has made an uneasy peace with the powers that rule his world, a peace lubricated by the fine wines with which his parishioners keep him supplied. The sudden, ultimately self-sacrificial, eruption of Dolson into his settled kingdom forces him to come to new terms with his own assumptions. This being the modern day and the setting a Catholic church, Mass Appeal does not end in the deaths and deprivations of Sophocles' Creon, but in Christian intimations of the beginning of acceptance and redemption for Father Farley.
Meanwhile, Dolson's hurling himself against the walls of an indifferent establishment do not lead to his total destruction, but only to exile from a possible priesthood into a secular world where, it may be presumed, he can continue to work out his understanding of goodness, the mission of a parishioner, not a priest.
This conclusion earns Mass Appeal billing as a "comedy," a comedy in the spirit of Dante and of the deepest dramatic message of Christian ritual. Thus there is very little that is unexpected in the play. I could even forecast individual lines before they were uttered, although I haven't seen or read Mass Appeal before. This again, rather than making the play sound banal, gives it an air of continuity, of timelessness, of ritual.
The danger, then, is that the characterizations might be sacrificed to expectation, but Kaikkonen and Sowers, as well as the director Keith Stevens, avoid this trap. Kaikkonen's Father Farley begins mired in complacency and ends up arriving at a more complicated awareness; the process (spiritual and psychological) that he goes through has been carefully calibrated by the actor and director, not only in the way the priest moves and speaks, but even by the way he handles his wine.
Dolson's growth, as portrayed by Sowers, takes place more offstage than Father Farley's does, although there is one pivotal scene of awareness that Sowers moves through deftly, playing off the quoted words of the Monsignor, "Thank you for being so honest. Good day," until they take on a resonating frequency of irony. What Sowers convinces us of is that, although the seminarian in him may not be ready for the priesthood, he is certainly ready for the world he will have to make his way in.
The interaction between the two characters makes the growth of each one possible. That is the way a traditional "two-hander" (two-character play) should work, and has worked since the beginning of theater.
Profoundly conservative and radically fresh, Mass Appeal justifies its title in both its writing and the Peterborough Players' midwinter production.
---
Jim Kates is a poet, feature journalist and reviewer, literary translator and the president and co-director of Zephyr Press, a non-profit press that focuses on contemporary works in translation from Russia, Eastern Europe, and Asia. His latest book is Muddy River (Carcanet), a translation of verse by Russian existentialist Sergey Stratanovsky. His translation of Mikhail Yeryomin: Selected Poems 1957-2009 (White Pine Press) won the second Cliff Becker Prize in Translation.