Paterson is a movie about how ordinary it may be to see the world in a grain of sand.
Paterson directed by Jim Jarmusch. Screening at the Kendall Square Cinema, Cambridge, MA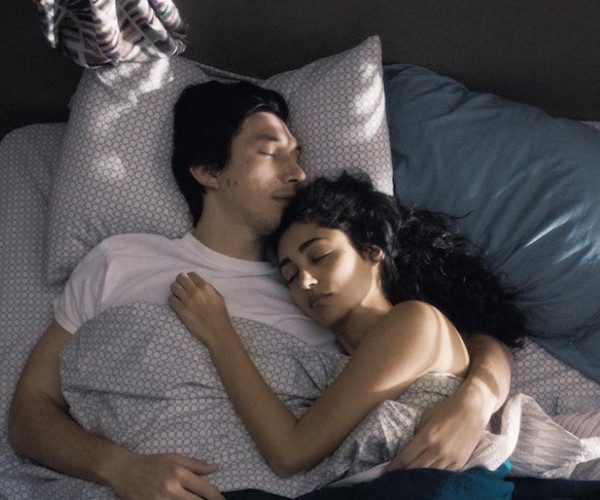 By Neil Giordano
Movies about the creative process tend to focus on the pathological tendencies of the artist. It is a familiar (and tiresome) trope that often generates high melodrama or, when it goes awry, suggests that writers write and painters paint and dancers dance in order to escape their own madness. The better films about artists, say the Coen Brothers' Barton Fink or Spike Jonze's Adaptation, bring a faustian notion of sacrifice to this notion of creative types as being unbalanced: these are tortured, self-loathing souls who trade in their sanity for a shot at immortality — or, at the very least, for the remuneration of the American dream.
In Paterson, the minimalist sensibility of director Jim Jarmusch offers a welcome alternative take on the subject. This is a warmly delicate portrait of a poet who lives an inordinately ordinary life. Set in unremarkable Paterson, New Jersey, a restrained Adam Driver plays the eponymous poet, Paterson, who never makes much of the coincidence regarding the names. In fact, in a humorous touch, surreal coincidences abound throughout the film; the fragmented dreams of Paterson's characters come to life on the streets around them (the cityscape is awash in identical twins), yet these signs of a mysterious order mostly go unremarked, except by the viewers.
Essentially plotless (a proposed trip to the copy machine constitutes a main event), Paterson unfolds like an unpretentious poem, each day of the week constituting a new stanza. Paterson awakens each morning with his girlfriend, Laura (Golshifteh Farahani), he goes off to work, and spends his time observing the world. He returns home to learn about Laura's latest artistic passion, which range from baking to painting to learning guitar. The point is that her eclectic creativity serves as a means to accessorize her magnetic personality; Paterson's quiet poems reflect his low-key reticence. Both actors do right by their characters, though at times Driver's performance borders on the emotionally blank, which is saying a lot for a Jarmusch character.
No, Paterson isn't a very emotional man. We see him articulate his sensations on the page, but he doesn't even call himself a poet. In a touch of welcome realism (which most working poets would recognize), he finds time to scribble drafts of his poems in the off-hours from his regular job as a NJ Transit bus driver. (Is Jarmusch casting Driver to be a driver yet another coincidence…?) From the seat of his vehicle, we see the city of Paterson through Paterson's eyes, which take in the streets as well as the passengers in the seats. Extended sequences with riders happen along, along with stray conversations and miniature character studies. For Paterson, these are the raw material for his art.
There are no grand visions, no opium-induced outpouring of verse, not even (thankfully) an extended sequence of Paterson poring over his notebooks. Instead, we watch him as he walks to the bus depot, or navigates city traffic, or eats lunch alongside the city's famous waterfalls. Poems are inspired by the prosaic, his imagination's fancies focused on the unremarkable. Not quite plums or a red wheelbarrow, but not all that far from the distinctive free verse ("No ideas but in things") of the city's twentieth-century bard, William Carlos Williams. We literally see — by way of handwritten graphics on the screen — the mental machinations of a writer as he rethinks, rearranges, makes use of subtle elisions and reversals of language. What poetry is, how art comes to be — apparently there's no magic or madness required. (Incidentally, Paterson's poems were written for the movie by celebrated New York School versifier Ron Padgett, who once shared a poetry professor with Jarmusch at Columbia University).
Paterson is Jarmusch's second recent exploration of artists and their art; his outstanding documentary on the Stooges, Gimme Danger, was released late last year. Contemplating the nature of creativity, poetry in particular, has been a constant in Jarmusch's oeuvre (the title character of 1995's Dead Man is named William Blake). The director is in a prolific phrase in his career, and this film comes closest to being a kōan (of sorts) about the nature of the creative process, a lesson about just how ordinary it may be to see the world in a grain of sand.
---
Neil Giordano teaches film and creative writing in Newton. His work as an editor, writer, and photographer has appeared in Harper's, Newsday, Literal Mind, and other publications. Giordano previously was on the original editorial staff of DoubleTake magazine and taught at the Center for Documentary Studies at Duke University.