A trio of CD reviews, including a disc featuring Joshua Bell, Steven Isserlis, and Jeremy Denk teaming up to play less-than-barn-burning favorites by Brahms.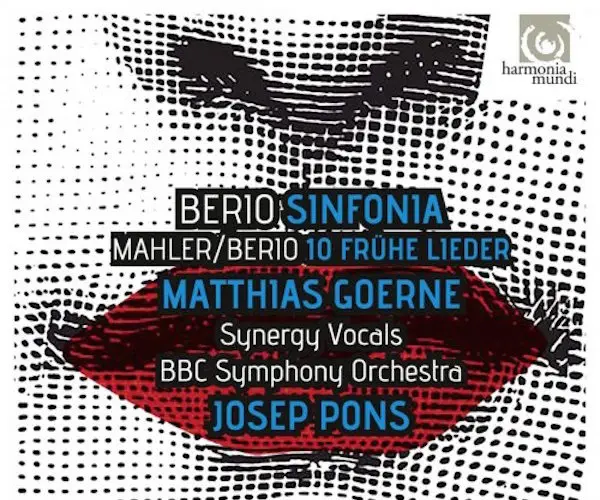 By Jonathan Blumhofer
Two of 20th-century music's greatest musical minds, Gustav Mahler and Luciano Berio, share an intriguing release pairing Berio's landmark Sinfonia with a set of Mahler songs he orchestrated in the mid-1980s.
Of course, Sinfonia, written for the New York Philharmonic's 125th anniversary between 1967 and '69, owes more than a small debt to Mahler to begin: its middle movement is, famously, a collage laid over the Scherzo from that composer's "Resurrection" Symphony. And its global scope – it embraces, among other things, history, current events, politics, and literature – clearly adopts Mahler's dictum that a symphony should "be like the world."
The present Harmonia mundi recording, featuring The Synergy Vocals and BBC Symphony Orchestra (BBCSO) led by conductor Josep Pons, does it justice. Its second-movement memorial to Martin Luther King, Jr. is hauntingly sung, the phonemes of the vocal ensemble punctuated by instrumental attacks crafting a truly phantasmagoric texture. The justly famous middle movement packs a real kick and features orchestral playing of dazzling clarity and spirit. But it's the last two movements that stood out most to me: weird, unsettled, and menacing, they speak with a remarkable urgency in this performance.
Matthias Goerne, who's sung some wonderful Schubert of late for Harmonia mundi, here proves himself a marvelous Mahler baritone, singing with lots of spirit, a range of color, and great diction. Most of these lieder – all come from Des knaben Wunderhorn – will be familiar to Mahler fans and Berio's orchestrations of them are firmly rooted in Mahler's sound world. There are some nice, unexpected touches in them (like the clarinet-glockenspiel pairing in "Um schlimme Kinder artig zu machen" and the whirling horn motive in the background of "Scheiden und Meiden"); Pons and the BBCSO play them all with aplomb.
---
Joshua Bell, Steven Isserlis, and Jeremy Denk team up in For the Love of Brahms from Sony Classical, a kind of hodgepodge of less-than-barn-burning favorites by everybody's favorite 19th-century Classicist. Well, perhaps that's not exactly fair. The A-minor Concerto for Violin and Cello does get regular performances, though it's kind of a drab piece and, arguably, not as popular as the Violin or Piano Concertos. And this is the second recording that I've come across in the last six months of the original version of the Piano Trio no. 1, so it's clearly being played and documented. Still, it's a fairly curious program.
The "Double" Concerto features some fine playing from the soloists – Bell and Isserlis get a nice dialogue going, with lots of charisma between the two of them – and the orchestra, Bell's Academy of St. Martin-in-the-Fields (ASMF), sounds warm and engaged. Still, this is a piece you'd really like to have a conductor leading who's not also the solo violinist: tension lags, especially at transition points in the first movement, and the whole concerto could use more structural definition.
At least such problems don't mar the Bell-Isserlis-Denk trio's take on op. 8. Yes, it still sprawls, especially the first movement. But Bell and Isserlis, who are quintessentially Romantic musicians to start out with, play with their hearts on their sleeves and hold nothing back, expressively — they really make it shine. Can the first theme of the opening movement sound sweeter or more nostalgic than it does here? It's hard to imagine it doing so. The Scherzo jumps and bustles, the Adagio sings with fervent devotion, and the finale wraps everything up in a turbid, typically Brahmsian bow.
In between the Brahms selections comes a welcome oddity: the slow movement of Schumann's Violin Concerto reorchestrated and with a codetta by Benjamin Britten. Bell plays the solo line gorgeously and Isserlis, presumably because he was there, gives a swooning account of the cello part. The ASMF strings, here making chamber music with their leader/director, are bright. It's sheer beauty.
---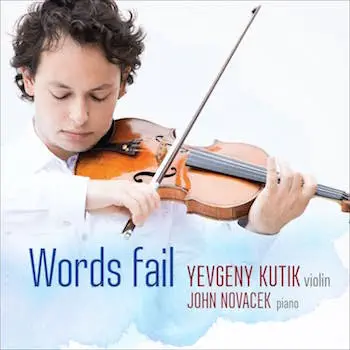 Violinist Yevgeny Kutik has pieced together some pretty cogent concept albums of late. His most recent, Words Fail, takes as its theme the idea that music speaks better (and more deeply) than do words. If nothing else, it's a compelling idea and here leads to some memorable places.
Some of Kutik's selections for this Marquis Classics release are familiar. Appropriately, there are three movements drawn from a trio of Mendelssohn's eight exceptional books of Songs Without Words (in arrangements by Friedrich Hermann). Fritz Kreisler's arrangement of Tchaikovsky's Song Without Words is here, too, and played with jaunty, winning lyricism.
The most unexpected entry on the program is probably the Adagietto from Mahler's Fifth Symphony, heard in Robert Wittinger's setting for violin and piano. Perhaps it's the fact that the piece is almost only played by strings and harp that makes this remarkably faithful adaptation sound thin and ineffective. Whatever the case, I couldn't warm to it, even given Kutik's solid reading of it.
More off the beaten path (and successful) is Prokofiev's Five Melodies for violin and piano. Kutik and pianist John Novacek play them with warm, folksy spirit, especially the bucolic second and soaring third. It's also nice to hear Olivier Messiaen's early-ish Theme et Variations, which gets a satisfying outing here, its lyrical violin writing a perfect match for Kutik's sweet-toned phrasing.
But the highlights of Words Fail are three contemporary pieces. Michael Gandolfi's Arioso Doloroso/Estatico draws on the unaccompanied Bach violin partitas. It moves from a solemn, two-voiced texture to the frenzied "Estatico" of the title and back to the earlier music, now slightly transformed. Straightforward in materials and design, it's a welcome addition to the solo violin repertoire, and gets a strong debut recording.
Timo Andres' Words Fail offers a somewhat more complex scheme of canons and descending, lament-like melodic lines. It's emotional turbulence results in a striking conclusion – repeated notes, harmonics, glissandos, fragments of what came before. Again, Kutik plays the piece energetically, with Andres, an impressive pianist as well as composer, providing a definitive accompaniment.
Wrapping things up is Lera Auerbach's Holocaust-inspired T'Filah (Prayer), which has the effect of plumbing any spiritual depths somehow left untapped by the preceding nine works. Kutik's reading is intense and personal: here's the ultimate demonstration, he seems to be saying, of music picking up where words leave off. It's a mighty statement, one that, at the end, actually does seem to touch eternity.
---
Jonathan Blumhofer is a composer and violist who has been active in the greater Boston area since 2004. His music has received numerous awards and been performed by various ensembles, including the American Composers Orchestra, Kiev Philharmonic, Camerata Chicago, Xanthos Ensemble, and Juventas New Music Group. Since receiving his doctorate from Boston University in 2010, Jon has taught at Clark University, Worcester Polytechnic Institute, and online for the University of Phoenix, in addition to writing music criticism for the Worcester Telegram & Gazette.