One of the heartening trends in film during 2016 has been an increase in the number of quality films that focus on African-Americans.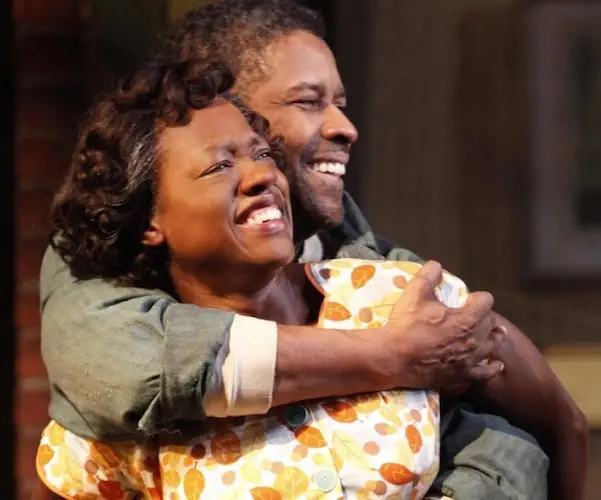 By Tim Jackson
Looking for films to see during the holiday season and into the New Year? One of the heartening trends in film during 2016 has been an increase in the number of quality films that focus on African-Americans. Just last year, a controversy erupted around the Academy Awards about their lack of diversity. While the Medea comedies, the Barbershop series, black comedians, inner city crime, and Denzel Washington or Will Smith can depend on an expansive audience, movies with complex black characters and honest depictions of African-American life have traditionally had a difficult time being made and finding viewers. This year that situation has changed. First, a list of highly regarded films that focus on African-American life from past years. After that follows eight movies from this year that are well worth seeing.
In 1971, Melvin Van Peebles's Sweet Sweetback's Baadasssss Song made $15 million. The director proudly stated: "It was rated X by an all-white jury." The film was bastardized into a template for the '70s Blaxploitation movement. By the '90s, a growing number of significant films began to deal with black life without resorting to clichés (slapstick, drug dealing, or gunplay): Do the Right Thing (1989), Jungle Fever (1991), Daughters of the Dust (1991), To Sleep With Anger (1990), Eve's Bayou (1997) and David Gordon Green's George Washington (2000).
In 2009, Lee Daniel's Precious took in $64 million. Quvenzhané Wallis in Benh Zeitlin's Beasts of the Southern Wild (2012) became the youngest Academy Award nominee for her role in this wildly allegorical and mythic film. In 2013 Ryan Coogler established his directorial cred with Fruitvale Station, followed by Creed. In 2014, the year Selma chronicled civil rights history, Dear White People, a comedy about racial hypocrisy on college campuses, broke ground via a successful crowdfunding campaign, social media marketing, and a viral video campaign. The film grossed over $3.5 million. The same year 12 Years a Slave won the Academy Award for Best Picture. In late 2015, Spike Lee's Brechtian Chi-Raq, based on the Greek comedy Lysistrata, received mixed reviews, though it was a sincere effort to address the plague of Chicago's street violence. August of 2016 saw the release of the DVD collection Pioneers of African-American Cinema, a gathering of five discs that contain the work of director and producers Oscar Micheaux and Spencer Williams, as well as bonus features.
Here are films from the past year that are well worth watching. Most are currently in theaters or about to be released.
Queen of Katwe: (streaming and Blu-ray on 01/31/17)
Director Mira Nair (Salaam Bombay!, Mississippi Masala, Monsoon Wedding) tells the true story of Phiona Mutesi, a girl raised in Katwe, a shantytown suburb of Kampala in Uganda. Amid a life of dire poverty, she discovers she is a chess prodigy. Gender, low social status, and a lack of an education stand in the way of her becoming an international chess champion.
While the movie follows the conventional narrative arc of adversity and triumph, Nair cuts against standard uplift by focusing on the chaos of Ugandan life. For this director, location is an essential character: "I've lived in Kampala for the last 27 years, and it is really my home. I have always wanted to tell the story of the city's people and where I live. Depictions of the African continent are always negative — images of despair, suffering, or dictatorships. Nothing resembles the everyday joy and dignity of the continent." Lead actress Madina Nalwanga won the part over nearly 700 competitors. She is supported by Academy Award winner Lupita Nyong'o (12 Years a Slave) as her mother and David Oyelowo (Golden Globe winner as Martin Luther King in Selma). Nyong'o was raised in Kenya and Oyelowo is British-trained actor of Nigerian decent. Both have expert command over the Kenyan dialect and fully disappear into their roles. Nyong'o buries her considerable beauty in an unglamorous role: she plays a willful and struggling mother who finds it difficult to believe women can excel — in any circumstances — without being exploited.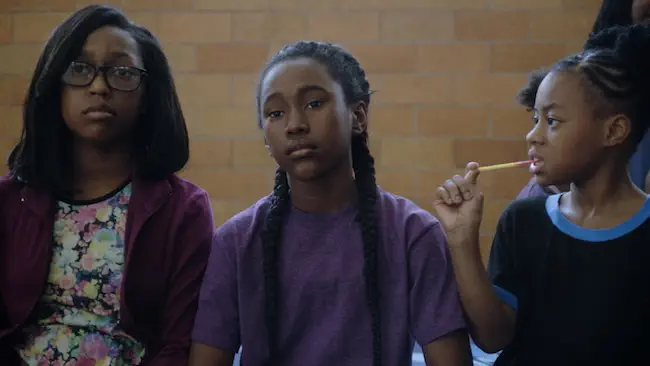 The Fits: (streaming on Amazon)
First-time director Anna Rose Holmer's film is an abstract, surreal drama about the bedevilments of adolescence. In yet another remarkable rookie performance by a child, Royalty Hightower (age 9) plays Toni, the youngest member of an energetic dance troupe. The movie takes place in the neutral spaces of a community center. When Toni looks in on her peers they seem to be suffering from strange fits. Dancers suddenly begin to twist and spasm as though possessed; there is little follow-up or explanation — no cause is given for the behavior. We simply watch Toni watching.
A haunting soundtrack generates an ominous atmosphere, but The Fits is not a horror movie. Dancing is an art form that is enormously competitive and physically taxing. The film is a dreamlike fantasia on the price paid for mastering the form — it dramatizes the utter frenzy of dance along with the anxieties of the changing body and the desires, insecurities, and fears of adolescence. The only white characters are the instructors, and we see them from a blurred distance. This is a unique, compelling, and strangely liberating film.
Birth of a Nation: (Amazon Video and iTunes on December 20)
The film was purchased for a record $17.5 million at Sundance. Since then its director, writer, and star Nate Parker has had to address controversies from his past that most likely have hurt the film at the box office. Birth of a Nation deals with the Nat Turner rebellion in Virginia in 1831, a brutal slaughter that was fatal for all those involved in the uprising. The script's characters are broadly conceived (the narrative has the feel of a folktale) and the film lacks the epic scope (and star power) of 12 Years a Slave.
This is a classic tale of revenge and anger directed at an intolerably inhuman system. There is no respite from injustice: most of the whites are depicted as hideous creatures, all too willing to compromise their Christian "morality" to keep their "property" in line. (Nat Turner is martyred in an over-the-top stylized ending.) The film's uncompromising vision echoes the fury felt on the streets of many American cities today. The narrative draws significantly from the book The Fires of Jubilee; of course, the provocative title is a slap in the face to D.W. Griffith's racist masterpiece. After too many decades of minimal (or polite) depictions of minority Americans, the time is right to examine uncomfortable parts of our history. I admire that there is nothing slick about Birth of a Nation, that it unfolds on its own terms—its message unequivocal, to the point of becoming evangelical.
Moonlight: (now playing)
Barry Jenkins demonstrates great style in his directing debut. He elicits immediate performances from his mostly novice cast. Faces are given extended long close-ups, and the emphasis is on emotional resonance over standard melodrama and action. An inner city boy having to come to terms with his sexuality is a radical subject for an all-black commercial film, which is based on Tarrel Alvin McCraney's play In Moonlight Black Boys Look Blue.
The film is structured in three chapters. In "Little," Chiron is a child (Alex Hibbert). He is rescued one day from a beating (and then befriended) by Juan (Mahershala Ali), a drug dealer who is likely in search of his own redemption. While Ali brings enormous heart and soul to his character, the friendship is ultimately doomed. In the next chapter, "Chiron," the boy is an adolescent (Ashton Sanders) who is brutally bullied by classmates and is at odds with his crack-addicted mother. He has a brief sexual episode with his best friend Kevin (Jharrel Jerome, who is terrific).
The third section, "Black," leaps ahead to Chiron's adulthood. Gone is the red, white, and blue palette of the earlier scenes. Jenkins saturates the frame with greens, yellow, and neon lights. Now called Black, Chiron (Trevante Rhodes) has sculpted his body after what might have been some time in prison. He sports a gold "grill" on his teeth and is dealing drugs. Jenkins focuses on Black's impassive face, a mask for a world of pain and loss. Following a random phone call from Kevin, "Black" journeys to visit his friend (André Holland). As in Richard Linklater's Boyhood (2012), key story elements are pushed aside in order to concentrate on an emotional journey. We have seen too many movies about black men with tough lives who go to prison, deal drugs, and then find redemption. This is not that movie. At its core, Moonlight is a love story.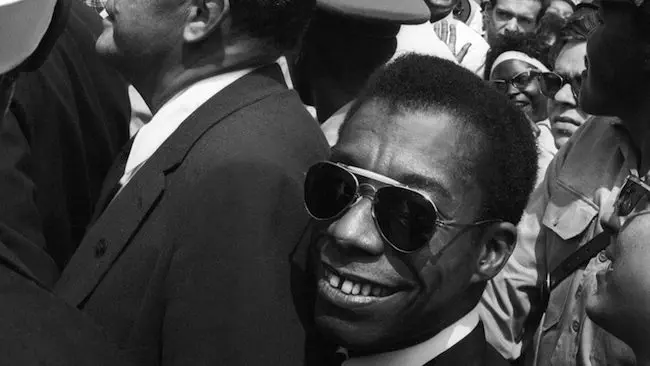 I Am Not Your Negro: (in theaters February 3)
Near the end of his life, writer James Baldwin began a book on three murdered friends who never made it to age 40: Medgar Evers, Malcolm X, and Martin Luther King. Samuel L. Jackson reads from the unfinished manuscript in the documentary, which also draws on  interviews with Baldwin (he died in 1987) and creative use of archival footage. This is a very timely film: the writer is angry yet unfailingly lucid about the black experience in America, discussing racism and its pernicious misshaping of blacks and whites with sober but intense brilliance. A sample from one of the interviews with Baldwin:
You wonder what your role is in this country and what your future is in it. How are you going to reconcile yourself to your situation here and how you are you going to communicate to the vast unthinking cruel white majority that you are here. I'm terrified at the moral apathy, at the death of the heart that is happening in my country. These people have exerted themselves for so long they really don't think I'm human. I base this on their conduct, not what they say. And this means that they have become themselves moral monsters.
The film should become part of school curricula. (Editor's note: I have written about the troubling reluctance to teach Baldwin in American schools.)
Loving: (West Newton, Capital, Framingham. DVD and Blu-ray on February 7, 2017)
Richard and Mildred Loving were a mixed-race couple in Virginia who, in 1958, defied the Racial Integrity Act of 1924 by getting married. In 2012, HBO produced a documentary called The Loving Story. Loving is one of the year's best films. Arts Fuse review
Fences: (in theaters December 25)
Fences is the film version of the Pulitzer Prize-winning play by August Wilson. According to sources, the project was stalled for years because the playwright refused to allow the adaptation to be made — he was frustrated that films about black life were (inevitably) directed by white filmmakers. His objection: "Whites have set themselves up as custodians of our experience…. Blacks should at least be able to direct their own experience." Under the direction of actor (and lead) Denzel Washington, the play has reach the big screen with its integrity intact, partly because Washington recognizes that in Wilson's script words sing like jazz, the characters' dialogue jumping from black colloquial conversations to epic monologues. The actor/director makes smart use of a single set, long takes, and a thoroughly rehearsed cast of excellent actors.
Fences is a story of a family at a particular time in American history, an exploration of how society contorts fathers, mothers, and sons. Troy (Denzel Washington) has a devoted wife Rose (Viola Davis). Their son Cory (Jovan Adepo) wants to play football, but Troy insists he find a steady job. Troy's son from a previous relationship, Lyons (Russell Hornsby), is a musician who is often on the dole. Troy disapproves. His ethic is simple: you work hard, you earn money, and you take care of your family. When Troy confesses to an affair, his credibility crumbles, but his ego refuses to submit. Troy's arrogance is the defensive position of a man attempting to reconcile his urge for personal freedom with his responsibility to guide his family through difficult circumstances. But times are changing, and Troy's patriarchal hubris is his undoing.
---
Tim Jackson was an assistant professor of Digital Film and Video for 20 years. His music career in Boston began in the 1970s and includes some 20 groups, recordings, national and international tours, and contributions to film soundtracks. He studied theater and English as an undergraduate, and has also has worked helter skelter as an actor and member of SAG and AFTRA since the 1980s. He has directed three feature documentaries: Chaos and Order: Making American Theater about the American Repertory Theater; Radical Jesters, which profiles the practices of 11 interventionist artists and agit-prop performance groups; When Things Go Wrong: The Robin Lane Story, and the short film The American Gurner. He is a member of the Boston Society of Film Critics. You can read more of his work on his blog.