Jackie suggests that, whatever the White House may see in the future, her magic will still be felt in its opulent halls.
Jackie, directed by Pablo Larrain. Screening at the Kendall Square Cinema, Cambridge, MA, and AMC Loews Boston Common 19.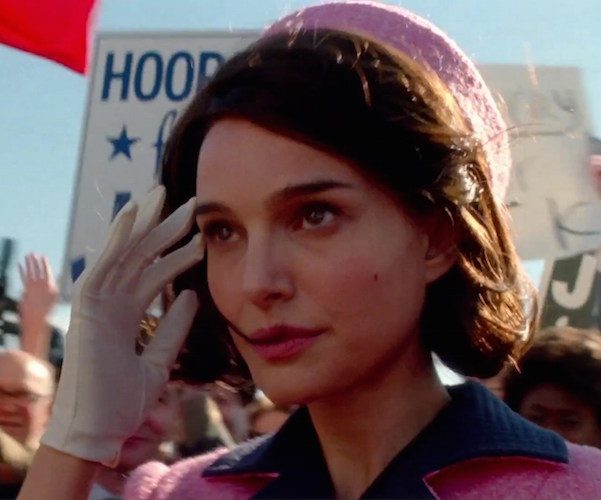 By Peg Aloi
Few historical events of the 20th Century loom larger in the collective American imagination than the assassination of John Fitzgerald Kennedy. The mainstream media tends to portray this horrific milestone from a discrete distance (Stephen King's 11-23-63), or depend  on a partly symbolic approach (Mad Men), or  an analytic perspective (Oliver Stone's JFK), or draw on the intimate reflections of those who lived through the period, such as Robert Patrick's 1975 play Kennedy's Children. Of course, no one's experience of that day was more intimate then that of First Lady Jackie Kennedy, who is seen in the Zapruder film lurching across the back of the Lincoln convertible. Not to escape gunfire, as many have charged, but to clutch a large fragment of her husband's skull in an attempt to try to hold his brains inside his head.
If that seems a gruesome note to begin this review on, let it be pointed out that director Pablo Larrain's brilliant new film Jackie deals only briefly, though boldly, with the grisly details of that day. The narrative is generally set in the week following the assassination, with a news reporter (Billy Crudup) interviewing Mrs. Kennedy (Natalie Portman) at her home on Cape Cod. The day is unutterably beautiful, warm enough for Jackie to wear a bulky wool sweater as they spend part of their chat seated outdoors on the verandah.
Known only as "The Journalist," Crudup is a steely, confrontational presence, at times seeming to openly provoke the First Lady, coming up with slightly snide, even rude, comments and questions. She remains polite but firmly reminds the reporter that she will want to edit the interview "in case I don't say what I mean." He reluctantly admits that probably won't be allowed. She responds by asking if what he wants is a moment by moment account of what happened that day.
The next segment flashes back to two years earlier, when Jackie gave her famous tour of the White House for national TV. She is heard commenting that "everything for the White House should be the best" as she walks through room after room of the painstaking restoration she oversaw. The scene returns to the present where the reporter mentions complaints about the money being "wasted." But his volley is met with her indignant assertion that she raised all of the funds from donors — the renovation did not cost taxpayers a dime. Greta Gerwig, nearly unrecognizable in a stiff suit and lacquered hairdo, is Nancy Tuckerman, Jackie's friend and the White House Social Secretary. She gestures from beside the cameras, reminding the First Lady to smile as she speaks. The film skillfully inserts Portman into archival footage; this bit of technical wizardry is one of many examples of flawless and unobtrusive editing that makes expert use of familiar images, though not, perhaps, seen before in such vivid color.
Indeed, color is achingly important here: Jackie's sweet navy-trimmed pink Chanel suit and the pillbox hat she wore on that fateful day are stained with blood. Ladybird Johnson insistence that Jackie "get changed, dear" (Beth Grant is terrific in this cameo) is met with Jackie's strong-willed decision to make sure the cameras see just what happened that day. She is then seen that night in the pale ice blue bedroom she shared with Jack, in a lacy demure peignoir that matches the rich furnishings. The empty bed with one pillow slightly askew is a subtle but heart wrenching detail. The rich colors of the Kennedy assassination scene are clearly based on imagery from the Zapruder footage, but the visuals are enhanced and shot in brutal clarity. A vague connection is made between Jackie's insistence on making sure the news media sees her blood-stained clothing and her demand for a grandiose and heartbreakingly opulent state funeral, with marching bagpipers, throngs of dignitaries, and huge bejeweled horses. The security concerns are astronomical, but Jackie gets her way.
Jackie is again and again put into a position of having to somehow defend both herself and her husband. The film presents a straightforward picture of the First Lady's pragmatic and efficient behavior once, mere days after her husband's death, she is forced to pack her and her children's belongings and vacate the White House. She receives some kind support from her brother-in-law Bobby (played with quiet intensity by Peter Sarsgaard). The pain and passion the actor puts in Kennedy's eyes suggests how the death of his brother would goad his idealism.
Jackie often evokes a surreal mood, partly thanks to the evocative and finely wrought score by Mica Levi (the Boston Society of Film Critics gave Levi its award for Best Score). Her work for Under the Skin was equally memorable. Stéphane Fontaine's cinematography (he had a busy year, also filming Captain Fantastic) is stunning, rendering hushed interiors and large scale exteriors with equal skill.
Some roles have been cast with jaw-dropping lookalikes (Jack Kennedy is a young Danish actor named Caspar Philipson), others are well filled with seasoned character actors (like John Carroll Lynch as LBJ). Crudup holds his own in the many scenes he has with Portman, their conversation the ironic frame for this finely tuned and revealing portrait.
The casting of Portman turns out to have been perfect. (One wonders if producer Darren Arronofsky had anything to do with this decision, after his brilliant work with her in the critically acclaimed Black Swan). Portman's performance is exquisite, particularly her recreation of Jackie's distinctive accent and speaking cadence, as well as her facial expressions and gestures. She conveys Jackie's dignity and grace, but also her vulnerability and pride. Screenwriter Noah Oppenheim makes sure there are plenty of moments to observe this stylish woman's kindness and sensitivity, her love for the arts, and devotion to her husband. She was no Guinevere of Camelot, more of a mysterious Lady of the Lake possessing a quiet sovereignty. Jackie suggests that, whatever the White House may see in the future, her magic will still be felt in its opulent halls.
---
Peg Aloi is a former film critic for The Boston Phoenix. She has taught film studies for a number of years at Emerson College and is currently teaching media studies at SUNY New Paltz. Her reviews have appeared in Art New England and Cinefantastique Online, and she writes a media blog for Patheos.com called The Witching Hour