Technology is becoming a tool for artists to mastermind aesthetic and social interventions.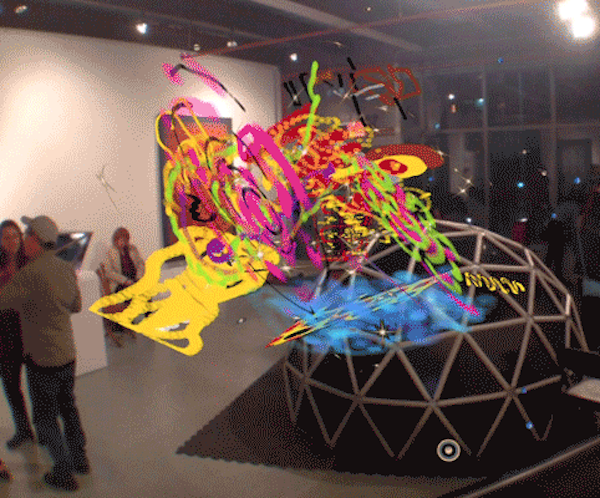 By Mark Favermann
Artists can now draw on air in the 'real world,' generating elaborate megastructures that float about as if they were clouds. A 'real' visual context serves as the ground for a potential artwork; layers of digital information can create a fourth, perhaps even a fifth, dimensional experience.
One of the means to sensorily alter the look of the external world is Augmented Reality (AR), which integrates, in real time, digital information into the user's environment. A live (or indirect) view of a physical environment is infused (enhanced) with computer-generated sensory input. These changes also can take the form of the additive effects of sound, video, graphics, or GPS data. Augmented Reality alters our perceived environment by plugging in colorful components of the digital world — the result can be an interactive playground.
Released in July 2016, Pokémon Go is an Augmented Reality game that made major news. Players use a mobile device's GPS capability to locate, capture, and sometimes battle virtual creatures (Pokémon) who appear on the screen as if they were standing in real world locations. Smart phones and pads are the screens across which the 'adventures' are played. Given the success of this game (and its marketing potential), there is little doubt that we will see more of this electronic fusion of fantasy and reality in the future.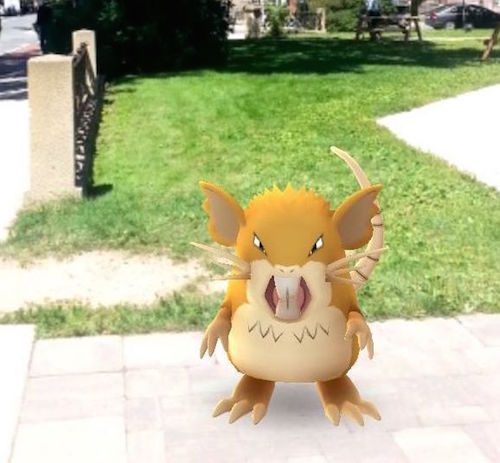 In contrast to AR, Virtual Reality (VR) replaces the real world with a simulated one. The term typically refers to computer technologies that use software to generate realistic images, sounds, and other sensations to create an imaginary setting. VR is immersive and usually requires glasses, goggles or special helmeted headsets. The user's physical presence is projected into the environment, which enables interaction within the space and with any of the depicted objects.
Focusing entirely on digital content, Virtual Reality cuts off all outside stimuli. This is an unearthly (and disorientating) dimensional experience that takes us beyond our natural environment. Artists have been creating VR and AR art for the last few decades.
Pioneering examples of this cutting-edge art, as well as provocative lectures by artists John Craig Freeman and Will Pappenheimer, were part of AR: Augmented Reality, the first exhibition in the Boston Cyberarts' Green Street Gallery's 2016-17 season. Besides work by Pappenheimer and Freeman, there were contributions from Joseph Farbrook and Zachary Brady.
The largest piece in the exhibit, Pappenheimer and Brady's collaboration "Drawing Constellations," is an interactive installation and app that uploads drawings to a constantly moving and evolving 3-dimensional "constellation" situated within of the gallery. After creating a drawing on a tablet, the user's picture is transferred into 3D augmented reality space — superimposed on and sited at the gallery by GPS location. On a screen, we see the image floating and revolving in 'real' space.
Farbrook's "Defending Virtual" is an AR artwork in which a one hundred dollar bill (a real Benjamin Franklin!) rests on a pedestal. There is the temptation to pick it up. When viewed through a tablet screen, though, the bill is defended by a gun-toting hand that is waving the weapon about the gallery, making threatening gestures at anyone who gets too close to the bill. The point of the piece is that money's value is arbitrarily produced by governments and commoditized into debt. Money's value, as well as the defense of this value, have now become virtual — though the consequences of having or not having it are dreadfully real.
An Associate Professor at the University of Arizona, Farbrook's artwork takes the form of electronic installations, interactive video, and augmented and virtual reality narratives. His interest in media-reflexivity takes the form of combining interactive screen projections with live performances.
Freeman's "Green Street & AR"  is a site-specific AR art piece created for smart phones. The virtual world seems, in certain locations, to have penetrated into the 'real' one. Selected objects appear to replicate themselves and then float off into the sky. Large buildings and structures lose their moorings and drift away.
Professor of New Media Arts at Emerson College, Freeman is an artist with over twenty-five years of experience drawing on emergent technologies to produce large-scale public works. He is particularly interested in transforming our sense of play, often working at sites where the forces of globalization are shaping the lives of local communities. For example, in 2016 he traveled to Wuhan China as part of the U.S. State Department's American Arts Incubator program administered by ZERO1.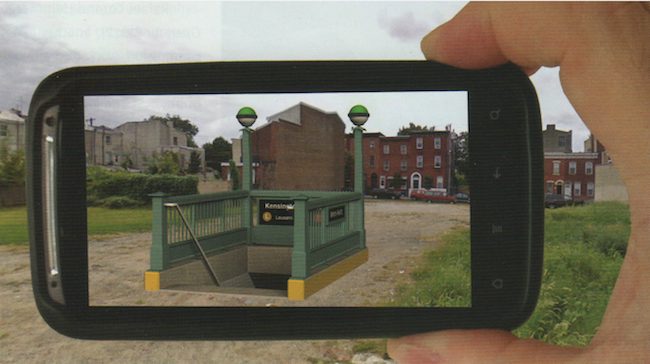 Freeman's creations often consciously or unconsciously reference Dr. Who's TARDIS, a time-travelling space ship that took the form of a 1960's British police box. Many of his projects provide "portals" for users to travel through. Over the years these entrances to an alternative reality have included a subway station entrance (USA), a traditional Chinese gateway (China), and a proposed Russian Constructivist structure (Russia). Could Freeman be a Time Lord as well as an artist?
Brady is an artist, user experience designer, and web developer from Brooklyn, NY. He is a Director of Technology (as well as a partner) at Suits & Sandals, LLC. His artistic goal is to make the viewer an inseparable participant in each piece he creates.
The Brooklyn-based Pappenheimer has been creating new media, performance, and installation art for decades. His work often explores the confluence (or tension between) virtual and physical worlds, particularly in public places. A professor and Co-Chair of the Art Department at Pace University, New York, he is a graduate of Harvard College and the Boston Museum School.
AR and VR are rapidly evolving art forms that make use of technology to entertain (via performance art), to enrich our sense of ourselves and our environment (this is about aesthetics, not just new media flash), and to explore our sense of reality and illusion. In the provocative pieces at the Boston Cyberart exhibition, we were given an intriguing sense of just how far the digital is pushing the visual boundaries of performance art. Of course, keep in mind, the future of creativity will be about more than exploding media.
---
An urban designer, Mark Favermann has been deeply involved in community branding, enhancing, and making more accessible parts of cities, sports venues, and key institutions. Also an award-winning public artist, he creates functional public art as civic design. Mark created the Looks of the 1996 Centennial Olympic Games in Atlanta, the 1999 Ryder Cup Matches in Brookline, MA, and the 2000 NCAA Final Four in Indianapolis. The designer of the renovated Coolidge Corner Theatre, he has been a design consultant to the Red Sox since 2002. Mark writes on architecture, design, and the fine arts.