Is truth and beauty served when the arts just take the money from the big banks and run?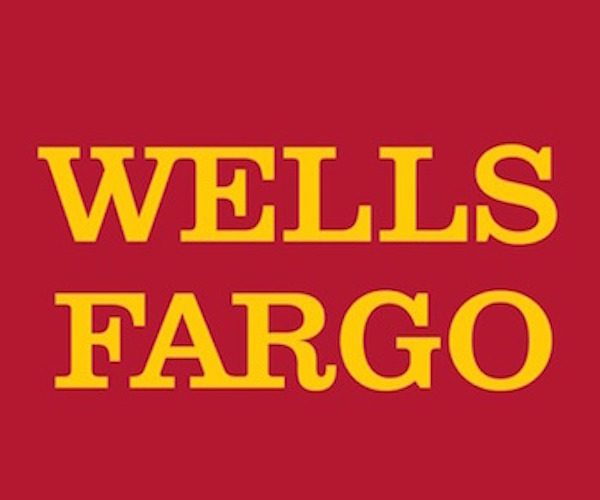 By Bill Marx
What would the arts do without the too-big-to-fail banks? Let's just say not as much as they do now.
According to a recent IEGSR report:
Bank of America Corp. is the most active sponsor of symphony orchestras, theater companies and other performing arts organizations with Wells Fargo & Co. in a close second, according to IEG research.

Twenty-two percent of performing arts organizations report a partnership with Bank of America, while twenty percent report a sponsorship with Wells Fargo.

KMPG (11 percent), U.S. Bank (11 percent) and JPMorgan Chase (11 percent) round out the top five most active sponsors list.

To no surprise, banks are by far the most active category. Banks are 11.4 times more likely to sponsor the performing arts than the average of all sponsors, according to the research.

Legal services is the second most active category (6.1) followed by consulting services (4.2), insurance (3.5) and utilities (3.0).
The projection for this year's sponsorship spending on the performing and visual arts is 970 million
Not many question the wisdom of taking a hefty bounty from the moneybags on Wall Street. In fact, the pleas for funding are always increasing. But, given the current scandal at Wells Fargo (the country' second largest arts-loving bank) , it is worth asking an inconvenient question: what price do the arts pay for this (more often than not) tax deductible support? How have these millions of dollars for cultural improvement been earned? What does it mean — ethically and artistically — for the arts community to accept ill-gotten gains from the very too-big-to-fail banks that only a few years ago did their damnest to meltdown the world economy? Does this friendly relationship influence what arts institutions produce and create?
The answers to these questions are becoming increasingly unpleasant. It turns out that, for years, thousands of Wells Fargo employees had been opening unauthorized accounts in order to meet outrageously high sales quotas. More than 2 million such accounts were opened without customers' permission and more than 5,300 Wells Fargo employees have been fired: the workers on the bottom rung, of course, were let go, not the higher ups. It could very well be that the bank's arts funding was supplied by what was raked in from these fictional accounts. (There is a bright side for unemployed Wells Fargo sales people — they have opportunities to buy discounted tickets to the arts because of the bank's generous support.) Wells Fargo has apologized for the unauthorized accounts and recently announced a $185 million settlement with US regulators. The legal fallout continues — the California state treasurer recently announced it was cutting its ties with the bank for the next 12 months.
Should the arts community follow the lead of the state of California and cut ties with Wells Fargo? At least until the bank makes an effort to clean up its act? Given the long (and growing) criminal record of big banks, it could be argued that the arts serve as respectable window-dressing. When big banks give to the arts it is not just about civic generosity, it is also about strategic branding and reputation fence-mending. It is a bit of a shell game: look at what we are doing for the arts (and an influential income demographic); don't look at who we are ripping off for the sake of earning obscene profits.  An article in The Nation suggests what is at stake:
Wells, like other big banks, has a rap sheet that would put a mob boss to shame. It has coughed up more than $10.9 billion in fines for crimes and abuses on mortgages and foreclosures; for misleading investors; and for participating in municipal-bond bid rigging, money laundering, and discrimination against black and Hispanic borrowers. As the largest employer and third-largest in assets among US banks, Wells is too big to fail. [Wells Fargo CEO John] Stumpf has boasted that its success is rooted in "the community bank DNA" that supposedly animates the company. But as an American Banker commenter noted: "A community bank CEO having presided over a fraud proportionally this large would already have his assets frozen, be awaiting prosecution and have been personally fined a substantial amount of money." Instead, Wells and other big banks, with few exceptions, have been allowed to settle without admitting guilt. And while the banks have paid hundreds of billions in fines, the bankers who profited got off scot-free. So long as those in the top suites are not prosecuted, the scams and the fraud will continue.
Should arts institutions maintain a clear conscience in this breakdown? Or is this like when the mob injected dough into Las Vegas — mum's the word. As long as the rich folk in the 'top suites' throw money at theaters, symphony orchestras, and museums, a relatively well-heeled group (including politicians and the upper crust) will hail these banks as our cultural saviors, investors in the precious lifeblood of the community. But should this cozy backslapping continue? There is no doubt that the cushy agreement influences what is produced on our stages; our arts institutions aren't in the right position to ask for more support if they raise any hackles. Seen any hard-hitting plays condemning America's corrupt financial institutions lately?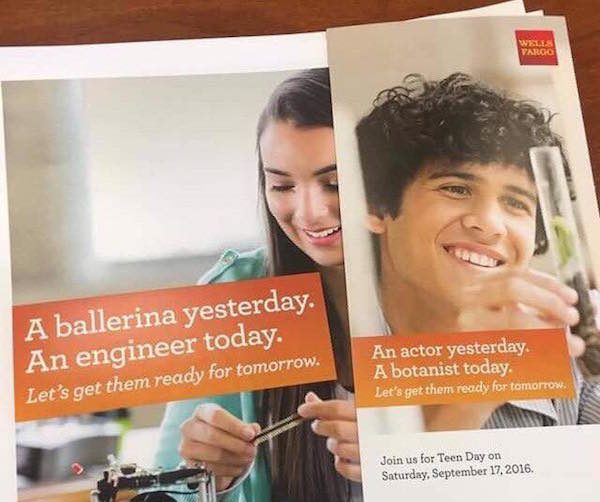 There is plenty of evidence that the big banks don't really care all that much about arts and culture, aside from their value as civic image-builders. In September of this year, Wells Fargo launched a controversial advertising campaign for its Teen Financial Education Day. As you can see in the ad above, the message was that an education in science and math is more valuable than a career in the arts. There was an understandable outcry, and Wells Fargo backed up via an apology:
Wells Fargo is deeply committed to the arts, and we offer our sincere apology for the initial ads promoting our Sept. 17 Teen Financial Education Day. They were intended to celebrate all the aspirations of young people and fell short of that goal. We are making changes to the campaign's creative that better reflect our company's core value of embracing diversity and inclusion, and our support of the arts. Last year, Wells Fargo's support of the arts, culture and education totaled $93 million.
Forgive this faux pas, Wells Fargo says, we will remove the offensive material from the 'creative.' The bank pumps money into the arts, and that is real support. But these ads inadvertently reveal a disturbing truth. The inhabitants of the 'top suites' think only rubes go into the arts as a career — those with genuine smarts put their time into training for more lucrative endeavors, such as learning how to dream up complex bunco schemes that generate enormous wealth for themselves as well as the 1% and their hangers-on.
Is it possible to change the pernicious attitudes and behaviors of big banks without taking a stand? Given the two-ton power of lobbies, government officials are reluctant to initiate strong action. These banks are corrupting our politics — and I would argue they are corrupting our cultural institutions as well. We are seeing some signs that politicians are breaking free of the banks' stranglehold. Perhaps our artistic institutions should grow more of a backbone and accept some sacrifices; they could demand accountability or produce art that directly challenges audience complacency about the casino financial system as operated by the Big Boys. (Ben Jonson and Bertolt Brecht — where are you when we need you?) Is truth and beauty served when the arts just take the money and run? No, and it is going to become harder and harder to explain away accepting mazumha from duplicitous and ugly institutions like Wells Fargo, which lawmakers have proclaimed a "criminal enterprise." When do the arts become willing accomplices?
---
Bill Marx is the editor-in-chief of The Arts Fuse. For over three decades, he has written about arts and culture for print, broadcast, and online. He has regularly reviewed theater for National Public Radio Station WBUR and The Boston Globe. He created and edited WBUR Online Arts, a cultural webzine that in 2004 won an Online Journalism Award for Specialty Journalism. In 2007 he created The Arts Fuse, an online magazine dedicated to covering arts and culture in Boston and throughout New England.