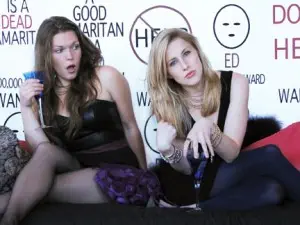 Holiday season is kicking in, which means it becomes harder to find theater that doesn't set out to warm your heart and melt your mind. Though a Santaland Diary or two remains, the vogue for cynical Xmas shows has run its course. Still, all is not lost when you can still find such extraordinary family entertainment as Basil Twist's Petrushka and a low-down satire about a couple of female college graduates trying to make their name in New York by tracking down a serial killer.
By Bill Marx.
Two Wives in India by Leslie Harrell Dillen. Directed by M. Bevin O'Gara. At the Boston Playwrights' Theatre, Boston, MA, through November 21. An intriguing-sounding script that "sets the scene for a clash of cultures and a collision of the wives even as the mysteries of India weave their healing magic." The cast features Asa Bhuiyan, Amelia Broome, Karen MacDonald, Ben Martin, and Robert Saoud.
Last Gas by John Cariani. At the Portland Stage, Portland, ME, November 2–21. The world premiere production of a new play by John Cariani, the author of Almost, Maine. The plot follows: "Nat Paradis is stuck in a rut as the manager of a convenience store in northern Maine that sits on the edge of what's wild and what's not. When an old flame returns to town, Nat gets another chance, but faces a choice between the possibilities of new love and old in this bittersweet, romantic comedy that looks at love lost . . . and found . . . and the curve balls life throws us."
U.S. Drag by Gina Gionfriddo. Directed by Danielle Fauteux Jacques. Presented by the Apollinaire Theatre Company at Chelsea Theatre Works, Chelsea, MA, November 5 through December 5. The author of Becky Shaw serves up a "fun and sassy" satire that explores the link between personal and mass hysteria: "Angela and Alison come to New York seeking to convert Vassar English degrees with distinction into fast fame and fortune." The solution?—the women end up searching for New York's most elusive serial killer.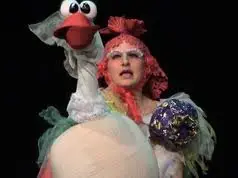 Chick with a Trick. Written and directed by Petar Todorov. Design of puppets & costumes by Hannah Schwartz. Presented by Pro Rodopi Arts Center at the Charlestown Working Theater, Boston, MA, November 6 and 7. This award-winning, children's theater piece from a Bulgarian troupe "tells a story about a Hen who lays a bonbon instead of an egg."
Basil Twist's Petrushka Presented by ArtsEmerson and the Celebrity Series at the Paramount Mainstage, Boston, MA, November 11–21. The Boston premiere of what by all accounts is a fabulous puppet adaption of the legendary Ballets Russes production of Petrushka by composer Igor Stravinsky and choreographer Michel Fokine. "Nine hidden puppeteers combine Czech and Japanese puppetry traditions in a tour de force of puppetry technique. A duo-piano version of Stravinsky's masterful score will be performed by Russian pianists Julia and Irina Elkina."
Vengeance is the Lord's by Bob Glaudini. Directed by Peter DuBois. Produced by the Huntington Theatre Company at the Boston University Theatre, Boston, MA, November 12 through December 12. The world premiere of a gritty play in which "a mother's call for mercy clashes with a father's need for retribution when their daughter's murderer comes up for parole."

Codes of Conduct: Plays About Women and Men. Presented by Fort Point Theatre Channel at the Plaza Black Box Theatre at the Boston Center for the Arts, Boston, MA, November 12–20. Two one-act plays  explore the battle of the sexes: Trapped Inside a Low-fat Twinkie, directed by Dawn Simmons, tells the story of "an on-again, off-again relationship between a man and a woman—and an obsession with low-fat Twinkies." Sunday with Joy, directed by Dani Duggan, "is a real language romp, a display of consummate word craftsmanship as we follow Joy disregarding the rules of her marriage and trying her hand at driving that relationship."
Pamela Bob Sings the Mandel & Lydon Songbook. At the Community Music Center of Boston, South End, Boston, MA, November 18. This songfest comes highly recommended by a trusted source. Ellen Mandel and Michael Lydon, joined by singer Pamela Bob, visit town as part of the New Gallery Concert Series. The tunes "range from jazzy ballads to lyrical setting of modern poetry, with a bit of bluesy funk for good measure." Mandel and Lydon accompany Bob on piano and guitar, with Chuck Gabriel on bass.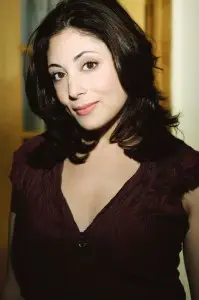 The Fever Chart: Three Visions of the Middle East by Naomi Wallace. Directed by Elena Araoz. Staged by the Underground Railway Theater at the Central Square Theater, Central Square, Cambridge, MA, November 18 through December 19. Underground Railway Theater's first contribution to Central Square Theater's 2010–2011 PowerPlays & Possibility season. The evening is made up of "three dream plays inspired by true events: an Israeli soldier encounters a mysterious Palestinian woman in the Rafah Zoo; a Palestinian father reveals to a young Israeli woman their shared history; and a bookish Iraqi bird collector tells of his conscription into Saddam's army." Cast member Najla Said, daughter of author/activist Edward Said, will be performing her solo show, Palestine, on December 8th. Other cast members include Ken Baltin, Ibrahim Miari, and Daniel Shaked.
Beasley's Christmas Party. Adapted by C. W. Munger, from the story by Booth Tarkington. At the Merrimack Repertory Theatre, Lowell, MA, November 26 through December 19. Regional premiere of a stage version of Booth Tarkington's story about "a curious journalist and his extremely eccentric next door neighbor who is planning a most unusual Christmas party." Well, at least this is a new entry in the holiday entertainment sweepstakes, promising to deliver "humor, heart, and hope for the entire family."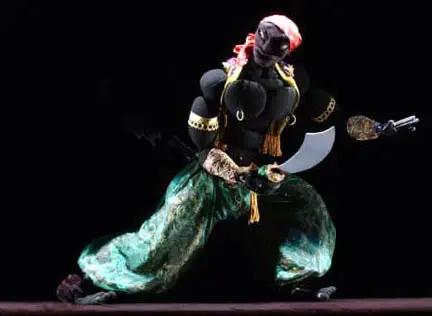 Frankie and Johnny in the Clair de Lune by Terrence McNally. Directed by Antonio Ocampo-Guzman. Produced by New Repertory Theatre at the Arsenal Center for the Performing Arts, Watertown, MA, November 29 through December 19. McNally's comedy has been produced often so there are not going to be any great surprises, though it is an interesting choice for the holiday season. And it will be interesting to see what director Ocampo-Guzman does with the script and the cast, which features Anne Gottlieb as Frankie and Robert Pemberton as Johnny. Warning: the production contains a "mature theme and nudity."