Time after time, when the cheap and easy outcome is there for the plucking, Me Before You ditches the teary payoffs and goes for moments that feel real.
Me Before You, directed by Thea Sharrock. Screening at Somerville Theatre and AMC Assembly Row 12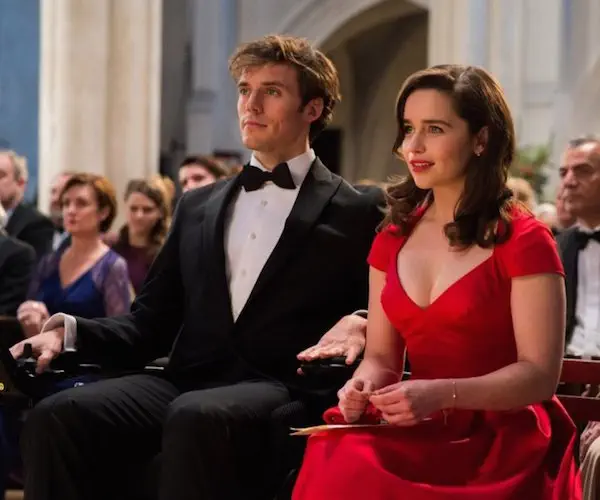 By Paul Dervis
Summarize the plot of the film Me Before You, adapted by Jojo Moye from her novel of the same name, and it sounds as if viewers are in for a Harlequin Romance goes Hollywood or a sudsy Hallmark made-for-TV movie. Poor little local girl meets filthy rich yet damaged handsome fella and, of course, sparks soon fly. The expectation? Half the audience will nap while the other half grabs their boxes of Kleenex.
But it turns out that this charming film goes far beyond the throbbings of Fabio. Think a heavy dose of Willy Russell's bittersweet Educating Rita with a sprinkle of Shirley Valentine. Time after time, when the cheap and easy outcome is there for the plucking, Me Before You ditches the tearjerker payoffs and goes for moments that feel real.
Moyes's emotionally direct script receives skillful assistance from director Thea Sharrock, whose previous credits are all in television. She does a sure-handed job of keeping the melodramatic trappings at a minimum while cultivating the cold, hard facts of caring for a person in physical distress.
Even the leads, whose resumes are loaded with commercial, yet quite forgettable projects, come through with strong performances that display a range and depth that would be hard to find in their past credits.
Now for the storyline. Please, do not be put off by it.
Perky, upbeat Lu Clark lives at home with her unemployed father, powerful mother, and a sister who is the family's bright hope. Lu, who sees everything through rose-coloured glasses, can't keep a job. As the film opens, she has just lost her position as a waitress and has no immediate prospects…and the household can barely sustain itself without her small income.
Will Traynor was a high-powered financial genius in London, complete with trophy girlfriend, gorgeous flat, and a myriad of risky hobbies. One rainy morning he goes off to the office, initially wanting to take his motorcycle to work. But his lady convinces him that the cycle is too dangerous to ride in the storm, so he acquiesces and travels by foot. Crossing the rain-drenched street, phone in ear, he doesn't see another oncoming cyclist, and is wiped out.
Now a quadriplegic, Will has moved into his parents castle (yes, castle) with the intention of ending his life. He is morose, defeated, and without hope.
The folks hire Lu, with absolutely no qualifications, to be his caregiver. Well, more to be his friend. He has a professional to do the dirty work. Lu's job is to cheer him out of his nihilistic funk …if that is even possible. Will is only still alive because he promised his mother that he would give it six months before he 'pulled the plug.'
Knowing that Lu is there to help him cope, Will rejects her completely. But when he is visited by his old lover and his best friend, who now plan on getting married, he softens.
It is here that the story really takes off. The relationship between the narrative's opposites begins to flourish. Will's need for Lu is obvious, but her need for him is clear as well, though subtle. Ironically, her intense longing eventually takes center stage.
Sam Claflin, who is a cog in The Hunger Games franchise and appeared in Snow White and the Huntsman, gives a quietly powerful performance. He has all the 'moves' of a man in his condition down perfectly and, with minimum dialogue and facial expressions, he communicates his character's pain — both emotional and physical — flawlessly.
Emilia Clarke (Game of Thrones), however, is the indelible heart of the film. Lu could have been monomaniacally saccharine and superficial. But Clarke infuses the figure's sweetness with a heartbreaking depth. The actress's agile use of vulnerability raises the role beyond the 'damn the torpedoes,' 'too good to be true' stereotype. The anguish on Clarke's face when Lu first meets Will is palpable. We, as well as she, wonder if she can do this impossible job.
Fear not, both the actor and character are more than up to the task.
Even the ending of this film was not tied up too sweetly. Life happens. Me Before You merely chronicles that fact.
---
Paul Dervis has been teaching drama in Canada at Algonquin College as well as the theatre conservatory Ottawa School of Speech & Drama for the past 15 years. Previously he ran theatre companies in Boston, New York, and Montreal. He has directed over 150 stage productions, receiving two dozen awards for his work. Paul has also directed six films, the most recent being 2011's The Righteous Tithe.