What fun to have meat carved off the revolving spit!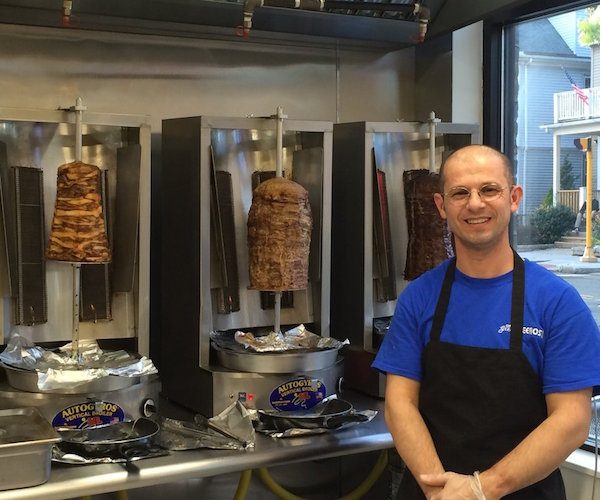 By Gerald Peary
He's spent decades running New England donut shops and pizza parlors such as Lisa's Family Pizzeria in Woburn. But Kriakos ("Only one name," he jokes, "I'm Madonna's cousin.") had dreams of a place to display his native acumen as a Greek chef. Enter local businessman Christos Poutaadis, who emigrated from North Thesaloniki, Greece, 45 years ago. Previously, he managed a Greek club. On the same Somerville property, of which he is the owner, he decided to open a small eatery serving simple, tasty and authentic Greek food.
Kriakos, an acquaintance, asserted that he was the talented cook whom Poutaadis was looking for. Poutaddis tested him. In his newly built Somerville spot at 378 Highland Avenue, Poutaddis invited in Greek friends and shut the door. Kriakos cooked away. The Greeks ate and ate. They approved. And so Kriakos and Poutaadis became business partners in Yeeros, the excellent new Greek restaurant on the edge of Davis Square.
Yes, it's "Yeeros," not gyros with a hard "g." I'm old enough to remember the emergence of gyros joints in the 1970s, something novel in America to challenge red-sauce spaghetti parlors and eggroll-heavy Cantonese restaurants. What fun to have meat carved off the revolving spit! Over the years, those gyros spots got old, weary, creaky, slovenly. I stopped eating at them. But my appetite and excitement are back with Yeeros, which is both splendidly traditional and properly up to date. And really, really clean.
What will strike anyone walking in the Yeeros door is how spiffy this place is, how oft-mopped. And how organized the food choices are, with everything fresh before your eyes just across the counter. In bins, the add-ons to sandwiches, the greens for salads, the yogurt for everything else, including (a bit later) for deserts. But what really grabs your attention are, high on on a back wall, three delectable souvlaki choices, stacked in layers on spits, marinated with Greek spices, slowly being grilled. How does one choose? My four times eating at Yeeros, I have yet to go for the chicken, though it is a healthy option and looks delicious. Poutaadis says that Greeks prefer the pork souvlaki at home. It's good but I've twice opted for what is even better: the American favorite, a luscious pile-on of beef and lamb. Real meat. Quality meat. (Poutaadis shakes his head in disapproval of the cut-rate places which use ground meat. Never at Yeeros!)
The souvlaki sandwich ($7.50) comes with tomatoes, tzatziki, raw onions (I once substituted cucumbers) and a fine house extra, a handful of soft French fries. Served on warm pita, this is a substantial lunch for most people. Want a tad more? Add on a small chicken avgolemono soup ($3.85), with chicken pieces, lemon, rice, egg, and a thick chicken-stock broth. Two people for lunch? I suggest a sandwich each (these are too tasty so split) and share a salad.
The salads are LARGE. I tried the kale salad ($7.95), which I surely would have appreciated more if I loved the bitterness of raw kale. Also, the lemon herb salad dressing, on the side, was a little tart. Instead, I've twice happily ordered the horiatiki (village) salad ($7.95), and feasted on cucumbers, red onions, and lots and lots of tomato. I also suggest adding a few more green pepper slices and kalamata olives to the mix. Perhaps a little more oregano and pepper, a couple more squeezes of that first-rate olive oil brought from Crete? The Yeeros way is to put two large slices of imported Greek feta, made from lamb or goat milk, atop the vegetables. As one digs through the salad, the feta crumbles into the tomatoes, its juices become milky with the olive oil, and everything gets yummier.
But there is always room for Kriakos's spectacularly tasty spanakopita ($4.50, a bargain!) made every day from scratch on the Yeeros premises. Fine dough, bursting with savory spinach. And for deserts one really MUST try Kriakos's special-recipe baklava, buttery rich and nutty. How does he get his filo dough so light and crispy? Finally, for those who live for frozen yogurt, seemingly everyone in Davis Square, Yeeros goes young and modern. Paper cups of full milk yogurt from — where else? — Sophia's in Belmont with tablespoons of imported jams and jellies from Greece. The crowd favorite is black cherry. I went for rose petals jelly, a wonderful decision, this subtle blend of pectin and rose water sweetens the thick white yogurt, turning it a pleasant pink.
Yeeros is really much more of a takeout place. I've eaten in four times, but each time, I've been lucky to claim one of the three functional tables. Yeeros is at 378 Highland Avenue, Somerville, and open Monday-Saturday 11 AM-10 PM and Sunday 12 noon-9 pm. The restaurant does not serve liquor. Service is fast and friendly. Telephone (617) 661-4008.
---
Gerald Peary is a professor at Suffolk University, Boston, curator of the Boston University Cinematheque, and the general editor of the "Conversations with Filmmakers" series from the University Press of Mississippi. A critic for the late Boston Phoenix, he is the author of nine books on cinema, writer-director of the documentaries For the Love of Movies: the Story of American Film Criticism and Archie's Betty, and a featured actor in the 2013 independent narrative Computer Chess.