There were a number of agreeable takeaways: one was that one can build a substantial evening of music, particularly one that features a wide range of stylistic perspectives, out the work of living composers.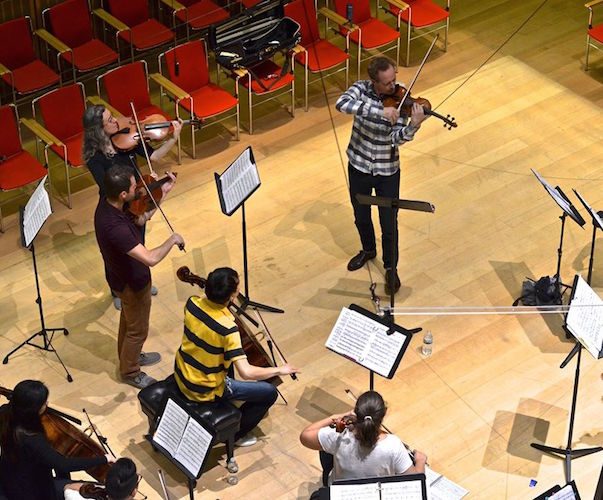 By Jonathan Blumhofer
For those inclined to look for such things, there were more than a few intriguing relationships and revelations to glean from the conductor-less string orchestra A Far Cry's "All-American" season finale on Friday night at Jordan Hall. That a U.S.-centric program can prove rewarding without resorting to favorites by Ives, Copland, or Gershwin was one. Granted, Leonard Bernstein is part of that canon, too, but at least he was represented here by his not-overplayed Serenade.
A second takeaway was the fact that one can build a substantial evening of music, particularly one that features a wide range of stylistic perspectives, out the work of living composers: of the four represented on Friday, only Bernstein is no longer with us. The rest – Mark O'Connor, Philip Glass, and Derek Bermel – are very much active and, individually, each seems to be at the top of his game.
Finally, a third realization from the night is that music can be forward-looking and even provocative without being off-putting and ugly. That was certainly the case with the evening's premiere, Bermel's Murmurations. Inspired by the association Bermel draws between string orchestras and flocks of birds (they share what he describes as "the search for unity on many levels"), its three movements offer plenty of evocative moments and a few that are downright haunting.
Its first, "Gathering at Gretna Green," is built around the idea of what might be called "developing call-and-response," beginning with a soft, murmuring figure that's passed back and forth through the ensemble. As it grows in scope and shape, some solos develop, including a prominent one for the concertmaster. Its various elements gradually coalesce, then disperse, and, eventually, come together again at movement's end, just like a flock of birds assembling and flying off together.
The contrast between the concept-driven first movement and the lyrical second one is pronounced: the latter, "Gliding Over Algiers," presents a simple, diatonic tune played by the violins that's heard over a repeated pattern of arpeggios in the low strings. As the movement proceeds, the theme is treated canonically, but hardly varies in harmonic content. "Swarming Rome," the finale, is more rhythmically driven and a mite spastic in character, alternating between measured, buzzing clusters of notes and whimsical flights of fancy.
Friday's performance of Murmurations, the first in Boston, was appropriately vibrant and richly colored. In the fast movements, especially, the Criers' energy was electrifying: watching the ensemble move in unison and as individual sections on the Jordan Hall stage was to experience Bermel's vision of string-orchestra-as-aviary in a peculiarly heartening way. Jae Cosmos Lee turned in a charismatic performance of his first-movement solos and the beautiful second movement all but stopped time.
If Murmurations didn't quite give the impression of all adding up – on Friday, the first movement came across as less emotionally engaging than the other two – it's at least a welcome addition to the canon of music for strings, and certainly warrants additional hearings. Bermel was on hand Friday night to bask in some well-deserved cheers.
Murmurations shared a few characteristics with Glass's Company, the piece that preceded it on Friday's program. Both scores explore the notions of rhythmic consonance and dissonance, though that's perhaps a more defining trait of the Glass. And each piece provides ample content to match its duration; in the case of Company, I found myself in, for me, the odd predicament of wishing there was more Glass to come.
Part of the reason for this, no doubt, owed to the excellent performance by the ensemble. The Criers played Company's slow first and third movements with eerie calm, even seeming to find, at the end of the former, traces of Shostakovich. The brisk, even-numbered movements offered some measure of emotional release and, from a technical aspect, finely-balanced textures that allowed one to easily discern the music's conflicting rhythmic patterns.
If Glass's writing for strings in Company came off as essentially Classical in consistency, O'Connor's was much more intentionally dense. That's not to say that Elevations, an expansion of his 1999 score, Vistas (originally written for Yo-Yo Ma), is muddy: it's not. Rather, it's often quite busy. That's appropriate, though, as it calls to mind the American fiddling tradition with which O'Connor is so closely associated: bent pitches, toe-tapping reels, a kind of hoe-down, and plain-spoken lyricism all find their way into its ten-or-so minutes. It's an ingratiating piece and a smartly written one, tuneful and accessible, to be sure, but never cloying or predictable.
And the Criers played Elevations with abundant panache, mining the intensity of the major/minor glissandos that open and close the piece, and making spirited work of its good-natured athleticism.
Alas, it was hard not to wish that a conductor had been on hand to lead them in the equally-vigorous Serenade, Bernstein's brilliant (and fiendishly difficult) concerto for violin, strings, harp, and percussion. Written in 1954, it's loosely based on episodes from Plato's Symposium, though, in purely musical terms, Bernstein's sophisticated manipulation of its themes far exceeds any program assigned to them.
Friday's soloist was the accomplished virtuoso Anthony Marwood, who was evidently playing the piece for the first time. You would hardly have guessed it from the crisp, idiomatic performance of the solo part that he turned in. There was fleetness and light in his playing – especially over the first movement – but also pathos and drama in the expressively-charged fourth. And he convincingly dug into the jazzy refrains in the finale, stomping out the beat with his foot for most of it (in this, he was in good company: Bernstein, too, was known to bust a move or two during this movement).
One has to admire the Criers' chutzpah for playing the piece conductor-less given the Serenade's many ensemble challenges. Bernstein loved complex rhythmic patterns: accordingly, asymmetrical meters and cross-rhythms abound in each of its movements. And he wasn't shy about writing music that modulated here, there, and everywhere in between. Each of these tendencies characterize the Serenade. Any hesitation in execution, though, shows through the piece's thin, Neo-Classical veneer.
And there were more than a few of those on Friday. Phrasing was square and balance uneven in the introspective second movement. In the fourth, playing was tentative and, as a result, a train-wreck was averted in the middle thanks only to Marwood's stepping in to lead at the last second. And the finale, for all its pep, sounded rough and the ensemble occasionally covered the soloist, especially over the Serenade's raucous, closing bars. That said, the first movement came across successfully and the mercurial third blazed with remarkable precision (not to mention percussive color). But the whole thing would have benefited from a bit more guidance.
Still, it's nice (not to mention rare) to leave a concert where they oldest piece is barely sixty and its tunes remain lodged in your head. Such was the case on Friday. And it's still the exception to the rule (at least generally) to encounter a program that's put together as intelligently as Friday's and played with such stimulating verve. Then again, the Criers have been exceptional for a while and, on Friday's evidence, they show no signs of abdicating that reputation anytime soon.
---
Jonathan Blumhofer is a composer and violist who has been active in the greater Boston area since 2004. His music has received numerous awards and been performed by various ensembles, including the American Composers Orchestra, Kiev Philharmonic, Camerata Chicago, Xanthos Ensemble, and Juventas New Music Group. Since receiving his doctorate from Boston University in 2010, Jon has taught at Clark University, Worcester Polytechnic Institute, and online for the University of Phoenix, in addition to writing music criticism for the Worcester Telegram & Gazette