A Great Wilderness dramatizes the plight of a believer who is forced to face a powerful truth about himself — that he has probably wasted his life.
A Great Wilderness by Samuel D. Hunter. Directed by David J. Miller. Staged by the Zeitgeist Stage in the Plaza Black Box Theater at the Boston Center for the Arts, 539 Tremont Street, Boston, MA, through May 21.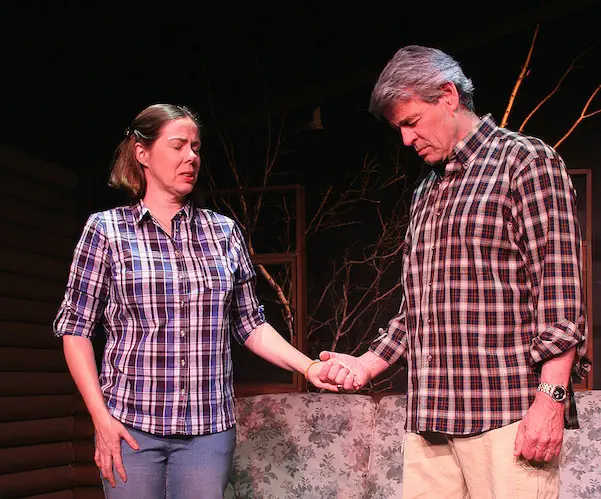 By Bill Marx
The set-up of Samuel D. Hunter's A Great Wilderness leads you to expect some juicy sexual/political fireworks. The aging leader at a Christian retreat in Idaho dedicated to 'curing' gay teens takes on his last client. The kid, Daniel, disappears into the remote wilds of the surrounding forest. Was he short-circuited by an anti-gay-electro-gadget? Tossed into a snake pit for the naughty and uncooperative? Will some sort of sexual cat-and-mouse game play out between a born again maniac and his adolescent victim? Early on, Hunter generates some humor out of those questions. Walt, the oh-so-gentle counselor, is suspected of using shock therapy to change sexual proclivities. But the script is less about generating suspense regarding a disappearance, or scoring predictable liberal points via an exposé of religious quackery, than serving up a compelling character study. In this case, dramatizing the plight of a believer who is forced to face a powerful truth about himself — that he has probably wasted his life.
Both Hunter's The Whale, which was staged by SpeakEasy Stage in 2014, and A Great Wilderness owe something to Henry James'  classic novella "The Beast in the Jungle." These dramas proffer visions of severe repression, physical and spiritual, blasted aside. A self-isolating character is forced to confront why he is hiding from society with such ferocious tenacity. The plot is essentially a dramaturgical pressure cooker, each character and circumstance engineered to bring the protagonist — sometimes kicking and screaming — out into the world and toward a painful personal realization that is more debilitating than cathartic.
In the case of Walt, he has grown too old to live alone and is about to move (reluctantly) into an assisted living facility. He is happy that his ex-wife, Abby, and her husband Tim (a lawyer who also ministers to gay teens on the side) will be taking over the holy cause of conversion. To Walt's consternation, Christian attitudes toward homosexuality are changing — retreats like his are becoming a thing of the past. Fearful of his future, he is not up to dealing with a tragedy-in-the-making, that one of his charges has vanished and may be dead. Add some sharp recriminations from Walt's ex-wife, crippling memories of a traumatic loss, hints at past homosexual desire, and intimations that he may not really have helped make all that many gays go straight, and you can see the ironic psychological trap that Hunter creates — Daniel may be lost somewhere in the wilds, but Walt is pinned on a cross of his own making.
At this point it is time to step away from the plot's reversals and revelations. Hunter's script reflects some of the weaknesses in current American playwriting. He has the bad habit of repeating information, catering to the now common assumption that audiences have micro-short attention spans. Also, his characters insist on summarizing a scene's message ("But you never really loved me …"), even though what is going on is crystal clear. Because all of the figures around Walt have been neatly arranged to push him to his final epiphany, they come off as devices rather than complex figures, particularly Daniel's mother, an erratic figure who has a last minute change of heart that serves Hunter's thematic concerns but isn't very credible.
Still, there is much to like and respect in this play. Hunter treats his characters with sympathy and respect. Easy crusading against homophobia is eschewed; there's no theological squabbling here about Biblical 'injunctions' against homosexuality, just some boilerplate rhetoric regarding anxieties that the culture is becoming increasingly immoral. Instead, the script sets up a web of existential conflicts around notions of danger and safety. Walt's ex-wife believes that being gay is a form of death — safety lies in accepting conventional, God-given correctness. Yet it is possible that embracing security and preaching safety to others, as Walt has been doing for decades, is a form of extinction as well, paralysis in the face of  life-enhancing risks. Walt believes in the value of finding words to articulate problems — an onstage dictionary serves as a two-ton symbol of that — but he hasn't found the means to communicate his deepest needs or to mourn what he has lost.
The Zeitgeist Stage Company production is anchored to a fine performance by Peter Brown as Walt. There's not a lot of doddering geriatric shtick. Instead, we are given a wobbly geniality that is an ambiguous form of strength and weakness — this is a stubborn individual who has tried to make a virtue of self-abnegation. He is serving a form of self-exile, a retreat from himself masked by his amiable ministry to others, though he is capable of genuine anger when his privacy is endangered. Jake Orozco-Herman is effectively confused as Daniel, while Shelley Brown as Abbey and Thomas Grenon as Tim provide solid, if somewhat one-note, support. Christine Power does what she can with Daniel's mother, Eunice, trying to smooth over the woman's jig-jags from concern to indifference and then dismissal. Kathy LaShay Berenson provides an amiably take-charge ranger.
Walt doesn't know himself, but at the end his eyes are jolted open in a tricky scene that director David J. Miller could have handled with more emphatic dramatic force. The confrontation keyed by the 'surprise ending' feels somewhat tossed off here. Yet the play has been moving to this inevitable point of bitter illumination; there should be a sense of revelatory free fall, not Brown's somewhat tentative awareness. Still, A Great Wilderness is absorbing, if only because it is not about empowerment by way of gushy inspiration (the current vogue in American theater), but through a glimpse of a hard truth — lost but now found — in all of its unpleasant glory.
---
Bill Marx is the editor-in-chief of The Arts Fuse. For over three decades, he has written about arts and culture for print, broadcast, and online. He has regularly reviewed theater for National Public Radio Station WBUR and The Boston Globe. He created and edited WBUR Online Arts, a cultural webzine that in 2004 won an Online Journalism Award for Specialty Journalism. In 2007 he created The Arts Fuse, an online magazine dedicated to covering arts and culture in Boston and throughout New England.