Companhia de Dança of Rio de Janeiro applies a suggestion of narrative to the standard revue format, but the real subject is the dancers' souped-up physicality.
Companhia Urbana de Dança/Sonia Destri Lie, presented by CRASHarts at the Institute of Contemporary Art, Boston, MA, April 15 and 16.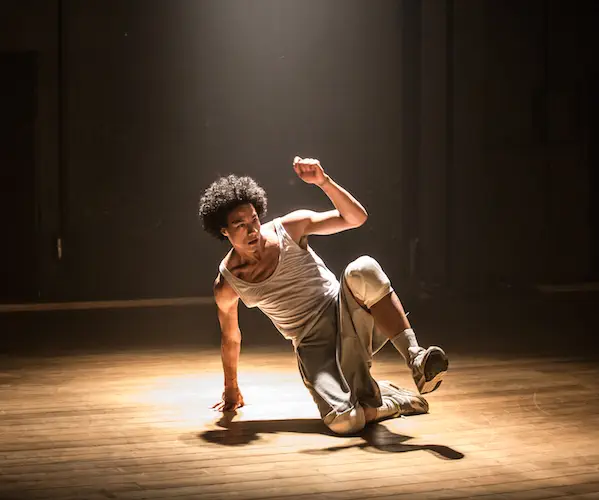 By Marcia B. Siegel
Like tap and other forms of street dancing, hip hop has resisted the transfer to theaters. Hard to effect a theatrical presence when your body is constantly recalibrating its orientation to the ground, or your feet are spinning their own rhythmic stories. Neither tap nor hip hop has one universal technique. Both are defined by individual interpretations, so the street dancing we see in theaters usually takes the form of a string of numbers showing off special skills or personalities. More than 15 years ago, the hip hop maestro Rennie Harris made a bold attempt to escape this paradigm with his version of Romeo and Juliet, relying on Shakespeare's text and characters as a scaffold for individual talents. I haven't seen any credible offspring of that innovative storytelling since then.
Companhia de Dança of Rio de Janeiro applies a suggestion of narrative to the standard revue format, but the real subject is the dancers' souped-up physicality. Artistic Director Sonia Destri Lie combined her own training in contemporary dance with hip hop and break dancing for the two pieces we saw last weekend at the Institute of Contemporary Art. ID:Entidades features the eight men and one woman of the company as loners, within a pretext of urban menace. Na Pista provides opportunities for each of the dancers to show off as they gather for a night at a club. Neither piece had an evident plot line; both relied on the dancers and their interactions, plus intelligent but not obtrusive staging elements.
ID:Entidades began in the dark. You could see dancers' faces glowing in the background, but even when they advanced one by one, you could only make out their upper bodies. Here and throughout the piece, a spooky lighting scheme by Dominique Palabaud, executed by Renato Machado, carved up the space into horizontal corridors and rectangular boxes that contained or concealed the dancers.
As they appear, the dancers launch into solos and duets fusing the flips, rolls and spins of hip hop with body-shearing ripples, moonwalks, and multi-directional isolations. Virtuoso moves like shoulder stands and spins could be stopped without warning, fixing the dancer's legs crooked in the air. Jabbing vertical jumps look stuck to the ground even when the jumper is airborne. There are occasional expressive gestures woven in, like twiddling fingers or the motion of shooting a bow and arrow.
An easy samba stepping from foot to foot carries the action along. The music (by Rodrigo Marçal) is mostly a series of regular pulses with electronic orchestrations, and periods of dead silence. There's one vocal number inserted near the end, where the singers comment ironically on a "wonderful world" that hides disturbance under the surface.
After an intermission the dancers gather like old buddies, raucously greeting each other as they assemble at a club. Na Pista, a company signature piece, translates the showcase format into a kind of cabaret. The dancers' specialties can arise easily from within the party context. They keep a nonstop energy going, with changing tempos, and a score that switches from an electronic beat to samba to a rhythmic conversation in French that seems to be about lunch but may be suggesting more. A revolving mirror ball sends sparks into the house.
First they conduct a madcap game of musical chairs; then the chairs are lined up across the back of the space. A familiar device in European Tanztheater works, associated with Sonia Destri Lie's role model Pina Bausch, the chair lineup allows cast members to become spectators along with the audience. From their chairs they can watch each other in appreciation or derision. In Na Pista the chair occupants periodically fall into unison, swooping around on their chairs, taking swigs from water bottles, their mass gestures creating a backdrop for acrobatic solos.
The company's lone female, Jessica Nascimento, a small, agile woman in black pants and halter top, shakes and undulates, enticing one man after another into momentary duets. Nascimento could hold her own in the hip hop parts of both pieces, and it seemed obvious stereotyping to use her in this way. But she did it good naturedly, and the men didn't take it seriously when she abandoned one partner for another, aside from an occasional pushing and shoving encounter, and some mild Capoeira skirmishing between rivals.
Eventually they were all dancing, showing off, having fun, as each participant got a chance to show his moves and his attitude. After two hours the audience didn't want to let them go.
---
Internationally known writer, lecturer, and teacher Marcia B. Siegel covered dance for 16 years at The Boston Phoenix. She is a contributing editor for The Hudson Review. The fourth collection of Siegel's reviews and essays, Mirrors and Scrims—The Life and Afterlife of Ballet, won the 2010 Selma Jeanne Cohen prize from the American Society for Aesthetics. Her other books include studies of Twyla Tharp, Doris Humphrey, and American choreography. From 1983 to 1996, Siegel was a member of the resident faculty of the Department of Performance Studies, Tisch School of the Arts, New York University.