While there are some folks younger than 30 who are eagerly learning this dying art, most of the projectionists are what we could sadly call a dying breed.
The Dying of the Light, directed by Peter Flynn. At Coolidge Corner Theatre, Brookline, MA.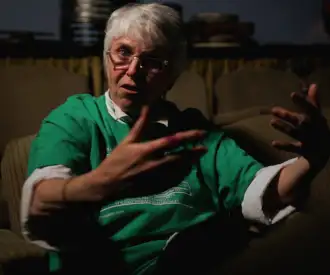 By Peg Aloi
When's the last time you saw a film projected in 35mm? Unless you live in a city (like Boston) where there's an audience clamoring for the experience, the likely answer is probably "it's been a while." Most theatres, including drive-ins, converted to digital projection by 2014. Indeed, most filmgoers probably would not know the difference between a 35mm projection and a digital projection. So does it even matter? Peter Flynn's stunning new documentary explores that very question.
The Dying of the Light (which begins a week-long run at the Coolidge Corner Theatre today) provides some fascinating history of the art and science of film projection, mostly courtesy of David Kornfeld, the Head Projectionist at the Somerville Theatre (one of several Boston area theatres, along with the Brattle, the Harvard Film Archive, and the Coolidge Corner that makes it a point to show 35mm prints). A number of local New England projectionists are interviewed, as well as folks working in upstate New York, Detroit, and farther afield.
While there are some folks younger than 30 who are eagerly learning this dying art, most of the projectionists are what we could sadly call a dying breed. Their skills are not learned in film school or from books, but from other projectionists (Jack Theakston of the Capitol Theatre in Rome, NY points out his own projecting career comprises a legacy of a hundred years of experience, from his early teachers to his fifty years of work). They learn to splice film and fix equipment using what is at hand, including safety pins, paper clips, and tape. They're responsible for making sure your movie experience is a smooth and glitch-free one. And the likelihood their occupation will still exist a decade from now is slim to none.
If that sounds dire, Flynn wants us to know what is being lost and what is truly at stake. It's a vocation but also a way of life that is crumbling away, as sure as the gorgeous arthouse theatres that sit vacant, abandoned and succumbing to decay in places like Detroit (whose grandiose Michigan Theatre built in French Renaissance style in 1925 is a dim shell of what it once was, and is currently being used as a parking garage). Soon enough people will have to travel long distances to experience what was once commonplace throughout America.
Just as many cities seem to prefer pumping money into new construction instead of restoring old buildings, the motion picture industry is more interested in profits from concessions than sharing the visual experience of film with its audiences. Most major releases are no longer available on film and so over the last few years many independent theatres were forced to convert to digital or perish (and many did). Some theatres resorted to crowd-funding to make the change (like the Salem Cinema). No special training is needed to run these digital systems; and the film's portrayal of the intricate knowledge and experience of these projectionists makes them seem a sort of throwback to a more engaged and more glamorous time.
Yet their stories and recollections don't always hint at glamour; long hours in cramped, smelly booths, fire hazards, apprenticeships at whatever theatres would have them, including grimy porn palaces (Dorman Bermingham, one of only two female projectionists profiled, fondly recalls her salad days learning to project with porn, and compares the physicality of working the projector and handling the film to sex).
Flynn's film is digital in format: somewhat ironic, perhaps, given his subject matter, but the visual beauty of the photography here is a fitting homage to the level of artistic quality many cinema aficionados crave: quality that is now harder and harder to access, as convenience overtakes visual purity as the main concern of exhibition houses. The play of light and dark is a constant theme: within the dusty, mysterious booths we meet an assortment of unusual, dedicated folks who spend half their lives in the dark. But when they talk about their work, its beauty, its energy, its rhythms and precision, their eyes glimmer with something like starlight.
---
Peg Aloi is a former film critic for The Boston Phoenix. She has taught film studies for a number of years at Emerson College and is currently teaching media studies at SUNY New Paltz. Her reviews have appeared in Art New England and Cinefantastique Online, and she writes a media blog for Patheos.com called The Witching Hour.