Man Booker Prize-winning novelist Howard Jacobson is vexed by how The Merchant of Venice draws out the anti-Semitism of contemporary English audiences.
By Ian Thal
Shylock Is My Name by Howard Jacobson. Part of Hogarth Shakespeare, Penguin Random House, 288 pages, $25.
Shylock Is My Name: Howard Jacobson & Stephen Greenblatt in Conversation with Jonathan Wilson. Presented by the Jewish Arts Collaborative and Commonwealth Shakespeare at Congregation Kehillath Israel, Brookline, MA on March 22.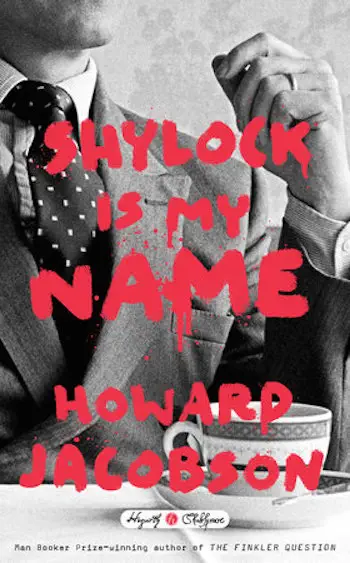 Hogarth Press has taken the ambitious step of commemorating the four-hundredth anniversary of Shakespeare's death by commissioning a series of novels inspired by his plays. British writer Howard Jacobson's entry is Shylock Is My Name, a modern retelling of The Merchant of Venice. Given that the drama is one of the most controversial in Shakespeare's oeuvre, it has been subject to a number of reimagings which, whether successful or not, have been designed to neuter the text in ways flattering to the liberal pieties of contemporary audiences. Thankfully, the unruly imagination of an arch humorist like Jacobson, a Man Booker Prize-winner, can be depended on to excavate and lampoon the hypocrisies underlying our smug certainties.
In the book's opening chapter, protagonist Simon Strulovitch, a wealthy art collector and philanthropist who is the grandchild of refugees, isn't surprised when he runs into the narrative's eponymous character (still kicking after centuries) while visiting his mother's gravestone. Strulovitch invites the Bard's money lender into his home, and soon his own story begins to parallel that of his guest's.
Of course, there are a number of differences. Strulovitch doesn't reside in Venice but in what English real-estate agents term "The Golden Triangle" a relatively affluent area in Northern England. He is not ensconced in a Jewish community – indeed, he's contemptuous of Jews who keep kosher and attend synagogue services, preferring to express his Jewishness primarily in the decisions he makes when it comes to the artists he collects, his acute awareness of how the English gentiles of the Golden Triangle perceive him, and his views regarding whom would be a proper paramour for his daughter, Beatrice.
Beatrice is a precocious sixteen year-old would-be performance artist at a local arts academy to which Strulovitch is a benefactor. Beatrice has fallen into the charismatic orbit of Jacobson's analogue for Portia: Anna Livia Plurabelle Cleopatra A Thing Of Beauty Is A Joy Forever Christine, an heiress and cosmetic surgery enthusiast. Rather than selecting a spouse through a trial of three caskets, she stars in her own reality TV show, which is set on her sprawling estate. Her entourage includes the dysthymic D'Anton, another rich art collector who initially comes into conflict with Strulovitch when he blocks attempts by the latter to open a museum of British-Jewish art in honor of his late parents. D'Anton claims that Jews are not relevant to the culture of the Golden Triangle.
After further squabbles, things come to a head when Plurabelle and D'Anton decide to procure Beatrice for Gratan Howsome – a five-times divorced football player twice her age. He has a fetish for Jewish women despite having garnered considerable notoriety for having once given a Hitler salute during a game. Upon meeting Gratan, Strulovitch jokes that he will not approve of  the marriage without a circumcision. The simple-minded footballer takes this demand literally. Plurabelle's entourage doesn't see Strulovitch's request as an expression of angry disapproval, but as evidence of Jewish bloodlust. Gratan and Beatrice are shunted off to a Venetian vacation; D'Anton and Plurabelle, afraid of the blows to their reputation and media empire if it became publicly known that Beatrice was a minor when they first procured her for their friend, offer a bond, reasoning that, for a Jew, one circumcision is as good as another.
By having Strulovitch and Shylock coexist in the novel, Jacobson sets up a labyrinth of ironic contrasts, including pithy commentary on the original drama. The spectacle Plurabelle devises for Strulovitch has nothing to do with what the man intended; it is inspired by the anti-Semitic beliefs shared by her cohorts. This set-up reflects Jacobson's belief that Shylock asked for a bond of "a pound of flesh" purely out of sardonic pique: after all, bloodletting and filthy lucre seem to be the only things these gentiles imagine that Jews desire. The novel's Shylock offers an exegesis of Portia's famed "quality of mercy" speech to her modern doppelgänger, and his analysis clarifies a point that is lost on most contemporary directors and dramaturgs when they stage The Merchant of Venice: the hollowness of Portia's words, as well as the play's puzzling narrative structure, are inspired by the Elizabethan period's anti-Judaic polemics and supersessionist theology. It is a prejudice based on the claim that compassion and forgiveness were solely the providence of the Church (Shakespeare's contemporaries would argue about which Church). But, as Jacobson's Shylock explains:
It is wrong not to know where you got your sweet Christian sentiments from. It is morally and historically wrong not to know that Jesus was a Jewish thinker and that when you quote him against us you are talking vicious nonsense. Charity is a Jewish concept. So is mercy. You took them from us, that is all. You appropriated them. They were given freely, but still you had to steal them.
In updating the Bard's story, Jacobson spreads his satire around, poking fun at celebrity culture in the age of social media and reality television as well as lampooning the psychology of British anti-Zionism (a frequent subject of his, up until last week, long-running weekly column for The Independent) in which a rapacious lust for land is added to the stereotype of an avaricious and bloodthirsty Jew that has dominated modern anti-Semitism.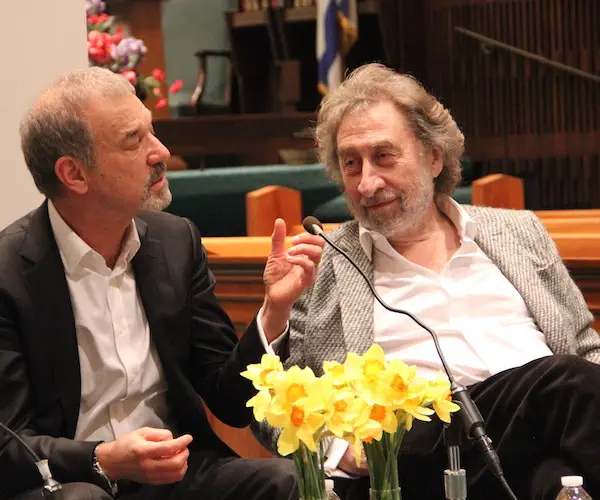 At the March 22 panel, a discussion presented by the Jewish Arts Collaborative, Jacobson was joined by Harvard University literary theorist and scholar Stephen Greenblatt, and the Director of the Center for the Humanities at Tufts University, Jonathan Wilson. The conversation mostly stayed away from looking at Jacobson's novel; the focus was on Shakespeare's text. There was appreciation, ambivalence and thoughtful consideration of how it can be interpreted on stage. Wilson opened with an anecdote about a trip to China where, as a visiting scholar, he decided to show his appreciation to his hosts by taking them to a tea house as his guests. As they left, his translator informed Wilson that his hosts-turned-guests had commented among themselves that "he's so generous; not like Shylock at all." This led to Wilson's opening question: Can we hold Shakespeare accountable for the atavism Shylock continues to inspire?
Jacobson provided an ambiguous defense of Shakespeare, noting not just his own affection for the character of Shylock, but suggesting he was reluctant to assign responsibility to an author for how his characters are interpreted. Despite this, he is vexed by how the play draws out the anti-Semitism of English audiences – he described a performance of The Merchant of Venice he attended in which the audience gasped in shock when Gratiano spit on Shylock's beard. Afterwards he was told that the night before the audience had cheered at the very same moment of humiliation. Jacobson is convinced that the Bard believed that his audiences would see through the Christian rhetoric and understand the complexity of Shylock's gambit. For Jacobson, Portia is such an obvious a racist (indeed, Greenblatt suggested that she was Shakespeare's least favorite "of all his cross-dressing-heroines") and Antonio and Bassanio are so single-mindedly motived by crass materialism and their own sublimated sadomasochism. In his view, Shakespeare's theological critique (assuming it was intended) is in plain sight, but it has rarely filtered down to the directors who helm productions I have seen, let alone to the actors who play the roles. And it is not so clear to audiences either.
It was a cordial affair; friendship and collegiality most likely prevented the airing of genuine differences of opinion. It was only after Jacobson had gone to the lobby to sign copies of his books that Greenblatt conceded, in informal conversation with attendees who had lingered behind, that both the racial stereotypes and theological polemics in The Merchant of Venice would have found considerable favor with Shakespeare's audiences, even if Shylock continues to persist in the 21st century imagination as a victim rather than a monster. (During the discussion it was noted that 2016 also marked the five-hundredth anniversary of the founding of the Venice Ghetto – the first such ghetto in European history.)
Commonwealth Shakespeare's contribution to the evening was a brief staged reading of an excerpt from Act I Scene 3 in which Shylock (Jeremiah Kissel) and Antonio (Matthew Tyler) negotiate their infamous bond. Kissel is no stranger to the role. He played it in the 2008 production  presented by the Actors' Shakespeare Project (directed by Melia Bensussen). The actor gave a brief, yet richly textured performance that captured the figure's memorable mix of justifiably resentful anger, sharp wit, and intelligence — an interpretation very close to Jacobson's.
---
Ian Thal is a playwright, performer, and theater educator specializing in mime, commedia dell'arte, and puppetry, and has been known to act on Boston area stages from time to time, sometimes with Teatro delle Maschere. He has performed his one-man show, Arlecchino Am Ravenous, in numerous venues in Massachusetts and Rhode Island. One of his as-of-yet unproduced full-length plays was picketed by a Hamas supporter during a staged reading. He is looking for a home for his latest play, The Conversos of Venice, which is a thematic deconstruction of Shakespeare's The Merchant of Venice. Formerly the community editor at The Jewish Advocate, he blogs irregularly at the unimaginatively entitled The Journals of Ian Thal, and writes the "Nothing But Trouble" column for The Clyde Fitch Report.