Southern Comfort, a musical based on the 2001 Sundance Award-winning documentary by Kate Davis. Book and Lyrics by Dan Collins. Music by Julianne Wick Davis. Directed by Thomas Caruso. Choreograhy by Ryan Kasprzak, at the Public Theater, New York, New York (Closed).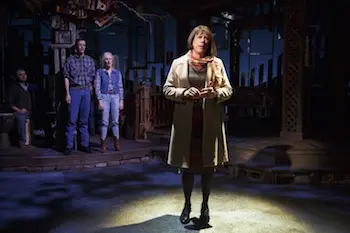 By Joann Green Breuer
You know we have come a long way when, just like everyone else, transsexuals can have their own mediocre musical with all the trimmings. A predictable plot on a crowded stage, pushed along by knee slapping, no demanding country tunes. The song and dance routines are anchored by a gigantic photo-strewn symbolic tree that dominates the space — in case you did not get the message. This third (?) reworking of a stage adaptation of the Kate Davis documentary turns on issues of phalloplasty and ovarian cancer, while romance runs rampant. Luckily the cast members are plucky, as are the guitarists and bassist. David Lutken, piano/violin/music director, keeps up the pace and, with others of the combo, does an occasional walk/sing on competently. The acting company, like the characters, are a blend of cis- and transgender individuals, each talented, particularly so in song, and committed to the dignity of their character even when the dialogue tends to fail them.
Of particular note is Jackson, interpreted by Jeffrey Kuhn, on temporary leave from The Lion King. Jackson's angst is scriptually strained, but Kuhn plays it for all its could-be worth.
Kudos to the Public Theater, for, despite 'New York values,' its lack of snobbishness and non-discriminatory bathroom policy.