Kazuo Ishiguro's latest novel explores a future that's already happened.
"Never Let Me Go" by Kazuo Ishiguro. (Knopf)
By Liza Weisstuch
In the popular imagination, science fiction novels are supposed to be set in the future, anywhere from two years ahead to centuries. Often, these stories ruminate on how the latest technology changes humanity and society. That makes Kazuo Ishiguro's latest novel, "Never Let Me Go," an odd but exciting entry into the sci-fi field. It is undoubtedly futuristic, yet it is set in the past, in "England, late 1990s," to be exact. Ishiguro is exploring a paradox: a future that has already happened.
Kathy H., the thirty-one-year-old narrator, works as a "carer" who drops in on various donors. During her perambulations, she recounts her childhood at Hailsham, a boarding school where all the children appear to be from a privileged class. The grounds are bucolic and well-appointed. The children are cared for by "guardians" who promote physical activity, militantly warn against behavior that could spoil their bodies in any way, (smoking is especially criminal) and encourage artistic expression. Every so often, they break down and tell the students that they're "special." So far so good, right?
But a creepy undercurrent ticks like a muffled time bomb at the isolated Hailsham. "This might all sound daft," Kathy tells us, "but you have to remember that to us, at that stage in our lives, any place beyond Hailsham was like a fantasy land; we had only the haziest notions of the world outside." The school escalates the alienation by identifying the students only by last initials, since they don't have last names. In addition, none have parents to speak of, and their personal belongings are accumulated from "sales" where they buy up other people's tossed-off junk.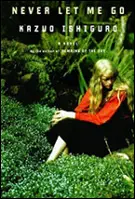 The school's pupils go about the usual childhood business of studying, playing, creating art, and building bonds of trust. Every once in a while there's an unscheduled visit from a Hailsham matron, who selects works for her "gallery." Like all normal children, they use terms, in this case enigmatic words such as "possibles," "carers," and "donors," that they will not understand until they are older, able to piece together a reality from their memories.
But these children are hardly normal. The cultish language and plastic-perfect landscape suggests that this is a satire of British boarding school life, a "Remains of the Day" for the small fry set. (And not just because "Hailsham" is a riff on Charles Dickens's Mrs. Havisham.) But the reader quickly learns that these kids are clones created to have their organs farmed out. In this alternate-history historical fiction, some of them first serve as nurse-like carers, who usher along donors' serial recoveries until the final procedure, when they don't die, but "complete."
This is the kind of shock-horror premise you'd find in any B-movie thriller, but Ishiguro is not your usual science-fiction writer, who stuffs gizmos into standard melodrama. (He doesn't even touch on the medical science of organ donations.) The book includes no "action scenes" (no Hollywood movie potential here), its momentum sustained by the gradual disclosure of significance of the jargon used so matter-of-factly by Kathy, her friends, and their guardians. As in Ishiguro's other novels, most famously "Remains of the Day," he shuns linguistic pyrotechnics and slick polemics in favor of compulsive subtleties and a Pinter-esque technique of using silences as a powerful narrative tool.
In other words, Ishiguro is a sly poet, bringing scaled down prose and an oblique approach to the revelation of buried emotions. "Never Let Me Go" is not so much a thriller as a bizarre mood piece, its insistent gloom and horror brightened by flashes of humor, often grounded in characters' childish naivety and fantasy. The implications connect to form an Orwellian cautionary tale about the subversion of language as well as genetic engineering and its limits, or lack thereof.
Like the writings of Orwell, Ishiguro's best known work is set against a backdrop of dreariness or turmoil, wars, or cultural upheaval. His protagonists typically create a delusive happiness for themselves by fending off reality. In "Remains," Stevens, the repressed British butler, won't face his boss's Nazi involvement. Ishiguro's debut novel, "A Pale View of the Hills," revolves around an England-based Japanese widow imaginatively reconfiguring her life in post-war Nagasaki after her daughter's suicide.
In "Never Let Me Go," the characters Kathy, Ruth, and Tommy are the tools with which Ishiguro coolly probes everything from the nature-versus-nurture debate to eternal questions, from what it is to have a soul to how memory works. Kathy sorts through the details of her life at Hailsham — the love triangle between her, Ruth, and Tommy as well as its day-to-day routine — with surprising equanimity, as if she was a private investigator. Anger or regret, emotions that would logically greet someone's discovery that he or she was raised as an organ bank, simmer beneath the surface rather than explode. Their repression is part of the book's unnerving mix of tragedy and comedy.
When Tommy and Ruth track down one of the Hailsham matrons to verify the rumor that couples can "defer" donations, they're told that "it may look as though you were simply pawns in a game," but they are "lucky pawns." By fusing a coming-of-age odyssey with a mad scientist's dreams turned bureaucratic reality, Ishiguro prompts us to ask ourselves: does a coming age of unprecedented progress really give us all that much to hope for?