The rapturous reaction to Boston Ballet's performance on Sunday afternoon demonstrated that this kind of work can still pierce the heart of an audience.
Onegin, staged by the Boston Ballet at the Opera House, Boston, MA, through March 6.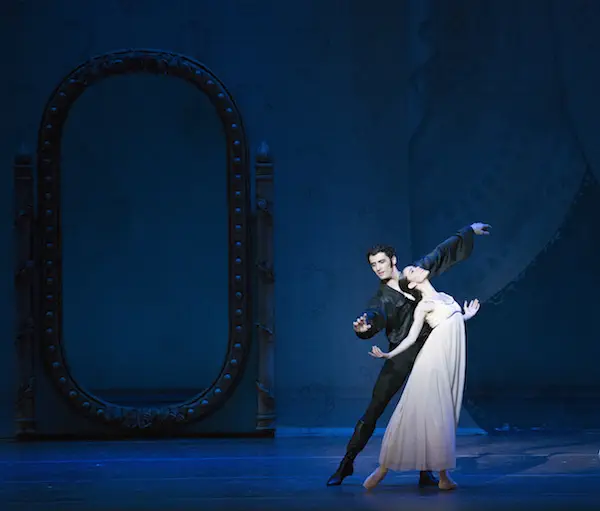 By Marcia B. Siegel
Boston Ballet's Onegin feels very old-fashioned. The sumptuousness of the décor and costumes, the passion, the touching story make this ballet a grand theatrical occasion, but it doesn't resonate for me. It's the characters and the social conventions in which they're caught that made this story a literary landmark, and I don't know if ballet can ever get this deep.
John Cranko's Eugene Onegin had its premiere at the Stuttgart Ballet in 1965, the same year Kenneth MacMillan made his Romeo and Juliet for the Royal Ballet in London. These two works ratified a return to old-fashioned story-ballets, a vogue that lately seems to have grown stronger. The rapturous reaction to Boston Ballet's performance on Sunday afternoon demonstrated that this kind of work can still pierce the heart of an audience.
Onegin (its first name was eliminated sometime in its long, successful career) is Cranko's take on the Alexander Pushkin novel in verse form, which was serialized between 1826 and 1832. Controversy has followed the many translations of Pushkin's classic. The ballet also had a mixed critical reception when the Stuttgart brought it to New York in 1969. Boston Ballet doesn't credit anyone for the libretto of Onegin, but I assume it was Cranko who put it together, from the well-known Tchaikovsky opera. The ballet's score is a composite of Tchaikovsky pieces gathered by Kurt-Heinz Stolze, none of them from the opera.
Onegin, Romeo, Taming of the Shrew and other 20th century costume ballets afford an escape into a world of literary characters and their behavior. Unlike the supernatural classics like Swan Lake, in which you have to know something about ballet logic and symbolism, Cranko's Onegin doesn't need translating. Anyone can see what the story's about.
There's a country family — middle class — with two sisters, one flighty and one a serious bookworm. The flighty sister (Olga) is engaged to a poet (Lensky). The bookworm (Tatiana) disdains socializing but she's smitten with a mysterious stranger (Onegin) whom Lensky brings to a party. Later, Onegin rejects Tatiana's adolescent love letter and carelessly dallies with Olga. Jealous, Lensky challenges his friend to a duel and is killed. Years later, Onegin, regretful but still aloof, goes to a ball in St. Petersburg, where the hostess turns out to be Tatiana, now married to a high-ranking general. Onegin admits he's loved Tatiana all along, but when he tries to rekindle the flame, she rejects him, choosing marital fidelity and her new status as a rich matron instead of giving in to her long-suppressed desire.
But there's much more to Pushkin's story, which opens out onto a world of manners and pretension, impulse and constraint, vanity, affectation, and the nature of love. The author admires the simple life and scorns urban sophistication, gossip, superficiality. These are hard to portray on a ballet stage, but the production only skirts these drastic contrasts. Elizabeth Dalton's sets and costumes (borrowed from the Dutch National Ballet) are beautiful but routine. Draperies, decorations, and a few pieces of furniture sketch the country garden of the first act, the palace ballroom of the third. Granted, space must be left for the group dances, but Tatiana's bedroom and the library where the story ends are also oversized, dwarfing the action.
But the difference in locales is more than pictorial. Pushkin evokes country life with wonderful allusions to the birds, sunsets, fields that surround Tatiana's childhood. He mocks the manners and intrigues of city society. I didn't see these distinctions in the choreography or the acting of the dancers on Sunday.
Sabi Varga's Onegin, wearing snaky black tailcoat and tights, was a forbidding, unmoving figure. He made the character seem remote, preoccupied, as if attending to some loftier voice than the chatter around him. Reading Pushkin's poem, I could feel some sympathy for him. He's lonely in his disdain for the social world, conflicted about his heartless actions. Trying to be polite, he gives Tatiana a string of excuses for rejecting her affections; this subterfuge is mirrored years later at the end of the story when Tatiana rejects him.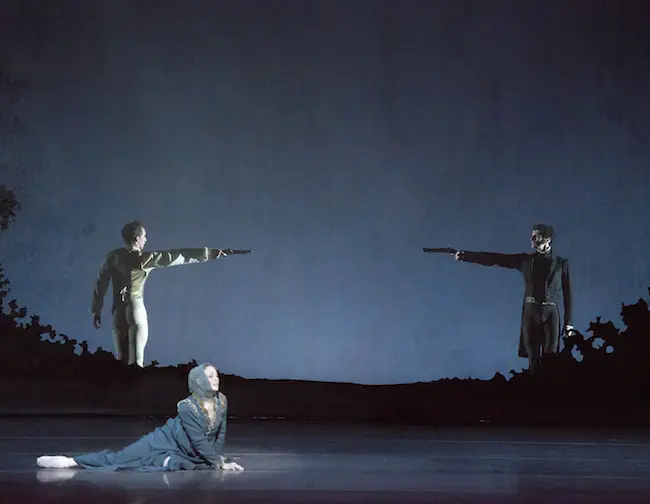 Cranko gives Onegin a dance of doubt in front of the curtain before the duel, and a scene where he tries to talk Lensky out of it. The headstrong Lensky insists his honor must be satisfied. If Onegin feels any regret for the killing, Varga didn't show signs of transformation when he confronted Tatiana again. Pushkin created Onegin and Lensky as temperamental opposites although they were also close friends, but the ballet doesn't establish a significant bond between them.
The sisters are also a pair of opposites. Tatiana, as played by Anaïs Chalendard, was a generic ingenue, hardly distinguishable from her sister (Jillian Barrell). She's supposed to be a rather clumsy, unsophisticated girl who's beneath the notice of Onegin in the first act. I didn't see why Onegin would flirt with Olga, who's not appreciably more attractive than Tatiana. The Lensky on Sunday, Samuel Zaldivar, seemed to take Olga for granted, until Onegin intervened. Then he developed a jealous pique, threw his handkerchief at Onegin and precipitated the duel. Patrick Yocum as Gremin, the military officer Tatiana eventually marries, looked handsome and attentive, nothing more. Cranko skips over their courtship and takes us right to the grand ball when they're a settled married couple.
Cranko's choreography consisted of large, formal ensembles — neat mazurkas, polonaises, refined folk dances — and expressive duets, with much expository miming in between. Cranko's yearning, pleading duets featured tricky lifts and high extensions, with the most spectacular moves repeated for good measure.
Pushkin wrote a stupendous nightmare that the young Tatiana has after she meets Onegin. Pursued by a bear in the snowy woods, she stumbles into a cottage, but instead of safety there, she finds a room full of monsters –and Onegin. When Lensky appears Onegin stabs him. For this phantasm Cranko substituted a dream where Onegin steps out of Tatiana's mirror and they dance a love duet, fulfilling her infatuated wishes, and the audience's romantic dream as well.
---
Internationally known writer, lecturer, and teacher Marcia B. Siegel covered dance for 16 years at The Boston Phoenix. She is a contributing editor for The Hudson Review. The fourth collection of Siegel's reviews and essays, Mirrors and Scrims—The Life and Afterlife of Ballet, won the 2010 Selma Jeanne Cohen prize from the American Society for Aesthetics. Her other books include studies of Twyla Tharp, Doris Humphrey, and American choreography. From 1983 to 1996, Siegel was a member of the resident faculty of the Department of Performance Studies, Tisch School of the Arts, New York University.