Clear some room on the mantle of cinematic disgrace for The Choice, an utterly drippy romance.
The Choice, directed by Ross Katz. At AMC Assembly Row, Apple Cinemas Cambridge.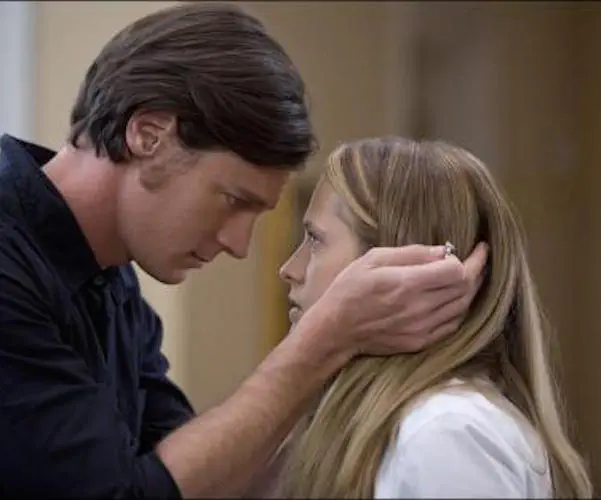 By Paul Dervis
The worst movie I ever saw was Joy in the Morning, a 1960s debacle starring Yvette Mimieux. Then there was Pia Zadora's Butterfly. At least that film give us Orson Welles making some bucks at the end of his career. More recently there was last year's Aloha. The producers seriously considered not releasing that Hawaiian turkey.
Well, now room must be made on the mantle of disgrace for The Choice, an early yet clear favorite to find its way to the top of the worst films of 2016 list. So far no other effort is close.
It would be wrong to ask what went wrong with this film. Better ask what went right….and I have no response.
The movie is based on a novel by Nicholas Sparks (of The Notebook fame). Glance briefly at his IMDb page and you will see the covers of all eleven of his books that have been made into films…and guess what? Every single one of them, EVERY SINGLE ONE, pictures a man and a woman either kissing or in an embrace. It's as if contemporary Harlequin romances — minus the ripped bodices — are making a beeline to the movies.
But back to this latest drippy romance. The Choice. What choice? With a title like that you would think there might be some meaning attached to the concept. Some monumental decision that our hero must struggle to make. Something other than the insipid actions of cardboard characters wading through more emotional manure than you would find in a six-pack of cheesy Lifetime Movies of the Week.
There are choices, of sorts, to choose from. It seems a man has to chase after the girl he loves and not let her get away…yawn. Or maybe it is the choice to dare to drive in a rainstorm. Might it be choosing to see that one last client and missing a date with your honey? Oh, yeah, might it be the choice to not pull the plug when the doctor tells you your wife is not coming out of her coma?
Oops…did I tell too much? Tough.
Erich Segal wrote Love Story to show his class at Yale University the tricks of writing pulp fiction. It begat a ridiculous film starring Ryan O'Neal and Ali MacGraw…not exactly the royal family of the American cinema. But in comparison to the leads here, Benjamin Walker and Teresa Palmer, they are Olivier and Leigh. The connections between the two goopy romance films are hard to miss. Good girl versus bad boy. Class conflict. Jokey lines…they are all here. Even a deathbed hospital scene where the guy crawls into the sack with his fast-fading wife (a spectacle stolen right from the earlier film). But at least in Love Story the female character had the good graces to die.
We should have been so lucky here.
To say Walker and Palmer had no chemistry is to state the obvious. It is as if they are acting in two different films. If you could call what they are doing on the screen acting. Walker, known for…what is he known for? I guess his claim to fame is looking like a beefcake pin-up. He takes his shirt off a lot here. And he mumbles some lines. Palmer, a model turned actress who appeared in the recent (and abysmal) Point Break remake as well as in the zombie flick Warm Bodies, plays a young woman going for a medical degree…Right! That's convincing. And after the couple is married we never hear about her practicing medicine. Guess she gave up her career for love or something like that.
The film is directed by neophyte Ross Katz, whose other feature film credit is something called Adult Beginners, with all the subtlety of a sledge hammer. He seems more interested in shooting pretty pictures of beautiful people walking during sunset along the coast of North Carolina than developing a realistic storyline. Katz's real forte has been as a producer; he helped to create such substantial films as The Laramie Project, Lost in Translation, and In the Bedroom. He is clearly out of his element here.
Look, I like a good romantic film as much, no, more than the next guy. A Walk on the Moon moved me greatly. An Affair to Remember (either version) still makes me cry. But really, give me something to hang my heart on.
---
Paul Dervis has been teaching drama in Canada at Algonquin College as well as the theatre conservatory Ottawa School of Speech & Drama for the past 15 years. Previously he ran theatre companies in Boston, New York, and Montreal. He has directed over 150 stage productions, receiving two dozen awards for his work. Paul has also directed six films, the most recent being 2011's The Righteous Tithe.