I look forward to more collaborations between these two ensembles, who were born to make, as they say, really beautiful music together.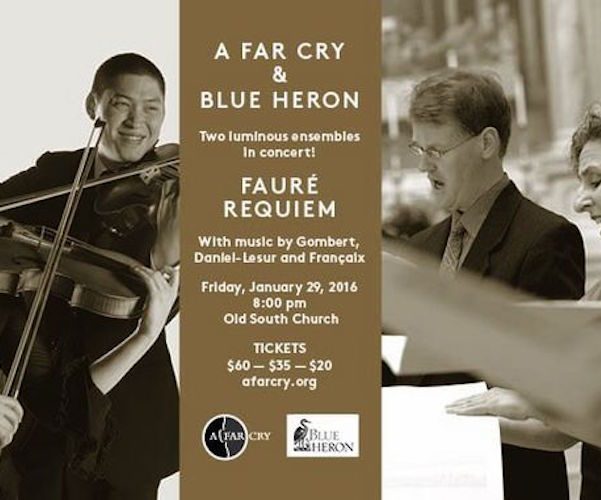 By Susan Miron
Boston's magisterial Old South Church's was sold out on Friday night for an extraordinary teaming up of A Far Cry, the popular conductor-less string ensemble founded in 2007 and devoted to a vision of collaboratively empowered music making, and Blue Heron, the superb vocal group founded by Scott Metcalfe in 1999, best known- and loved- for its performances and recordings of early music.
With a storefront music center in Jamaica Plain serving as a rehearsal space, A Far Cry started as a collective of seventeen young professional musicians who make all the creative decisions, including choice of repertoire. In a short time, they have become a beloved and highly respected ensemble. It is in residence at the Isabella Stuart Gardner Museum and collaborates with local students through a partnership with New England Conservatory. Like Blue Heron, their concerts are often sold out. Both groups have devoted, if distinct, audiences, many of whom, until Friday, had not heard the other's concerts. This was a much-anticipated event.
This concert collaboration began as the brainchild of Jason Fisher, the Criers' program curator, who had wanted the ensemble to do a restoration of the original 1893 version of Fauré's beautiful and beloved Requiem. Scott Metcalfe jumped at his invitation to have the Blue Heron singers (who can sing anything) perform. An all-French program was devised, one as unusual as the collaboration itself (though I suspect this will not the the last time these groups will appear together). The Requiem, which came after intermission, was an unqualified success.
The concert began with several works that draw on texts from the biblical Song of Songs, unquestionably one of the most popular writings in the Hebrew Bible (appearing under "Writings" or "K'tuvim"). Five, then seven members of Blue Heron sang two contrasting motets based on the Song of Songs composed by Nicolas Gombert (c. 1495-1560); the pieces recast the original material as antiphons to the Blessed Virgin Mary. Lovely, intoxicating, sensuous. Beautifully sung.
The rest of the first half was a daringly imaginative pairing of two French composers' works — one vocal, the other instrumental.  Jean Françaix's (1912-1997) four-movement "Symphonie d'archets" ("Symphony for Strings") was intertwined between the seven movements of Jean-Yves Daniel-Lesur's (1908-2002) "Le Cantique des Cantiques" (1952). Metcalfe explained the approach in a Boston Musical Intelligencer interview:
It was Jason's idea, to make this Françaix/Daniel-Lesur conversation, flirtation, which reinterprets both pieces in light of each other. It could have been just an arbitrary thought, but in fact it's a beautiful marriage of the two pieces, because they do seem to converse with each other. Besides, they're written in largely the same style – they're only four years apart.
The unusually prolific Françaix is best known for his pleasure-giving Gallic wit and lightness, and A Far Cry has been performing an unusual amount of his music. This symphony premiered in 1948, conducted by the composer's former teacher, the formidable Nadia Boulanger. The Criers' playing was a joy to hear, full of humor when called for (the Scherzo), the entire performance infused by the sheer joy of making music together.
Because of its sensuality as well as its luscious language and images, there are a variety of ways, both sacred and profane, to interpret the Song of Songs and, by extension, to set them to music. Daniel-Lesur's twelve-voice, seven-movement setting of "Cantique des Cantiques" (Song of Songs) — translated into French with smatterings of Hebrew and Latin — was performed by Blue Heron with unearthly beauty. That accomplishment included a heroic contribution by tenor Jonas Budris, who was a last minute replacement for Mark Sprinkle. Budris' contribution to the evening would have been impressive enough — the realization that he had joined the project at the eleventh hour made it even more amazing. Metcalfe stated that he had wanted to perform the Daniel-Leisur piece "for a decade or more." Given the excellence of this performance it was well worth the wait. I would like to hear this work again, although I cannot say the same for the Françaix, which seemed to me the weakest piece on the program.
Gabriel Fauré's Requiem is a kinder, gentler, more compassionate example of masses for the dead. Although it was composed shortly after the deaths of his parents, Fauré claims he wrote it "for fun." Most musicians love it. This collaborative performance was one of the very best I have ever heard (speaking as a harpist who has played this piece countless times).
"It has been said that my Requiem does not express the fear of death and someone has called it a lullaby of death," Fauré (1845-1924) explained to Louis Aguttent in 1902 (as quoted in Robert Orledge's biography). "But it is thus that I see death: as a happy deliverance, an aspiration towards happiness above, rather than as a painful experience. The music of Gounod has been criticized for its over-inclination towards human tenderness. But his nature predisposed him to feel this way: religious emotion took this form inside him. Is it not necessary to accept the artist's nature? As to my Requiem, perhaps I have also instinctively sought to escape from what is thought right and proper, after all the years of accompanying burial services on the organ! I know it all by heart. I wanted to write something different."
There are actually 3 versions of the Requiem, Op. 48- 1888, 1893, and 1900; the edition used for this performance was the recently restored version of 1893. One of the most interesting aspects of this performance was Metcalfe's decision to use the traditional French-Latin that Fauré knew. I loved this version of the Requiem, and was impressed with the three vocal soloists — David McFerrin, Margot Rood, and Paul Guttry — as well as A Far Cry's violin soloist Robyn Bollinger, hornist Hazel Dean Davis, and the all-important organist, George Sergeant. The exquisite "Pie Jesu," sung with consummate artistry and tonal beauty by Margot Rood, was the highlight of this extraordinary evening for me. I look forward to more collaborations between these two ensembles, who were born to make, as they say, really beautiful music together.
---
Susan Miron, a harpist, has been a book reviewer for over 20 years for a large variety of literary publications and newspapers. Her fields of expertise were East and Central European, Irish, and Israeli literature. Susan covers classical music for The Arts Fuse and The Boston Musical Intelligencer. She is part of the Celtic harp and storytelling duo A Bard's Feast with renowned storyteller Norah Dooley and, until recently, played the Celtic harp at the Cancer Center at Newton Wellesley Hospital.