Chi-Raq is a work of agitprop—preachy, strident, sentimental, even sacramental.
Chi-Raq, directed by Spike Lee. Screening in cinemas around New England.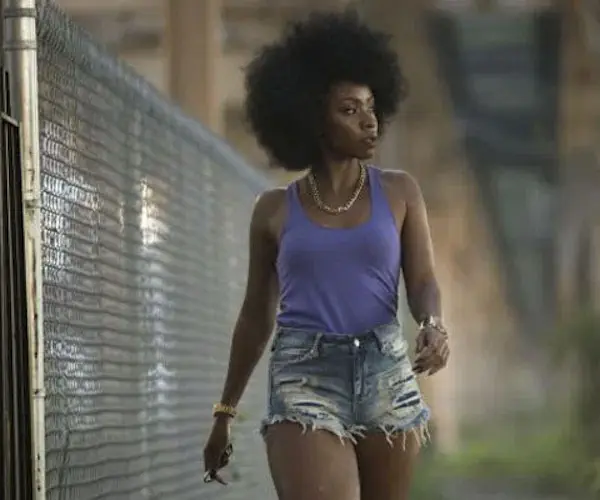 By David D'Arcy
Spike Lee's Chi-Raq could not be more timely. It is a manifesto against gang violence, twisting the Lysistrata myth of female rebellion in 411 BC into today's Chicago, where 187 people have been killed so far this year. And it reaches theaters just as the police chief of Chicago was fired in a scandal over his department's suppression of a video that showed a cop shooting a young black man on the street.
Just as topical, as a hip-hop Hamilton conquers Broadway, are the elaborate dance numbers in Lee's film,which could give it a second life as a live musical. If that weren't enough, Chi-Raq is the debut film in Amazon's ambitions to become a movie studio.
Lee's ambitions here measure up to the surrounding circumstances. And his film does, too—sometimes. Chi-Raq, co-written by Lee and Kevin Willmott, has a brazen force to its script, especially when Dolmedes (Samuel Jackson) is rhyming as the movie's version of a chorus leader. If a presidential candidate spoke so honestly and eloquently today, we wouldn't be thinking so much about Donald Trump.
And Teyonah Parris as Lysistrata is nothing if not overpowering as the instigator of a female sex strike against violence. Even if the film fails to find an audience—I believe it will find a large one—it will have a long life as a reminder of Chicago's well-earned reputation as Murder Inc.
And that's what Lee intended—to take us through a bloody mess and summon the will to rise above it. This is a work of agitprop—preachy, strident, sentimental, even sacramental. Lee is trying to do many things, and some of them work out better than others. What's consistent about Chi-Raq, as with any long sermon (albeit a sexy one), is its neon-lit message.
The story is simple enough so it won't get in the way. In a rough part of Chicago, gangbanger Chi-Raq DuPree (Nick Cannon) is a leader of the Spartans. He shares a house with his girlfriend, Lysistrata. When a bullet from a drive-by shooter kills a child next door, it's the last straw in a neighborhood that's seen too many killings. The child's mother (Jennifer Hudson) pleads in vain for leads on who the shooter was. It's no accident that the film begins with Cannon's lament, Pray 4 My City.
While Chi-Raq spars verbally with the rival Trojans' leader, Cyclops (Wesley Snipes, wearing a jeweled eye-patch), the women organize. They come up with the non-violent strategy of denying sex until the warring gangs agree to stop the body count from rising. Their slogan—no peace, no pussy—makes for an instant catchy brand. It's something that young audiences will love to repeat, even if it's just aimed at offending their parents. While radicalized women occupy a vast Chicago armory, a fool of a white mayor (D. B. Sweeney) frets about how to respond. The type-casting of the few whites in Chi-Raq, with one exception, is as boilerplate as by-the-numbers melodrama gets. There's even a National Guard leader who wears Confederate flag underwear—and lusts after black girls. (I doubt that Lee is losing any sleep over his own silly racial profiling. After all, it isn't white people who are getting shot by gangs, or by the police.)
With those sexual politics as a matrix, plus Samuel Jackson's wry commentary (the best lines in the script), we also get the impassioned oratory of Father Mike Corridan (John Cusack), a radical bead-wearing priest from the South Side of Chicago, a figure inspired by Michael Pfleger of Saint Sabina's Church. Back on the street, black men (David Chapelle and others) grumble about sex deprivation, laments echoed by sex-starved white men depicted—you guessed it—as sniveling fools.
After a standoff that sets the stage for some rousing singing, dancing, and posturing, a bed is wheeled into the armory (where boxers once fought it out). This arena of extreme sports serves as the final field of engagement where the two sides come to terms. If they call a singing competition The Voice, what do they call this?
To the film's credit, Lee and Wilmott are savvy enough to know that a blistering parable without jokes is just another angry harangue, hence Jackson's comic prominence as the man who explains it all, plus the opportunity for plenty of ball-busting lines for Parris. Cusack, as a man of God, plays it straight—shouts it straight, to be exact. Still, Lee never lets the audience forget that this is a story about dead children.
But Chi-Raq is also about sex, and about an improbable instance of female empowerment. In his original, Aristophanes had his sex-seeking male characters walk around with erections. That's too daring, even for Spike Lee, but the women on strike in Chi-Raq wear chastity belts, by choice, that look as if they were designed by Jean Paul Gaultier. Fair enough, if the shoe fits…. —although it's hard to tell whether this humor is intentional. Still, it's a welcome moment of ambiguity in an earnest movie.
Lee's actors put enough drama into the buffo roles of tough guys forced into abstinence to keep his premise alive and plausible enough—especially when women who fill the armory dance the message home.
Bear in mind that this is a comedy, albeit a dark one. The extravaganza antecedents reflected in the gargantuan armory space range from camp meetings and Busby Berkeley Hollywood spectacles to mega-church services. I've never heard music in a black church sound so much like white Christian radio—the choir comes from Saint Sabina—but that was only one massive number.
Given the scale and the style, and Lee's determination to steamroll the story to a happy ending that's not borne out by any facts in Chicago—at least not so far—it's not unthinkable that Chi-Raq could be done for the stage. Lee's movie isn't lacking for performers to carry the music live, with Cannon and Hudson singing.
And who says that the movies, and politics, and religion, are not about wish fulfillment. Lee's politics here, despite the plea for equality regarding race, income, and gender in Father Corridan's fiery funeral eulogy for the dead child, are fundamentally conservative. Fight your battles and your plagues—the death of your children—with the means that you have—sex, or the refusal to provide it. Conservative, that is, if you're not afraid of showing what you're talking about. Incentivize the men who take a risk and agree to comply with the rules. It sounds almost corporate, and it is, with Amazon behind it. You can be sure that Netflix, its corporate competitor, is paying close attention.
The conventional skepticism echoing around so far about this film is that Lee is preaching to the choir. Of course he is. But the choir—it's a big choir if the condescending critics mean black audiences—just got the mayor of a violent unaccountable Chicago to fire his police chief. With Chi-Raq, Lee is turning up the volume.
---
David D'Arcy, who lives in New York, is a programmer for the Haifa International Film Festival in Israel. He reviews films for Screen International. His film blog, Outtakes, is at artinfo.com. He writes about art for many publications, including The Art Newspaper. He produced and co-wrote the documentary, Portrait of Wally (2012), about the fight over a Nazi-looted painting found at The Museum of Modern Art in Manhattan.