Cyril Jordan of The Flamin' Goovies, which will perform at the Brighton Music Hall tomorrow, talks about smoking pot with Ted Kennedy and impressing The Rolling Stones.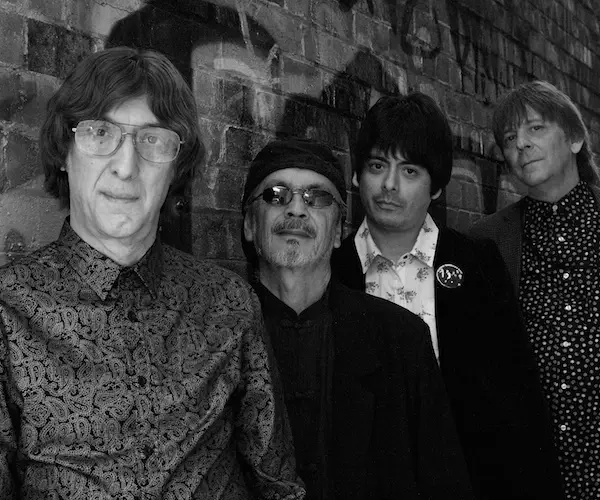 By Blake Maddux
The Flamin' Groovies is a band that you kind of have to discover by accident.
Maybe you heard "Shake Some Action" in the 1995 movie Clueless and were curious enough to find out that it was not originally done by Cracker. Or maybe at some point along the way you were floored by the sublime version of "You Tore Me Down" by indie titans Yo La Tengo. Since that was on an album (1990's Fakebook) that primarily consisted of other people's songs, it was probably more likely to lead one to its original performers than the Clueless soundtrack was.
In my case, it was because I had become belatedly interested in the approximately 2/3-similarly named The Flaming Lips. Every time that I would look them up in a book or shop for one of their CDs, there was The Flamin' Groovies right next to them.
Then, when I read in my trusty 1997 edition of the All Music Guide to Rock that the compilation Groovies' Greatest Grooves was "an essential part of any serious rock collection," I was immediately sold. Having never heard a single note of the strangely named group's music, and completely oblivious to the Yo La Tengo and Cracker covers, I went to Newbury Comics in Harvard Square and bought it.
Let's just say that it made quite an impression. Since they hadn't released any new music in more than a decade at that point, I assumed that I would never get to see them live. However, I ended up getting to do just that when they swung through Somerville in November 2013 after releasing a new song that featured lifelong members Cyril Jordan and George Alexander, the Waltham-born Chris Wilson (who replaced singer Roy Loney in 1971), and new drummer Victor Penalosa.
That same line-up is currently working on a new album, is the subject of a long-awaited documentary (The Incredible Flamin' Groovies Movie), and will bless Brighton Music Hall with its presence tomorrow (November 24). As I said in my portion of the latest Coming Attractions column, going to this will leave you plenty to be thankful for the next day.
Last week I spoke by phone with Cyril Jordan about "the most famous unknown band in the world." The conversation that we had lasted 30 minutes, but could have easily gone on for hours.
---
The Arts Fuse: How long have you and George Alexander known each other?
Cyril Jordan: George and I go back to about 1965.
AF: When did a band called The Flamin' Groovies officially come about?
CJ: That came about in 1966, the day after The Beatles' last concert ever. We were trippin' out, man, after seeing that show, yeah! We were The Lost and Found, before that we were The Chosen Few, and then we just changed the name. But as soon as we changed the name we stopped doing covers. Roy [Loney, the original lead singer] and I started writing. You know, the funny thing about The Flamin' Groovies, I'm pretty sure about this, I think we're the only band whose whole history from day one is recorded. You know, in '67 we cut Sneakers, then we cut Supernazz [in 1968], so you can see our evolution. We're changing the shape of our music from album to album until we get to Teenage Head. And I don't think we had a guitar-sound identity until Teenage.
It would be like if Johnny & The Moondogs—you know, John Lennon's first band—made a record. Our whole history is recorded. I can't think of another group who can say that.
AF: Is being a member of a "legendary cult band" a bit of a double-edged sword?
CJ: Uh, triple-edged! (laughs)
AF: And those edges are what, exactly?
CJ: They're real sharp! (laughs) It's like you've got left, you've got right, and you've got inside-out, you know what I mean?
AF: I read an interview in which you said that you smoked pot with Ted Kennedy. How did that happen?
CJ: It was at an old Barbary Coast warehouse in North Beach in San Francisco. And it was a week before Bobby got shot. Bobby wasn't there, but Ted was. I think we did three sets that night, and halfway through the first set I noticed that Ted Kennedy was standing about five feet in front of me watching the show. We took a break, and I went outside and lit up a joint. And the major newspaper columnist of that time in San Francisco, a guy named Herb Caen—who coined the word "beatnik," among other things—came outside and started asking me questions about us. He asked me for a hit off the joint, so I gave him the joint. And then Ted came out, and he gave the joint to Ted. Ted's a big guy. He sucked on it and he almost wasted it down to a roach size. Then he gave that to me, and like an idiot I finished it and threw it away. I should have put it in fucking Lucite! (laughs)
AF: What do you know for sure about Mick Jagger and Keith Richards being huge fans of the album Teenage Head?
CJ: If it wasn't [legendary L.A. music scenester] Rodney Bingenheimer telling us about that, it was Marianne Faithfull. It's gone on for years and years and years. I'm extremely flattered, because when we cut say, "High Flyin' Baby," when I wrote the slide part, I was hoping to impress The Rolling Stones. I never expected them to hear it, but I wasn't too surprised when I started hearing about the reaction that they had. Apparently Jagger was playing it every day in L.A. that summer. Rodney Bingenheimer said every day he went over to see Mick at any time of day for a period of like months, it was on the turntable.
When we first heard those rumors we thought, "Yeah, right." But as the years progressed, and you see an interview with Keith Richards in a French magazine and he'd be raving about our version of "Jumpin' Jack Flash," saying it was better than theirs. The last confirmation happened maybe about eight years ago when Roy Loney went to France and ended up having tea with some friends of Marianne Faithfull. When she found out who Roy was as they were leaving she came running down the hallway and grabbed him and said, my lord, I didn't realize who you were.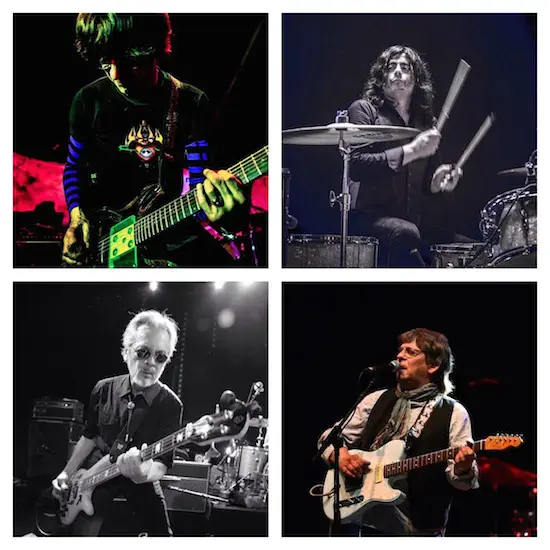 AF: Are there any other noteworthy Flamin' Groovies fans who you've encountered over the years?
CJ: Anyone from Val Kilmer to Freddy Krueger. As a matter of fact, about three years ago I got a call from Val Kilmer's secretary, and I said, "You mean Val Kilmer the movie star?" And she said yes. So I said, "Well what's this about?" And she said Val is a big Flamin' Groovies fan, and so is his daughter and so is his wife. Mercedes, his daughter was having a 21st birthday party, and he was gonna give me a thousand bucks to write out the lyrics to "Whiskey Woman." You know, I thought it was joke. Two weeks later, I get the check. (laughs)
And Freddy Krueger, Robert [Englund], is an old Groovies fan. I think he was homeless in the 60s when we were playing the Whiskey [A-Go-Go], because he was always outside begging, and we always let him in for free. And I didn't know that Robert was Freddy. About 30 years later, after A Nightmare on Elm Street had become huge, I'm reading a science-fiction magazine and there's an article about Freddy Krueger, and there's a photo of Robert, and I'm going "What the fuck's Robert doing in this article?!" (laughs)
Stephen King's a fan. He mentions The Flamin' Groovies in one of his books. Every year we find out somebody else that's famous is a big fan. It's really amazing.
AF: It seems that you have partaken of every indulgence that the rock 'n' roll life affords a person.
CJ: I've been doing drugs since '65. I'm 67 now. I still snort cocaine. I smoke pot every fucking day. I eat food that would kill most people. I eat cheeseburgers, chili, pizza, french fries, chocolate milkshakes. I drink six Cokes a day. My friends think I'm part alien because none of this shit fucks me up. I'm back down to a 29[-inch] waist, you know? Since me and George and Chris got back together, we slowly are turning back into our old selves. It's very strange. It's like this weird metamorphosis that's going on.
AF: Was there ever a point at which you felt like you had had enough and were going to give it a rest?
CJ: When George and I called it quits in about 1990, there was a period of about six years where I didn't play guitar and I didn't listen to music. Then one day I got a letter from Paramount Studios and the next thing I know I get a check for $15,000 and I'm back in the fucking business. It was like gum on my shoe: I couldn't get rid of it! I was determined in 1990 that that was it, that I had had enough. But yeah, I got sucked right back in.
AF: What is the current status of the new record and the long-anticipated documentary of the band?
CJ: Well, we're winding it up, and we're doing a release with Burger Records next year on Record Store Day in April. Our single will come out. It's a double-sided original of two songs by me and Chris, one called "Crazy Macy" and one called "Let Me Rock." And I would imagine the LP might be coming out in the summer next year, hopefully right around the time of the documentary that's being filmed on us will be done. The LP will come out later. A couple months later.
---
Blake Maddux is a freelance journalist who also contributes to The Somerville Times, DigBoston, Lynn Happens, and various Wicked Local publications on the North Shore. In 2013, he received an MLA from Harvard Extension School, which awarded him the Dean's Prize for Outstanding Thesis in Journalism. A native Ohioan, he moved to Boston in 2002 and currently lives with his wife in Salem, Massachusetts.