A bewitching South African version of Bizet's opera—performed with a distinctive blend of spunk and sass.
uCarmen, an adaptation of Bizet's Carmen by the Isango Ensemble. Adapted and directed by Mark Dornford-May. Music arranged and conducted by Mandisi Dyantyis. Presented by Arts Emerson at the Cutler Majestic Theatre, 219 Tremont Street, Boston, MA, through November 22.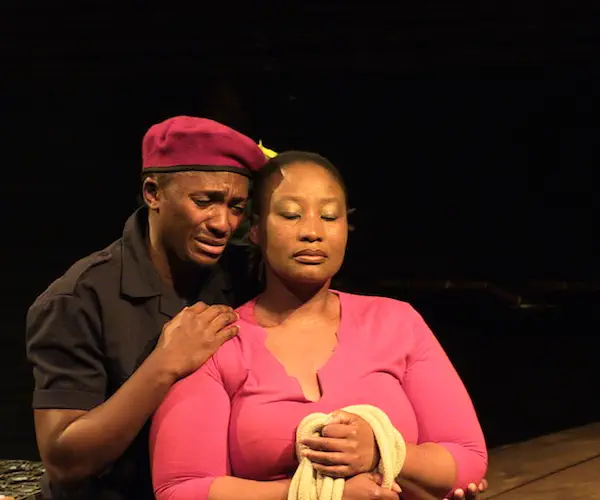 By Robert Israel
The Isango Ensemble is a highly energized all-black troupe that hails from Cape Town, South Africa. Last year they performed Mozart's Magic Flute at the Cutler Majestic. Now they've returned with two operas, each presented with their unique blend of spunk and sass: uCarmen, adapted from Bizet, and A Midsummer Night's Dream, Benjamin Britten's version (1960) of the William Shakespeare play. Their stay in Boston is brief, squeezed in during our crowded calendar of pre-holiday preparations. Yet they are well worth seeking out: there's not only passion in their performances, but extra helpings of a warm, bright tapestry of color and sound.
Isango stands on the shoulders of pioneering South African artists, such as Miriam Makeba, High Masekela, and Ladysmith Black Mambazo (Paul Simon's cohorts for his Graceland album in the late 1980s). Let us also not forget that South Africa has given us playwright Athol Fugard and novelist Nadine Gordimer, whose works articulated the evils of apartheid and the struggles of a people seeking to rise up against those evils to attain dignity and basic human rights.
Alas, that struggle for human dignity persists in South Africa, and forms the backdrop of the uCarmen production. Mark Dornford-May informs us in his director's notes that in South Africa today "gender-based violence is at an all-time high. On an average day three women will die at the hand of their intimate partners; every 17 seconds a woman is raped; 40 percent of men freely admit to hitting their partners."
One does not discern this seething violence at first blush: before the production begins the cast members appear onstage barefoot, nonchalant, chatting amongst one another, as if at a beach party. They seem almost child-like in their sweetness. Yet do not be deceived by the laid-back demeanor of these 30-something performers: they are dynamic and talented actors, singers, dancers, and musicians. The instrument of choice is the marimba, around 10 of them, placed in rows on each side of the set, and played by the members of the cast. The sound of the marimbas in unison casts a sometimes eerie, sometimes playful, cacophony throughout the production.
The tension emerges as soon as Act I begins, when the men, dressed in military fatigues, flirt with the women in the marketplace. Is it innocent romancing, or the kind of leering, threatening lechery that leads to violence? The cast skillfully lets the audience pick up on the clues as some marvelous singing takes over.
The wondrous voices blend, pull apart, and then rise up above the stage and commingle, all the while telling the story of Carmen, a gypsy girl, and her steamy romance with Jose, the corporal of the Dragoons. The opera has been tampered with over the years since its 1875 premiere: modern versions include a film, Carmen Jones (1954). The Isango's recasting of the narrative in a South African setting works splendidly, partly because there are no props or scenic distractions. The power of the story, told through song, gesture, dance and marimba accompaniment, brings the tragedy to life.
One performer stands out above the rest: Pauline Malefane. She's a 39-year-old soprano who commands the production from first moment to last. You simply cannot take your eyes off her as she conveys, through agile dance steps and robust gestures, the erotic allure of Carmen. She is all woman: beguiling, flirtatious, moving and sashaying her hips and arms while the marimbas accompany her with their deep woodsy sound, their earthiness supporting her rich voice. Still, Malefane could perform solo and still be captivating; she is that rare talent that enthralls without being overwhelming, inviting the audience to share her characters's moods and behavior.
The drawback of the production is that many of the words sung by the cast are lost, despite the fact that the show is sung in English. Other than Malefane, I strained to hear and understand what was being conveyed. Audiences are advised to take a moment to read the synopsis, included in the program, or to arrive at the theatre with a firm understanding of the story. With that knowledge under your belt, you will have no trouble being swept away by this vigorous staging.
Kudos to Mandisi Dyantyis, who appears onstage as conductor, trumpeter, and marimba player. He not only keeps an eye on the score, but also ensures that his players sing with taut precision. Pauline Malefane, who shares the credit as co-musical director, helps him considerably. Carmen is a role she commands, and the production radiates with her power.
---
Robert Israel writes about theater, travel, and the arts, and is a member of Independent Reviewers of New England (IRNE). He can be reached at risrael_97@yahoo.com.