Buddy Guy's vocals are still fresh and project as strongly as on any of his classic recordings, which after several decades of touring and recording is a testament to the man's sheer stamina as much as his skills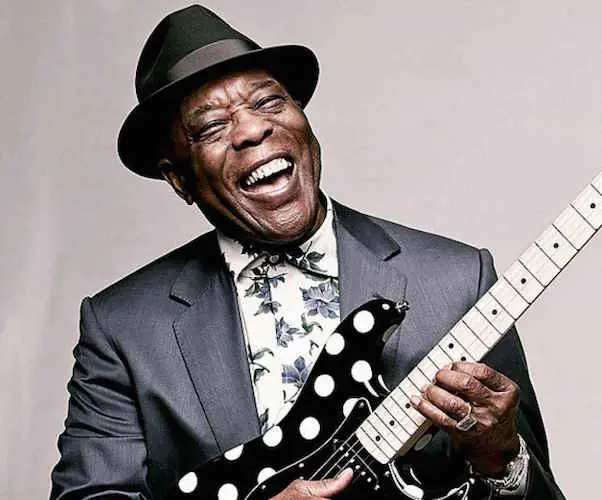 By Matt Hanson
Ever since his breakthrough as a sideman on Muddy Waters's flawless 1964 Folk Singer, Buddy Guy has been one of the most consistently great bluesmen. After six Grammy awards and an induction into the Rock Hall of Fame, the man has achieved a longevity rare among any musicians, let alone bluesmen. Eric Clapton and Jimi Hendrix admired him profoundly and acknowledged his influence. If you've ever wondered where Hendrix got the idea of playing with his teeth, one look at the cover of Buddy's latest record will set you straight.
The title of Born to Play Guitar, the new record released on his 79th birthday, isn't braggadocio but a statement of fact. It proves that Guy's passion and gripping immediacy haven't faded with time or amid the accolades he's piled up over the years. The recording has a vibrant you-are-there intimacy, perfect for listening on headphones. His vocals are still fresh and project as strongly as any of his classic recordings, which after several decades of touring and recording is a testament to the man's sheer stamina as much as his skills.
As a guitarist, Guy has always been tremendously versatile. Wah pedals, reverb, and distortion don't faze him at all. With equal mastery, depending on the mood, he can play with a jazz-like delicacy of touch or with a resounding wail. At points, the tone on Born to Play Guitar is rougher and at times almost discordant, particularly on rousing numbers such as "Wear You Out" and "Too Late," both of which feel like they could have easily come from out of the many blues clubs he's literally and metaphorically owned throughout the years.
Guy's joined by the likes of ZZ Top's Billy Gibbons, Kim Scott, and Joss Stone in a particularly fiery duet. He also has a duet with a wistful Van Morrison. The latter, "Flesh and Bone," is a ruminative ballad inspired by the tragic passing of Guy's close friend B.B. King last April. In "Miss You Mud," Guy offers a fine homage to his mentor McKinley Morganfield, better known to the world as Muddy Waters, reminiscing about the man and wondering what will happen to the music he mastered and helped popularize.
Guy's November 5 show at Boston's Wilbur Theatre saw the legend in a relaxed, playful mood—maybe too much so. The appreciative crowd cheered his every move, which may have actually been to the detriment of the music. Guy brought the fire, particularly on classics like "Country Man" and his signature tune "Damn Right I've Got the Blues," but disappointingly spent too much of the show in chit-chat with the audience than actually playing.
Don't get me wrong—I'm as interested as anyone in what a master like Buddy Guy has on his mind these days. But it got slightly annoying when he kept stopping the performance to ramble about how the blues invented hip-hop and reiterated a mildly amusing anecdote about a Rolling Stone writer whose mother had the effrontery to ask him whether he planned on covering John Lee Hooker. The frustration wasn't eased by his abortive renditions of several of Hooker's songs in a tantalizing semi-medley.
Guy was clearly enjoying the crowd's appreciation, as well he should, but after whipping his guitar strings with a hand towel and then a spare drumstick to little effect, I started to get antsy and wished he'd been more focused on playing.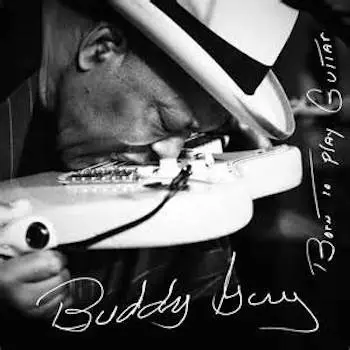 The real revelation of the night was Massachusetts's own Quinn Sullivan. Sullivan opened the show with an impressive jolt of confidence, energetically kicking things off. Toward the latter half of the show, Guy called Sullivan back up on stage. Guy explained how he'd been proud to tour with the young man and how upon first meeting the lad backstage in New Bedford he'd been impressed at how well Sullivan knew the repertoire that he'd been playing with him ever since.
With a mentor's pride, Guy requested that Sullivan play some Hendrix by way of proving his mettle and this he did, tearing off a dynamic version of "Voodoo Child" that brought the show's intensity back to where it should have been all along. Out of idle curiosity, I looked Sullivan up and was completely shocked to discover that the newcomer was currently all of 16 years old, an impressive detail compounded by the amazing fact that the initial meeting Guy alluded to had occurred in New Bedford back in 2007, when the prodigious Sullivan was only eight years old.
In the media, and more than a few times last evening, Guy pointed out, with unfortunate accuracy, that with all the changes in the way we consume music in the 21st century, the blues as a genre has been pushed to the cultural margins. He hoped that people like Sullivan will keep the blues alive. If last night was any evidence, he needn't worry; the blues looks like it's still in good hands. And it most likely will be, at least until this Sullivan kid finally gets old enough to drink.
---
Matt Hanson is a critic for The Arts Fuse living outside Boston. His writing has appeared in The Millions, 3QuarksDaily, and Flak Magazine (RIP), where he was a staff writer. He blogs about movies and culture for LoveMoneyClothes. His poetry chapbook was published by Rhinologic Press.