I love the inspirational story of Malala, but this film doesn't dig below the headlines.
He Named Me Malala, directed by Davis Guggenheim. Screening at Coolidge Corner Theatre, Kendall Square Cinema, and other movie houses in New England.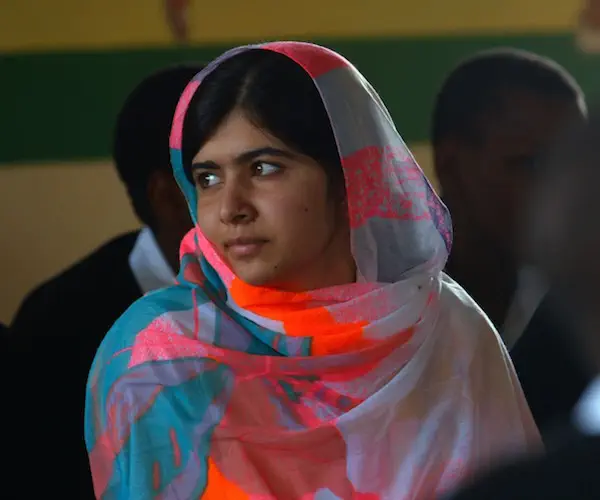 By Paul Dervis
He Named me Malala is content, far too content, to 'preach to the converted.' The only people who would disagree with the viewpoint of this well-meaning documentary would be members of the Taliban.
The challenge when dealing with indelible moral and political heroism is to tell me something I didn't know. Filmmaker Davis Guggenheim fails miserably at going beyond the obvious.
Because so much of the background of this story occurred in a poor community in Pakistan, there is no video footage of the months and years that led up to young Malala Yousafzai being shot on the school bus on that fateful morning … just some stills of the little girl and her parents. Juxtapose this with the countless reams of film detailing her recovery, as well as her last three years in England. The predominance of post-crime footage creates a thorny dramatic problem for the director.
After all, the story is supposed to be about the rebel Malala, the teen that demanded an education despite the fact that the Taliban was making it a crime for girls to go to school.
Guggenheim attempts to address this challenge through the use of animation. But his visuals are too cartoonish. The episodes come across more like variations on the old Sunday morning Christian offerings of Davey and Goliath, which served up an agenda rather than substantial drama (An apology to fans of D&G).
Neon lighting its agenda: that is another of the film's weaknesses.
I am sure that Malala is a wonderful, gifted young woman. And I do not doubt that her entire family is both supportive and empathetic. But the film leaves the impression Mother Teresa and Gandhi would have much to learn from them. No blemishes here. They are all perfect people.
I don't begrudge the filmmaker for promoting lessons in empowerment. Hell, Michael Moore has been pushing his points of view quite brilliantly in pseudo-documentaries for decades.
But there is the difference. Moore is both entertaining and thought provoking. Guggenheim is neither.
Malala's father named her after a character in their culture's folklore. The story goes that Pakistani soldiers were retreating from a battle lost to their enemies when a female child beseeched them to fight on, pleading that it was better to live one day as a free man than a century in captivity. Of course, they listened and prevailed; but the inspiring Malala did not survive the battle.
Our Malala's father was a staunch believer in education and opened up a school in the face of ideological/religious objections. The documentary's heroine was raised in that school, watching her dad work, dreaming of following in his footsteps. Alas, all of these scenes are depicted in colourful, yet sentimental animation.
The centerpiece of the film are the scenes in England, as well as her tours of Third World countries where she speaks to other school children. Also, there is the excitement generated by Malala being named the youngest recipient of the Nobel Prize for Peace.
The one element that keeps this documentary afloat is the performance of Malala herself. Speaking in a language that is not her native tongue, the young woman is unwaveringly articulate, even elegant, in public. Her screen persona is amazingly polished. If you didn't know it was actually her, you could be fooled into believing that a professional actor was playing the role. She is that glossy a presence.
Practice makes perfect.
Don't get me wrong. I love the story of Malala, but this film doesn't dig below the headlines.
---
Paul Dervis has been teaching drama in Canada at Algonquin College as well as the theatre conservatory Ottawa School of Speech & Drama for the past 15 years. Previously he ran theatre companies in Boston, New York, and Montreal. He has directed over 150 stage productions, receiving two dozen awards for his work. Paul has also directed six films, the most recent being 2011's The Righteous Tithe.