Through the affectionate, articulate memories of those who worked there, Drunk Stoned Brilliant Dead is mostly a straight-ahead telling of the vivid life of the National Lampoon.
Drunk Stoned Brilliant Dead: The Story of the National Lampoon, directed by Douglas Tirola. Screening at Kendall Square Cinema, Cambridge, MA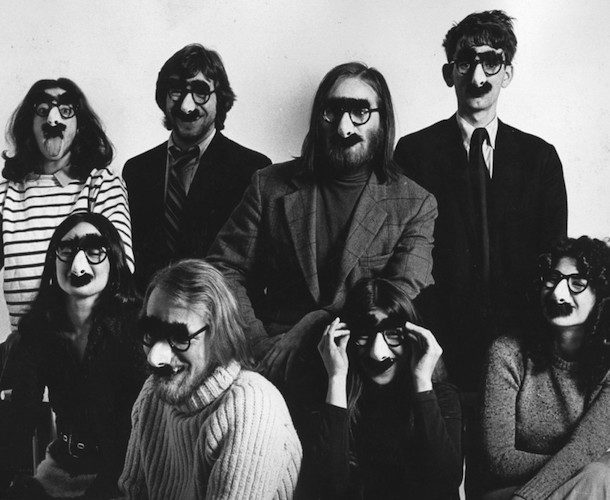 By Gerald Peary
I was the right age and sex and demographic, a collegiate guy in my 20s, to embrace the National Lampoon in its heyday, the early 1970s. But I hardly ever read it, thinking it sophomoric and stupid, a Mad Magazine for frat boys. I had no problem with scatological humor, but in those Vietnam protest days, I wanted things far more political and openly left wing and oppositional. I was someone who had been introduced to feminism. It took no consciousness-raising to grasp that the Lampoon was about as blatantly sexist as a non-porno magazine could be, with naked, big-bosomed woman like cotton candy decorating every adolescent issue. "Breasts" is actor Kevin Bacon's explanation of why he was, in youth, an avid reader.
45 years later, I'm giving The National Lampoon a second chance, and a fairer shake, by taking in the new documentary Drunk Stoned Brilliant Dead: The Story of the National Lampoon. There are too many talking heads interviews passing through, too many hip montages. But Drunk Stoned Brilliant did convince me that the Lampoon has a colorful, even important, journalistic history, and that some extraordinary talents were involved, however often they were drugged out. And, from the Lampoon stories highlighted, I concede that some very humorous things indeed appeared in the magazine. Maybe I should have perused it more regularly between 1970 and 1975?
However, I can endorse Marshall McLuhan's backhanded compliment about the National Lampoon: "Very witty, designed to please and flatter a group of well-to-do nobodies…"
Through the affectionate, articulate memories of those who worked there, Drunk Stoned Brilliant Dead is mostly a straight-ahead telling of the vivid life of the magazine, from its morphing out of the more staid, gentlemanly Harvard Lampoon through its sex-and-drugs glory days relocated to New York, from its growing bigger and bolder and branching out into radio, theatre, and movies through its slow demise when its major talents left to work in Hollywood, for Saturday Night Live, for The Simpsons. Finally, and sadly, "Nobody got laid writing for the National Lampoon any more."
As it should, Drunk Stoned Brilliant Dead concentrates on the contrasting personalities and careers of its precocious Harvard student founders, Doug Kenney and Henry Beard. Kenney was the swaggering, brilliant Charlie Kane, who inspired everyone with his imaginative writing and erotic vision until he couldn't anymore, because of excessive drugs and a nervous breakdown. Beard is the solid, rational Jed Leland, stuck behind a closed door in his office writing and writing on his typewriter. He took over as Lampoon editor when Kenney imploded.
But Kenney had a second act, even more druggy and self-destructive, as he became a Hollywood dandy, clowning on screen in Animal House, producing the cocaine-laced Caddyshack, hanging with wild Chevy Chase until he, one day, walked off a cliff in Hawaii. Or, as rumor has it, was pushed off by his dealer. As for Beard, he took a $2 million-plus buy-off, announced in the Lampoon office that he hated everyone, and took off, never to return again. Not until, looking prosperous and healthy, appearing in this documentary. He's one of a bevy of ex-Harvard blokes speaking in their homes or offices before packed bookshelves. The subliminal message: Contrary to what people believe, Harvard graduates continue to read.
I do think that filmmaker Douglas Tirola is too adulatory. He doesn't deal for even a second of screen time with the Lampoon's cocky aesthetic of disparaging and objectifying women. He doesn't query any of those he interviews, including several women ex-staffers. Tirola doesn't even resort to the best defense, that, well, the Lampoon disparaged everyone, including Jews and "Negroes."
I'm of the Chosen People, and Drunk Stoned Brilliant Dead does sample a handful of the Lampoon's most emboldened jabs at the Jews. The headline, "Are Jews White People? Technically, Yes." The cartoon of Jewish presidents, showing a Mount Rushmore-as-Mount Sinai, with a quartet of big-nosed Hebe heads of state. And there's a notorious "Hitler is Alive" spread, featuring an Adolf look-alike sunbathing bare-assed on a tropical beach. What did I think: anti-semitic or laugh-aloud funny? The latter.
And I learned that the National Lampoon did have some occasional political humor, even some left-leaning satire acknowledging the Vietnam War. Like a cover of Lieutenant William Calley as Alfred E. Newman, with the cutline, "What, no My Lai?" Even more brazen and cynical: "The Vietnamese Baby Book" with a page entitled "Baby's First Wound."
---
Gerald Peary is a professor at Suffolk University, Boston, curator of the Boston University Cinematheque, and the general editor of the "Conversations with Filmmakers" series from the University Press of Mississippi. A critic for the late Boston Phoenix, he is the author of nine books on cinema, writer-director of the documentaries For the Love of Movies: the Story of American Film Criticism and Archie's Betty, and a featured actor in the 2013 independent narrative Computer Chess.