Love and Money is a short play, lengthened beyond one-act duration by stuffing a Cole Porter interlude into its middle, so there seems to be break between 'acts.'
Love and Money, by A.R. Gurney. Directed by Mark Lamos. Staged by the Signature Theatre Company at Signature Center, 480 West 42nd Street, New York, New York, through October 4.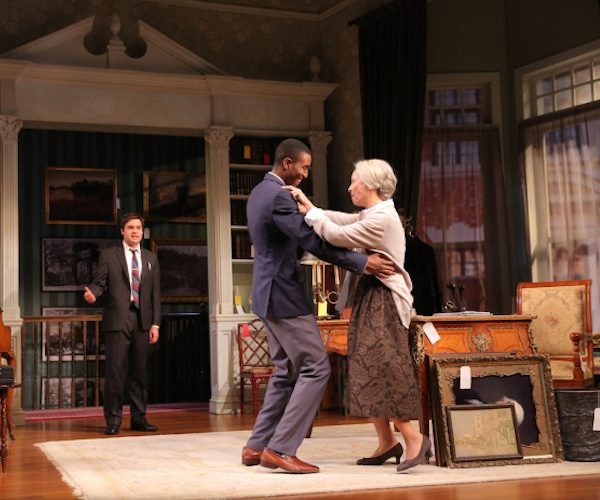 By Paul Dervis
A.R. (Pete) Gurney Jr has carved out a niche on the American stage chronicling the trials and tribulations of his tribe: WASPs (his term, not mine). Love and Money returns to that white bread well again….but this time with a twist. True, the central figure of the story is an old Brahman, aptly named Cornelia, but she is surrounded by a group that is anything but DAR; a first-generation Eastern European Lawyer, an 'off the boat' servant, an Asian Juilliard student, and an African-American young man who claims to be her illegitimate grandson.
Gurney, who has brought the world intimate portraits of old Yankee culture starting with 1970's Scenes from American Life, progressing to The Dining Room and then the oft-produced Love Letters, focuses here on an elderly widow who is downsizing her life by giving up most of her worldly possessions…and they are all going to charity. Her two children have both come to tragic ends, and her two grandchildren are ne'er-do-wells.
Her new legal council, Harvey Abel, fears her will can be easily contested. He also brings her a warning. There is a young man from Cornelia's hometown of Buffalo who is claiming to be her long lost grandchild, born two decades earlier in secret to her jet-setter daughter.
The interloper arrives at Cornelia's New York Brownstone just as Abel is informing her of his existence. His name is Walker Williams, is nicknamed Scott after Cornelia's favorite novelist, F Scott Fitzgerald…and he is BLACK!
Young Williams seems to know everything about the old woman and her family. He quotes passages from her cherished books, sings songs composed by Cole Porter (another Cornelia favorite), and seemingly dances his way into her heart.
Yet no one believes his story: not Abel, not the servant, not the Juilliard student who comes by for her player piano…nobody except for, apparently, Cornelia herself.
Moreover, Williams has brought a letter from Cornelia's daughter….typed. The signature is smudged and the lawyer finds it laughable, but the old lady seems to be smitten by it. She invites the young man to stay for lunch, where Williams doesn't bother to hide that he wants a hefty piece of her inheritance, explaining how much it would mean to him and his future.
And money is what this play is about. Abel wants to protect his client's great wealth, Williams wants the cash to assist him in setting up for a lucrative career on Wall Street, and Cornelia believes deeply that materialism has generated all the pain and sorrow she has experienced in life.
If the plot line sounds somewhat familiar, you are not alone. Six Degrees of Separation, the brilliant John Guare play, winner of the 1991 Drama Desk Award and nominated for a Pulitzer Prize, seems to be the inspiration for Love and Money…so much so that the other play is referenced in Gurney's. But that raises issues of comparison, and in that contest Love and Money loses: Guare's nuanced script contained a number of subtle subplots. Gurney's piece is simple to the point of becoming superficial.
It is a short play, lengthened beyond one-act territory by stuffing a Cole Porter interlude into its middle, so there seems to be break between 'acts.' Dramaturgically speaking, the musical respite appears to be the only reason the Juilliard student is introduced into the play.
Also, the acting styles (and abilities) in the production are so diverse that not all the cast members seem to be part of the same performance. Director Mark Lamos does not have control of this piece, and a lot of his problem comes down to miscasting. Maureen Anderman, as Cornelia, is a strong and powerful presence and she gives a finely textured performance. But the rest of the cast members lumber about as if they are out of their element. Joe Paulik, as Abel, comes across as unsure of his role — is the character good, bad, or neither? Gabriel Brown is so slight as Williams that the figure gives off none of the requisite mystery.
Gurney has given us plenty to applaud over the past fifty years and let's hope he will put more smiles on theatergoers' faces in the future. But he doesn't do it here. The old M.I.T. professor is sadly out of his gentile bailiwick this time around.
On a distinctly different note, there is a Tiki Lounge hugging Alphabet City called Otto's Shrunken Head, (538 E 14th Street) that offers comedy and more in a very kitschy setting. I went there last night. Wednesdays is an open mic night for comics: some old pros trying out new material; others just starting out; others looking for a break. The Polynesian drinks are cold and the atmosphere is very hot. From old bobble head hula dances to provocative '60s Hawaiian nudes covering the multicolour lit room, it's as if you had walked back in time and stepped into a decaying Trader Vic's. Not a bad idea.
There are a couple of different shows each night, and there's plenty of variety, from stand-up comedy to sketches and music. No food though … my Proustian search for the taste of the sweet and sour pork of my youth continues.
---
Paul Dervis has been teaching drama in Canada at Algonquin College as well as the theatre conservatory Ottawa School of Speech & Drama for the past 15 years. Previously he ran theatre companies in Boston, New York, and Montreal. He has directed over 150 stage productions, receiving two dozen awards for his work. Paul has also directed six films, the most recent being 2011's The Righteous Tithe.