Claims that Stephan Micus erases international boundaries and makes one-world music get it backward. You visit his world on his records.
Nomad Songs, Stephan Micus. ECM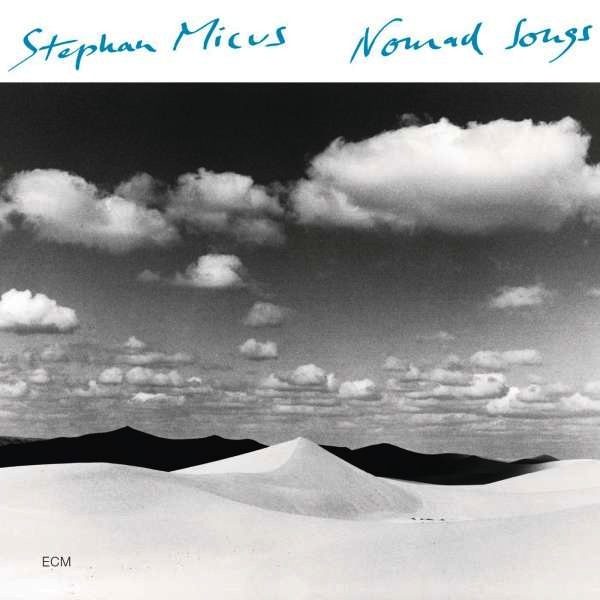 By Milo Miles
Multi-instrumentalist Stephan Micus must have one of the most extensive musical careers hidden in plain sight. Since 1977, he has released 21 albums, all on ECM or a subsidiary. Except for a single release, he composes and performs all the material and has produced himself after resisting label owner Manfred Eicher's restrictive recording schedule after his first two records. This is a remarkable display of label-performer loyalty. Especially given that Micus, who must have a following, never makes lists of established cult figures.
His new release is entitled Nomad Songs, one of his more evocative descriptions. Micus wanders the world with a purpose: to take up musical instruments that fascinate him and incorporate them into his own works. His attitude is like that of iconoclasts from Ornette Coleman to Moondog to Harry Partch to Sun Ra. He does not want to duplicate traditional forms, but find his own sounds, as long as they are the right ones. (When the instruments worked with include an array of differently tuned flower pots, there are no musical conventions to depart from.) Micus does not, however, just start blowing or plucking or beating away on a new favorite discovery. He explains his method of preparation studies in this very worthy interview.
The results, including the made-up language(s) he usually sings, are certainly his alone. Earliest efforts might have been called low-tech prog, then later New Age, then world folk, then acoustic electronica. Micus has outlasted them all. He even picks out his own (invariably still and serene) cover art.
Because his approach is so consistent, Micus turns out only two types of album: a few with many, many parts for him to play and, more customarily, spare presentations. It feels as though all the iterations of Micus could fit into the same relatively small room (perhaps his own MCM studio), so the multipart productions sound more claustrophobic than grand. Fortunately, Nomad Songs is one of the lean operations; it reflects his assertion that he nowadays conceives of albums more as consistent journeys than collections of individual works. Nomad Songs begins "Everywhere, Nowhere," moves through some more Vast, nebulous spaces like "The Stars" and "The Blessing" and eventually settles into a "Sea of Grass" and finally "Under the Chinar Trees."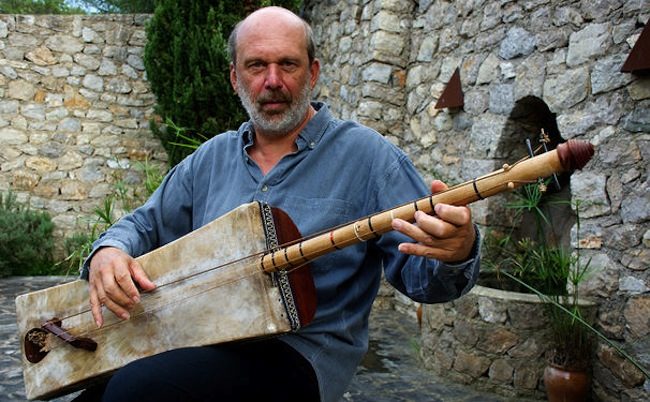 As you can perhaps sense, Micus's big shortcoming is his Germanic sense of humor (you have to look for the jokes with a microscope). His standard musical emotional arc suggests a meditation session; there are flashes of insight along the way and a release at the finish. The persistent complaint is that the process is too "too solemn." Still, while "Laughing at Thunder" may not be a rib-tickler, it has a forthright, sensual interplay in the throbs from five genbri (a Moroccan lute familiar to fans of Gnawa music – Micus slyly uses a supersized version of the regular instrument to give its dry bass more heft). "Sea of Grass" follows, with Micus harmonizing on two tin whistles simultaneously. His ear for tone details and timing shows why "smartly sublime" remains a persistent compliment.
Claims that Micus erases international boundaries and makes one-world music get it backward. You visit his world on his records. At least one trip there is recommended. If not Nomad Songs then perhaps his 1977 debut, Implosions, which presents his concepts at their freshest (one warning: the first track is more than 20 minutes long), or 1997's The Garden of Mirrors, which offers a personal reimagining of the music of specific West African nation, The Gambia. Wherever you land, Stephan Micus's music will be waiting. Although he's been everywhere, he isn't going anywhere.
---
Milo Miles has reviewed world-music and American-roots music for "Fresh Air with Terry Gross" since 1989. He is a former music editor of The Boston Phoenix. Milo is a contributing writer for Rolling Stone magazine, and he also written about music for The Village Voice and The New York Times. His blog about pop culture and more is Miles To Go.