Never entirely translated into English until now, The Bloody Hand stands alongside other autobiographical classics devoted to the First World War.
The Bloody Hand by Blaise Cendrars, translated by Graham macLachlan. Vagamundo, 384 pp.
By John Taylor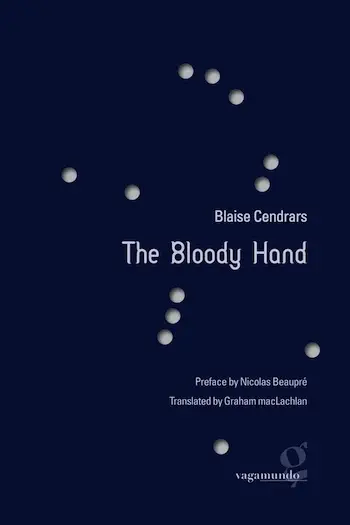 May many readers discover The Bloody Hand, an absorbing First World War memoir written by the Swiss-French modernist poet Blaise Cendrars (1887-1961). Yet Americans will need to make some special efforts to procure it. Graham macLachlan's vivid British translation is published in France by a small press mostly specialized in rendering contemporary Portuguese literature into French, and vice versa. Kudos to Vagamundo! They have produced an exemplary edition with helpful endnotes, color reproductions of infantrymen-artists' "drawings from the trenches," and an enlightening preface by the French historian Nicolas Beaupré. Beaupré underscores the originality of Cendrars' vision of the "shambles" (as the poet puts it) of this war, as run not only by the high-ranking French military command but also, on the field, by the non-commissioned officers and sundry subalterns. The front and back covers of this elegantly printed volume are literally punctured with bullet holes.
Never entirely translated into English until now, The Bloody Hand, which was originally published as La Main coupée (1946), certainly deserves a place alongside other autobiographical classics devoted to the First World War. Erich Maria Remarque's All Quiet on the Western Front (1928), Robert Graves's Goodbye to All That (1929), and Jean Giono's To the Slaughterhouse (1931) all come to mind; and "even," Beaupré adds, Louis-Ferdinand Céline's Journey to the End of Night (1932). Beaupré also pertinently observes that The Bloody Hand "refuses to conform to a genre" and that it "blurs the boundaries between novel, account and diary."
Foreign admirers' of Cendrars' poetry, notably his masterpiece Prose of the Trans-Siberian Railway and of Little Jeanne of France (1913), usually know that he lost his forearm in the war, but they are perhaps less aware that he was also the author of such graphic, truculent, sardonic prose about the horror and absurdities of the fighting. The translator captures this slangy, hardy stylistic vein well and he offers, in his introduction, some insights into his labors, especially as regards retaining "as much 'Frenchness' as reasonably possible without making the translation indigestible." In such a book, he rightfully points out, "there is always a danger of over-anglicizing, using words that are too closely associated with British culture."
Cendrars signed an appeal at the onset of the hostilities with his friend, the Italian writer Ricciotto Canudo, encouraging foreign authors and artists — the poet was Swiss — to volunteer for the French Army. He signed up for the battlefront and found himself in the Foreign Legion. After some training, he fought in the Somme and the Champagne regions. His forearm was amputated after he had been gravely injured at the Second Battle of Champagne on 28 September 1915.
The Bloody Hand focuses on the fall of 1914 and the winter of 1914-15. (Cendrars would surely have dealt with his trauma in another tome.) The Bloody Hand represents the first of five projected volumes on his war experiences. Beginning work on them in late 1944 and early 1945, he managed to draft and publish only this first compelling installment. Moreover, The Bloody Hand complements, in one respect, an earlier autobiographical short story, "J'ai tué" (1918), in which Cendrars relates how he stabbed a German to death. This scene recurs in The Bloody Hand, with the essential variant that the German is already dead when the poet stabs him.
Especially captivating are Cendrars' characterizations of his fellow legionnaires. The narrative is, in fact, mostly arranged as a portrait gallery, as is shown by several chapter titles with ominous subtitles: "Lang (killed at Bus)," "Robert Belessort (died in England) and Ségouãna (killed at Navarin Farm)," "Goy (taken prisoner at La Croix—missing in action)," "Bikoff (blinded in the war, committed suicide)," "Garnéro (killed on Vimy Ridge, buried the same day, and then rediscovered ten years later, alive!)," "Sir Przybyszewski, known as 'Monocolard" (missing in action in Champagne)."
Cendrars is much more interested in rounding out profiles of his comrades and their adventures than he is in linking various events into an overarching plot. Nor does he unduly fictionalize mishaps, tragedies, advances, and retreats that took place thirty years in the past, even though he changes names and concocts colorful nicknames. Beaupré notes, for example, that the poet's account of the long march from Paris to the front, in the specific sector of Rosières and then Frise, "corresponds exactly, leg by leg, to the entries in his company's official war diary."
But chronologically linear, historically accurate storytelling is not so much at stake here as the commemoration of fallen comrades, for whom Cendrars feels affection, or at least a kind of clear-eyed fascination. There are also searing denunciations of the overbearing, incompetent commanding officers. Eye-witnessed scenes are accompanied by mordant criticism of the unthinking orders and misguided overall strategy of headquarters. A nuance in Cendrars's scorn is his fondness for his captain, a man named Jacottet, who is a positive recurrent character in The Bloody Hand. A note informs us that his real name was Bergerot.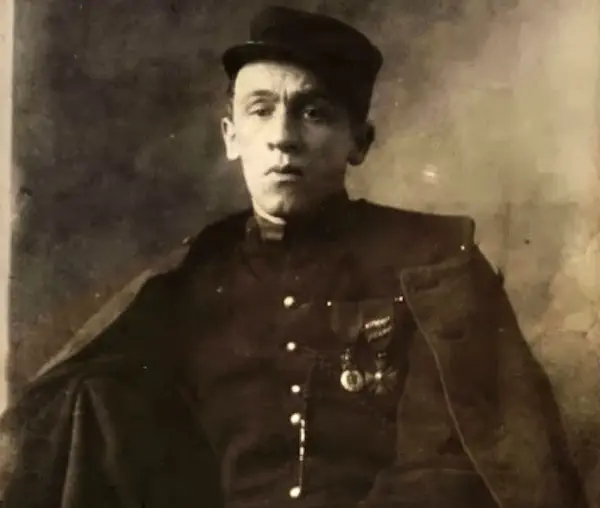 One of the psychologically more complex (and funny) scenes in the book relates how the poet leads, all by himself, a captured German soldier over a long trail toward the rear so that he can be held in custody and interrogated by a French general. As it turns out, Cendrars, who knows German, gives his own, idiosyncratic, translations of the General's questions and engages in a sort of half-sneering, half-sympathetic dialogue with the captive. The poet is both disgusted and vaguely amused by this "Boche" who is clearly lying. Also gripping are scenes in which Cendrars and his sidekicks ignore orders and sneak off by themselves to capture food and weapons from the enemy.
Cendrars thus chronicles the adventures and misadventures, amid the murderous "shambles" of the war, of an essentially average Foreign Legion company. Many foreigners volunteered in order to acquire French citizenship (as Cendrars did in 1916). Inside the watery trenches, the hodgepodge of origins and languages is touching. Some of the men speak no French and the polyglot poet is their interpreter. He even gets by in Russian. An ambience of cunning often reigns. The men's deeds constantly reveal their pride, folly, yearning, daring, and desperation.
Their chances of coming intact out of the fighting are slight. They struggle to survive, crawling forward on their bellies toward that alluring French passport on the horizon. Many are killed or permanently maimed. They also kill and maim. This is why Cendrars never fails to celebrate strokes of good fortune. One instance involves the good luck that befalls Garnéro, alias Chaude-Pisse ("Hot Piss"). He is lying on the battlefield, seemingly dead, and some of his comrades, caught in a crossfire, quickly half-bury him. Yet, incredibly, a mortar shell later falls upon him, rips off his leg, blasts him out of his grave, and he awakes, as it were, from the dead. He survives and suddenly reappears, ten years later, outside of a Montmartre café where the poet is sitting. Not to mention Cendrars's own temporary good luck, which occurs at the very end of the book. Read the following, all the while keeping in mind what would happen to him two months later:
They were issuing leave passes. […]
Captain Jacottet was drawing numbers out of an old hat to make it fair for everybody. […]
"Solider 1529!"
"Sir!"
"Here's your pass."
I stepped forward. Soldier 1529 was me. […] My name was the first to come out of the hat and my pass was good for the fourteenth of July. I would be celebrating Bastille Day in Paris.
---
John Taylor's translations include José-Flore Tappy's Sheds: Collected Poems (Bitter Oleander Press), which is on the long list for the National Translation Award, Georges Perros's Paper Collage (Seagull), and Lorenzo Calogero's An Orchid Shining in the Hand: Selected Poems (Chelsea). His most recent critical essays have been gathered in A Little Tour through European Poetry (Transaction). He lives in France.