"An Annie Baker pause is about the people themselves, beating themselves up, figuring out what to say next."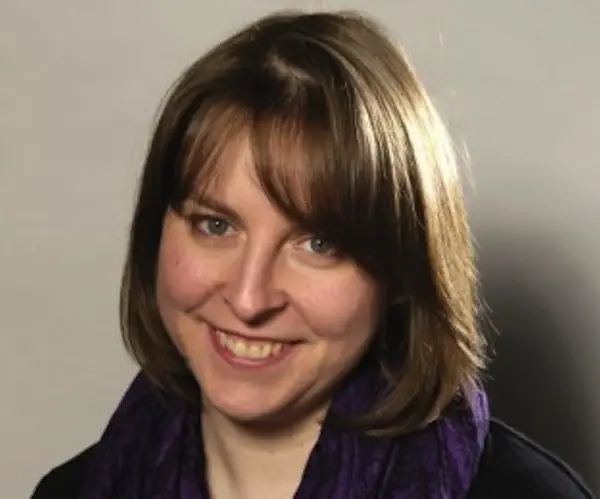 By Tim Jackson
The Flick, Annie Baker's 2014 Pulitzer prize-winning play, is currently running through September 12th at the Gloucester Stage Company. (Arts Fuse review) The play is also receiving an extended second run with the original New York cast at the Barrow Street Theater in Manhattan. (Arts Fuse review) Last year, Company One produced the play in Boston (Arts Fuse review). I saw both the Boston and New York productions. What impressed me in both stagings is that Baker's dialogue requires close attention to nuances of character and the ways we communicate. The play's notable use of pauses and silences has been known to annoy some audience members and to fascinate others. Being in the latter camp, I spoke to the busy director Bridget Kathleen O'Leary, who is also Associate Artistic Director at the New Repertory Theater, about what she learned about Baker's text while mounting a production of The Flick at GSC.
"The play is a master class in scene study and a chance to get deep into character. This what I love doing as a director," O'Leary explains. She sees working with the GSC cast as an opportunity to explore Baker's characters in a fresh way. An actor is called on to probe his or her role through the dramatist's minimalist dialogue. The Flick revolves around three young employees in a movie theater near Worcester, MA. They clean up, talk passionately about movies, and share their dreams and frustrations. One of them, Sam, is played by Nael Nacer, who gave one of the best performances of 2010 as Jasper in a Boston production of Baker's play The Aliens. O'Leary sees Sam as a person "who really cares about his job. Who he is as a person really matters to him." The guy generates plenty of amusement, but O'Leary says that Nacer is the kind of actor who "cannot create caricature. If the character doesn't feel real to him he really pushes back. Any laughter comes from an identification of how real the character is." It's an approach through empathy that distinguishes the other performances in the GSC production; actors Marc Pierre as Avery and Melissa Jesser as Rose also mine the small lives of their inarticulate characters for revelatory moments.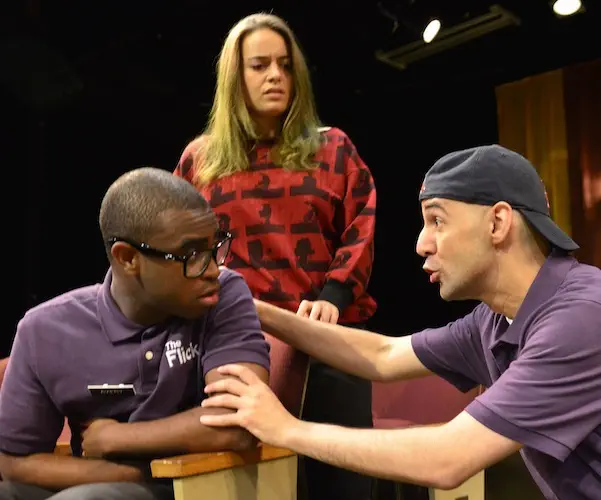 O'Leary sees Baker's naturalism as being distinctively modern: "We talk about naturalism, but Baker really writes it. Some audience members can get frustrated. This is not a plot driven play. It is the evolution of the relationships that move The Flick forward. It takes the time it takes on stage. These are people who haven't quite figured out who they are, or what they want in a way that allows them to communicate quickly. You are watching them navigate their social awkwardness." The slo-mo pacing of such writing should be recognizable to audiences who have dealt with countless forms of mediated social relationships. "The Flick is deeply about how we create friendship," argues O'Leary, "and how fragile those friendships are. You sit and watch all the things that you know that you too have done. The characters reveal themselves in their relationships to other people — they don't know what to say, how to respond, or how to ask the next question."
Baker  has often said that she hopes to write scripts that resonate with younger audiences. The director believes that regional theater audiences, which tend to skew toward the middle-aged and up, have much to gain by remembering that time in their lives when "you didn't know what was next, who you were, or what life had yet to offer — when life didn't have a next step."
Finally, because the playwright is known for working long pauses into her dialogue, I asked O'Leary to describe how she compared the infamous pauses in Harold Pinter's writing to those of Baker: "I think the Pinter pause is about the other person, like a weapon against the other person. A Baker pause is about the people themselves, beating themselves up, figuring out what to say next." In other words, despite the respites, the audience should know that a subtle battle is going on: "Just settle in and know you are being a voyeur in other people's lives."
---
Tim Jackson is an assistant professor at the New England Institute of Art in the Digital Film and Video Department. His music career in Boston began in the 1970s and includes some 20 groups, many recordings, national and international tours, and contributions to film soundtracks. He studied theater and English as an undergraduate and has also has worked helter skelter as an actor and member of SAG and AFTRA since the 1980s. He has directed a trio of documentaries: Chaos and Order: Making American Theater about the American Repertory Theater, and Radical Jesters, which profiles the practices of 11 interventionist artists and agit-prop performance groups. His third documentary, When Things Go Wrong, about the Boston singer/songwriter Robin Lane, with whom he has worked for 30 years, has just been completed. He is a member of the Boston Society of Film Critics. You can read more of his work on his blog.