The final impression left by The Flick is one of exhilaration.
The Flick by Annie Baker. Directed by Sam Gold. A reprise of the Playwrights Horizons production at the Barrow Street Theater, 27 Barrow Street, NY, NY, through January 10, 2016.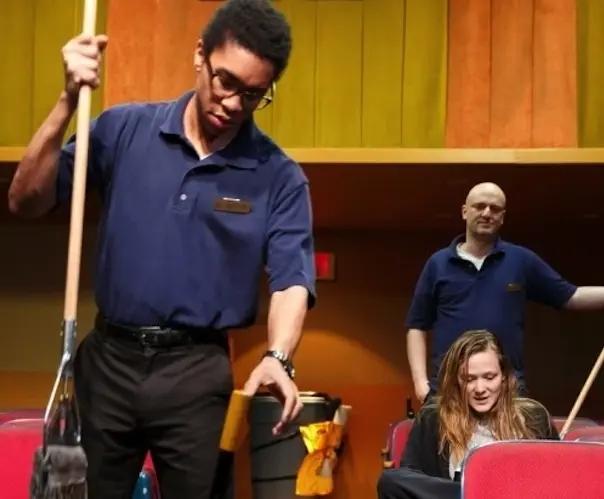 By Paul Dervis
If the theatregoing public is looking for evidence of the next generation of great American playwrights (and that's a big "if") then our own Annie Baker (born in Massachusetts) is surely leading the way. Her first major production, Body Awareness, was staged Off-Broadway in 2008, when she was only 27, and the script went on to be nominated for a Drama Desk Award. Further solidifying her place on the New York stage was her next piece, Circle Mirror Transformation, directed by Sam Gold. It received the prestigious Obie Award for Best New American Play. And how can she top that?
Well, how about a Pulitzer Prize?
And The Flick is well deserving of the honor.
A mere three-and-a-half hours long, with pauses that even Harold Pinter would be ashamed of, the production not only holds up through all the silences, but uses them, at times brilliantly, to do some taut, dramatic, non-verbal heavy lifting. With Gold once again at the helm, the production is remarkably bold in its way — a significant dramatic study of some unremarkable, relatively simple people. The touching failings of these characters, through Baker and Gold's alchemy, demand our empathy.
Set in a dying, single screen movie house deep in a blue collar section of Massachusetts, we are privy to the emotional turmoil of three employees in their most honest and vulnerable moments…in-between screenings and at the end of the night.
And these three inarticulate workers speak volumes with their sheepish stares.
Audiences are by definition voyeurs and we eavesdrop on these three lost souls when they think no one else is around. When not taking tickets or working the concession stand, Sam and Avery clean up the popcorn and spilt drinks in painful solitude. Rose, the projectionist, spends much of her time watching them do their jobs from the booth high above.
Sam, the oldest and most awkward of the trio, is in his thirties. He lives with his mother; rumor has it he once had a girlfriend. He dreams of being a projectionist one day, but he is constantly being passed over for newer and younger employees. Though he resents that Rose got the position, she could make him feel better by going out with him…if only he had the nerve to ask.
Green-haired Rose, who never changes her clothes and covers her massive insecurities with a tough, mouthy facade, dreams of moving beyond bad relationships, lousy jobs, and student loans left over from her fleeting time spent at Fitchburg State.
Into their world walks Avery: a young, painfully shy, bespectacled African American kid who attends a prestigious local college (Clark University) where his father is a professor. He has no friends and comes off as a milk toast to the nth degree. For some reason, this makes Rose hot. And, in a very non-traditional lazed-back way, this attraction generates an age-old romantic conflict among the threesome.
Mix into the plot bittersweet themes about the win-loss complexities of change and technological evolution. The theater is for sale; the potential buyer is a bottom-line obsessed conglomerate. Also, the movie house is no longer going to show films in 35 mm — the screenings will be digital. This is an accepted practice in the business, but a travesty in the eyes of filmophile Avery. Baker has spiced the script's personal conflicts with more than a little Chekhovian contextualization.
The cast, which moved in toto from Playwrights Horizons to the Barrow Street Theatre, is flawless. They play off each other with an ease and familiarity that is rarely seen on stage today. Louisa Krause, who has appeared regionally at the Long Wharf Theatre, Hartford Stage, and Boston's Huntington Theatre Company, among many others, creates a sad, confused Rose that gently guides the audience past her hard shell — we glimpse the character's soft and bruised core. Aaron Clifton Moten, as Avery, is more protective of his character's shyness, allowing us only a few rare views of what simmers beneath the placid surface. Moten recently appeared in the Broadway revival of A Streetcar Names Desire.
But if such a remarkable ensemble can boast a breakout performance, it is Matthew Maher's Sam. He has created a simple man beset by enormously intricate emotions. At times brash, often too loud, and with a somewhat menacing physique, this man/child drips alienated pain on stage. Few actors would be up to the task of catching the varied, subtle mood swings of this working guy, but Maher nails the role. It will be hard to see another actor play this role after I had the great good fortune of experiencing Maher's riveting performance
Director Gold has weaved together the various strands of this epic masterfully. He has worked extensively with Baker and the maturity of their collaboration was evident. To his credit, he takes plenty of risks, testing the patience of the audience, not always cutting to the chase; the nuanced pacing of his staging, the subtlety of the encounters between the characters, even the choice of projecting lights into the audience as if we were on the big screen … they all succeed.
The final impression left by The Flick is one of exhilaration. When the curtain goes down it is crystal clear that we are in the process of seeing what may be a great playwright gathering her forces, developing her artistic powers.
---
Paul Dervis has been teaching drama in Canada at Algonquin College as well as the theatre conservatory Ottawa School of Speech & Drama for the past 15 years. Previously he ran theatre companies in Boston, New York, and Montreal. He has directed over 150 stage productions, receiving two dozen awards for his work. Paul has also directed six films, the most recent being 2011's The Righteous Tithe.