The relationship between a now-single mother and her bright, troubled daughter makes for a convincing, pertinent, and deeply funny play.
Memory House by Kathleen Tolan. Directed by Sheila Siragusa. Chester Theatre Company, Chester, MA through August 9.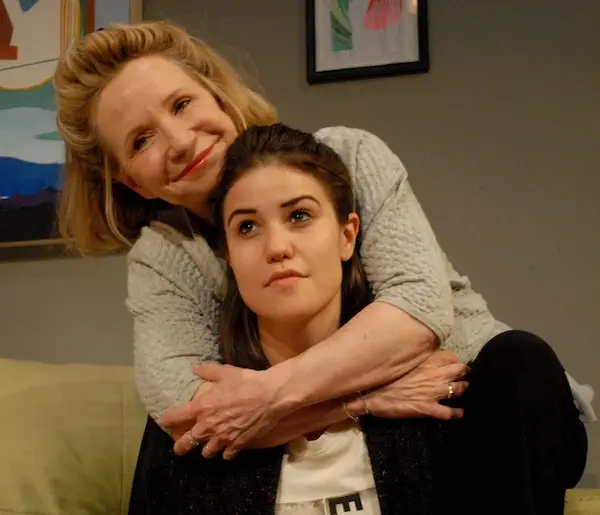 By Helen Epstein
I loved Chester Theatre Company's production of Memory House as much for its performances and direction as for its well-honed script. This two-woman comedy, starring Debra Jo Rupp as Maggie and Caitlyn Griffin as her adopted daughter Katia, takes place in a New York City apartment on New Year's Eve, with the teenager stalling on the essay she must complete for her college application due that night. Maggie, a divorced mother faced not only with a solitary New Year's Eve but a near-hysterical daughter, decides to bake a pie. Those two processes –- baking a pie and completing a college application — structure a play filled with subtexts about leaving home, finding meaning in one's home and homeland, family and work, and the crucible of mother-daughter intimacy and separation.
The idea of making a pie on New Year's Eve is shrewd thinking, both on the part of the playwright and her patient, loving, frustrated protagonist Maggie. A mother baking in her kitchen evokes Betty Crocker of the 1950s, a woman who has forsworn her own ambitions and pleasures to serve her family. Maggie, however, is no Betty Crocker. She's a sophisticated 21st century woman, a former dancer and choreographer who had her own company, who doesn't have much experience in the kitchen — at least, not enough to know to put an apron on over her black pants, or to prop The Joy of Cooking up somewhere in order not to get everything covered in flour.
Her daughter Katia, watching her mother with unconcealed disdain, is not only engaged in the familiar struggle over completing a college application, but is concerned about the questions that the essay is raising. Her divorced parents adopted her as a toddler from Russia; her father (an academic who was recently made chairman of his department) has urged her to write about what she remembers and keeps phoning to make sure she gets the essay sent out. Yet her memories are vague — they upset rather than inspire her.
The relationship between a now-single mother and her bright, troubled daughter are the heart of the play, but anyone who has gone through or witnessed the challenging process of today's college applications process will supply his or her own context, one of the many buzzwords thrown at today's high school students, to the situation. This script (written over a decade ago) by Kathleen Tolan, the direction by Siragusa, and the performances by Rupp and Griffin, make the drama's conflicts, from the ordinary to the outlandish, convincing, pertinent, and deeply funny.
Rupp manages to pull off the tricky role of Maggie, a middle-aged woman and performer who has given up her career and her husband without succumbing to self-pity or to leaning on her only daughter. She loses her temper and falls back on clichés of teenager-management, yet retains her pride and sense of self. Griffin conjures up the obligatory sulkiness and self-dramatization of a gifted adolescent caught between divorcing parents without ever losing her sense of vulnerability and terror about leaving home a second time.
Siragusa has directed the two performers with energy and a deft sense of timing. Her design team has provided a realistic set, the right costumes, music, and lighting. The Chester Theatre space provides the perfect, yes, context for this intimate piece.
---
Helen Epstein is the author of Joe Papp and edited the recent anthology Archivist on a Bicycle, both from Plunkett Lake Press.