The play's made up of bleak and forceful domestic confrontations in which dramatist Suzanne Heathcote at times moves past moments of high tension at high speed.
I Saw My Neighbor on the Train and I Didn't Even Smile by Suzanne Heathcote. Directed by Jackson Gay. Staged by the Berkshire Theatre Group and New Neighborhood at the Unicorn Theatre, Stockbridge, MA, through August 15.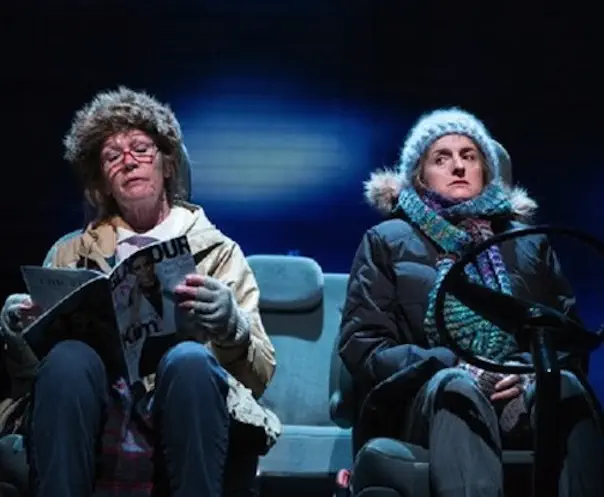 By Kate Abbott
It's a brutal winter afternoon in Chicago, and the windows of the apartments across the road show blank, lighted or dark. Snow is falling, thin and cold. At a cafe table a brother and sister argue over each other in rising voices. Days before his second marriage, his 15-year-old daughter has gotten into trouble and onto a plane to O'Hare. He wants help, and his sister has never been able to say no.
Andrew Rothenberg as Jamie comes across vividly as a man who never takes responsibility, a genius at making every tension — especially the pain he causes — someone else's problem and someone else's fault. Keira Naughton turns up the energy as Rebecca, a dependent, lonely woman seeking approval constantly from the people who steadily undermine her confidence.
They seem caught in a cycle of family tension with their mother, Daphne, who left home when they were young, who insults her daughter and has not spoken to her son in years. Jamie's daughter, Saidie, catapults into their stalled lives as a catalyst, demanding: Will the cycle go on?
The family dynamic revolves around conversations whose pounding jags on ever-rawer nerves. Linda Gehringer as Daphne jabs at her daughter with vicious accuracy; she moves with such skilled, blunt humor against Rebecca's anguish that she makes the audience laugh and then feel ashamed of laughing. And when chance or her grand-daughter or, finally, her daughter confronts her, she looks into the emptiness she has made of her life with a slow, haggard awareness that silences the room.
Rebecca's questioning keen — why are we all going through it on our own? — kicks to the gut.
The darkened stage's spare design, in winter slate and blue and grey, reflects the characters' mood. Projected light and shadow becomes snow skating across a scrim. The story proceeds in a series of short episodes with live piano coming in at the intervals; the scenes change smoothly in shadow while one actor or another draws the eye in the half-light. Naughton can hold the room in her hands even standing still, shivering in her coat as though she is waiting on a subway platform and staring into the tunnel.
The one odd note comes from Ariana Venturi as Sadie. As an MFA from the Yale school of drama, she plays a girl years younger than herself. She has the body language of a teenager, the boneless sprawl on the couch, the chest curved around one knee. She moves fluidly between protective and aggressive and defenseless. But her teenage voice feels at times off-pitch — more an equal than a castoff half-child.
Sadie's parents have pushed her away to make room for new relationships. She is a child screaming for attention — and she is adult enough to shout in ways that can devastate her and her family. Venturi's voice blared and laughed and brazened out confrontations; I missed the harmonic of the frightened girl. I missed the sense of desperation, of skidding without brakes, of saying too much.
The script may have driven her in this direction. Family confrontations, fueled by old grief, grind down relentlessly with a sliding forward momentum here. The playwright has a strong ear for language and pacing. (Heathcote, a British writer and actor living in the U.S., has written for stage and film in both countries, and she has developed I Saw My Neighbor … with New Neighborhood, a theater and television company producing new work with established actors, directors and musicians.) But she places words in Saidie's mouth that are excruciatingly blunt; a teenager would probably have to be goaded into saying them and would twist away as she spoke.
And at times Heathcote moves past moments of high tension at high speed. More than once a conversation pushed until someone might finally do something different, take a risk and find a way out. And then the scene ended.
Saidie brings the action to a head and forces her family to see where they are going. Daphne and Jamie meet onstage for the first time and Daphne faces her son, challenging him to act. And the scene ends. He is given no time to answer. Whether he tries to see Saidie or sits like a stone or shouts or walks out — we don't know. And this is the confrontation the play has built up to, the moment when he is face to face with his mother and his daughter and the consequences of his own actions. It's a pivotal decision, one that could shape the rest of his life. And we don't see him make it.
We can only infer it from the last scene. And here the momentum wavers. Heathcote seems to want so suggest that there has been movement forward. Saidie is back in school. Rebecca has finally said no. She is trying to stand against her mother. She and Saidie have an interest in common.
But look closer and the picture changes. Jamie is still absent. Rebecca is still carrying his load, and her "no" seems to have made no difference. The new step she plans to take is a step she has taken before, and earlier it led to an unhealthy dependence. Her mother is still undercutting her, though she has said she will try to change.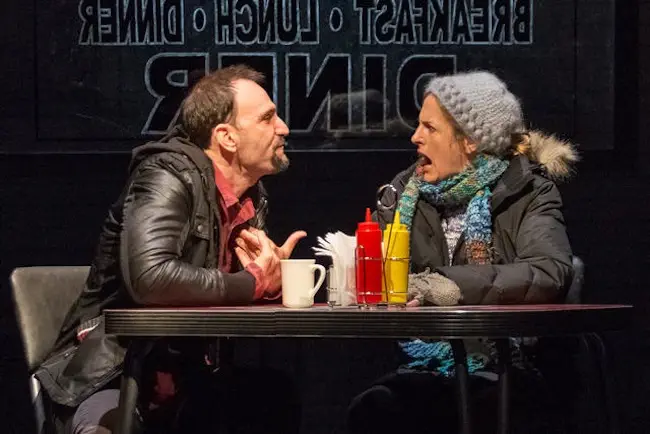 Saidie's parents have both left her. Her math geek friend (Adam Langdon as a convincingly awkward Eric) refuses to admit she has answered questions he couldn't, and he turns an invitation to join the math team into a date for milkshakes. Saidie's angry response, I'll never do that, feels real. And Rebecca now has a burning reason to be furious with Saidie — Saidie has betrayed her — and no one has talked about it.
This is the nub. This is a play about not talking. Not talking has destroyed Daphne's family. If no one talks now, if Jamie walks out as his mother walked out, then the family will crash again. But we do not see that crash.
And yet to show real change, people have act differently. They have to talk. I wanted to hear Jamie show Rebecca his fears and not ask for anything — Rebecca talk about her work and her dreams — Saidie talk about math and show she loves it — Daphne talk about the woman she loved — Jamie and Sadie hear each other. But we do not see any of this, either.
So they can fall back into the grind Heathcote has beautifully and brutally shown. Or they can slog their way out. All signs in the elusive upbeat ending tell me the tunnel is still pitch-dark.
---
Kate Abbott, a writer based in Western Massachusetts, served as editor of Berkshires Week and then Berkshires Week & Shires of Vermont magazine, a year-round weekly arts and coltural publication in the Berkshire Eagle, Bennington Banner, and Manchester Journal newspapers from 2008 to 2015. She holds an M.F.A. in fiction from the University of New Hampshire and has published poetry in journals including the Comstock Review and Entelechy International. She enjoys talking with people, walking in the woods, playing contradance recorder, and writing about all three.