For the better part of two hours at Lynn Auditorium, this version of Deep Purple rocked a sold-out crowd chiefly made up of 50-somethings who long, long ago annoyed their parents by cranking their LPs of Machine Head to 11.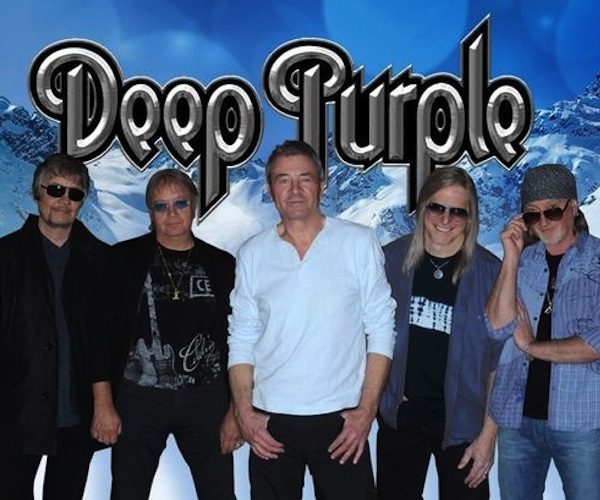 By Jason M. Rubin
When seeing an act that originated in the 1960s or 1970s, one often is disappointed to find that there may only be one or two original members still in the band (or alive, for that matter). Especially in the genre of heavy metal, in which some level of attrition is expected. (Indeed, the metal world has seen more than its share of death and dismemberment over the years.) But, amazingly enough, Deep Purple boasts a very legitimate (and powerful) lineup 47 years after their debut.
Though drummer Ian Paice is technically the only original member still in the band, vocalist Ian Gillan and bassist Roger Glover were part of the group's most classic lineup (from 1969-1973), guitarist Steve Morse (ex-Dixie Dregs) has 21 years of service in the band (longer than original guitarist Ritchie Blackmore's two stints in the band put together), and keyboardist Don Airey (who played for a time in Ritchie Blackmore's Rainbow) was reportedly hand-picked by original keyboardist Jon Lord to be his replacement upon Lord's retirement from Purple in 2002 (he died in 2012 after battling pancreatic cancer).
For the better part of two hours at Lynn Auditorium, this version of Deep Purple rocked a sold-out crowd chiefly made up of 50-somethings who long, long ago annoyed their parents by cranking their LPs of Machine Head to 11. Audience members who once reveled in keg parties were loud, animated, and appreciative of their conquering heroes — warriors who still wave the hard rock banner proudly. Though lighters and pot smoke were notably absent — in the stifling hot Lynn Auditorium water bottles outnumbered plastic cups of beer — it felt very much like 1972 all over again.
Deep Purple's set list was not what one would call deep, however, focusing on four of the five classic albums that featured Gillan, Glover, and Paice (why nothing from 1973's Who Do We Think We Are, which included the hit, "Woman From Tokyo"?), and their most recent album, 2013's NOW What?! Still, the band were tight, aggressive, and adventurous in their playing, with Morse, Paice, and Airey given plenty of space to solo and trade hot licks. Glover saved his bass solo for the encore (and his many jokes about bassists for the after-show backstage visitors).
Opening with "Highway Star" from 1972's Machine Head (from which four tracks were featured, including their biggest hit, "Smoke on the Water"), Purple showed right off the bat the style that distinguished them from peer bands like Led Zeppelin and Black Sabbath. Playing with the speed and virtuosity of bebop, the power and passion of rock, and adding classical motifs without irony, Purple bordered on progressive rock in the grand sweep of their musical vision while avoiding metal's satanic clichés. To be blunt, the lyricism of Deep Purple is ultimately about head-banging and girl-banging — their message is more cathartic than sinister.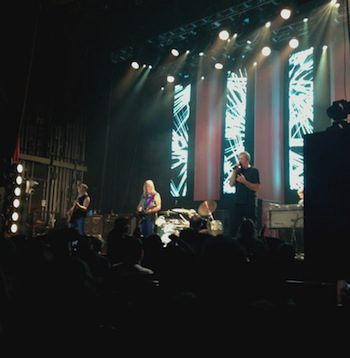 Four tracks from NOW What?! were also played, interspersed throughout the set. These tunes were fairly undistinguishable from the more familiar material, which is to say they were strong and impervious to modern stylistic touches, particularly "Hell to Pay," on which Glover and Morse contributed backing vocals on the chorus. Speaking of vocals, the weak spot in many old bands that still ply their trade is the vocals, for the simple reason that vocal cords wear out, whereas instrumental prowess generally remains intact. Ian Gillan was one of the first and certainly the most impressive of rock's high-pitched wailers and screamers (he originated the title role in Jesus Christ Superstar, which was performed in the film by the screechy Ted Neeley). Given the physical strains he places on his instrument, Gillan's voice was miraculously on point.
There were some breaks in the volume and frenetic energy. Morse's "Contact Lost" from 2003's Bananas was written in response to the Columbia space shuttle disaster and was both lyrical and plaintive. And Airey's solo feature was, in the grand tradition of Lord, Rick Wakeman, and Keith Emerson, many-textured and punctuated with classical quotes and sequenced effects.
But then there was "The Mule" from 1971's Fireball, a drum feature for Paice and his standard thunderous solo, which demonstrated his exceptional technique and mind-numbing speed, along with his showmanship. There's a section of the solo where the lights were cut and he played with drum sticks outfitted with lights on the end.
The set ended with enormous energy. After Airey's solo, the band launched into "Perfect Strangers," the beloved title track of their 1984 comeback album, the first reuniting of the classic lineup in a decade. That was followed by a Machine Head two-fer, "Space Truckin'" and "Smoke on the Water," the latter with audience sing-along and Morse milking that legendary guitar riff for all it was worth.
After a mercifully brief break (let's face it, we're old and can't stand around clapping for 10 minutes when we're all hot and sweaty), the encore set began with a bit of Freddie King's classic blues burner "Going Down," which morphed into "Hush," the Joe South song that was the band's first hit, appearing on their 1968 debut, Shades of Deep Purple. The final number, "Black Night," a single recorded around the time of 1970's Deep Purple in Rock but never released on an album, was introduced by Glover's bass solo, which led into the song's classic party riff.
A Deep Purple concert is an athletic affair for both band and audience, and in the air-conditioning-challenged Lynn Auditorium, it was certainly draining for this audience member. Yet to their credit, Deep Purple look and act physically fit with energy to spare. In fact, Morse and Glover look like gym buddies, perhaps coming to a Sheraton fitness room near you. Their current tour has them crossing the country for the next month, then playing throughout Europe until the end of October.
---
Jason M. Rubin has been a professional writer for 30 years, the last 15 of which has been as senior writer at Libretto, a Boston-based strategic communications agency. An award-winning copywriter, he holds a BA in Journalism from the University of Massachusetts Amherst, maintains a blog called Dove Nested Towers, and for four years served as communications director and board member of AIGA Boston, the local chapter of the national association for graphic arts. His first novel, The Grave & The Gay, based on a 17th-century English folk ballad, was published in September 2012. He regularly contributes feature articles and CD reviews to Progression magazine and for several years wrote for The Jewish Advocate.