The star of The Easy Way Out is its splendidly quick pacing, which gives it more of the feel of an American film than one would expect.
The Easy Way Out (L'Art de la fugue) directed by Brice Cauvin. Playing at the Boston Museum of Fine Arts as part of its French Film Festival on July 23 and 24. A discussion with Stephen McCauley follows July 23 screening.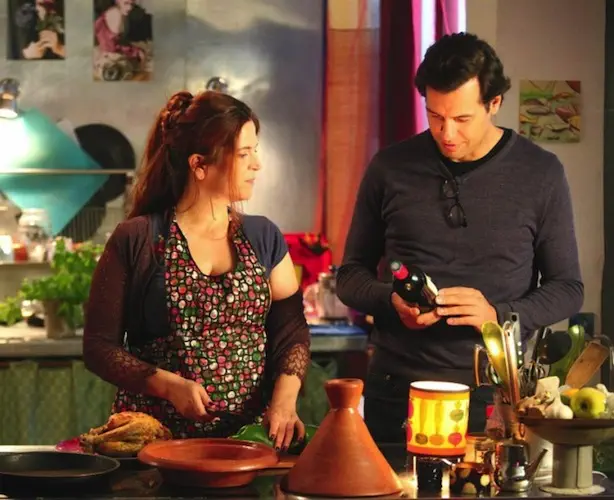 By Paul Dervis
The first time we saw one of Cambridge resident Stephen McCauley's novels made into a film, it was the highly visible The Object of My Affection, with a screenplay by none other than Wendy Wasserstein and starring Jennifer Aniston and Paul Rudd. A romantic comedy with a twist (he's gay, but she falls for him anyway), the small budget movie was a big success.
McCauley's next book-to-film turn was his fourth novel, True Enough. But this time it wasn't Hollywood that chose the vehicle, it was Egyptian-born French film director Sam Karmann. It must have done well in Europe, because McCauley's latest venture once again comes from France, an adaptation of his 1992 novel The Easy Way Out.
A haberdasher and his wife have three adult sons, all of whom are in various stages of relationship disaster. And all of whom are way too swayed by their parents' influence on their lives.
Gerard (Benjamin Biolay), the oldest, is madly in love with his wife. Problem is, she has fallen for another fella. Morose, he moves back into his controlling parents house, and works, pretty badly, in their clothing store. He is miserable and can't find a way out of his funk.
Antoine (Laurent Lefitte), the middle son, is in a gay relationship with a prestigious psychologist and he is pretty unhappy about it. His boyfriend, Adar, is apparently satisfied with the arrangement, even though Antoine sleeps in another room on an air bed, claiming it's about his bad back when its clearly about much, much, more. They are in the process of buying a house together, much to the delight of Antoine's folks (Adar is quite the catch) and to Antoine's chagrin.
The baby of the family, Louis (Nicolas Bedos), is the only son that seems happy…but that is because he is joyfully living a double life. He is engaged to marry Julie, his high school sweetheart, while at the same time blissfully living with a divorcée in Brussels. While Antoine is desperately trying to talk sense into his kid brother, the father is happy for the wedding to go on, arguing that love comes after marriage anyway.
Throw into this mix Antoine's co-worker and best friend Ariel (Agnes Jaoui), who is plain and plump. She claims "I am no fag hag," but clearly she is. But when she meets Gerard, they start up a relationship and that displeases Antoine who fears losing her…sibling rivalry at its worst.
All of these characters have lost their moral compass, so the film could have become depressing, a dark study in mass dissatisfaction, But the narrative's angst is delivered with more humor than pathos, and credit for that should go to director Brice Cauvin, who also co-wrote the screenplay. Cauvin, who has only one other feature film to his credit, keeps the film moving at a lightening fast pace. And his cast, though not particularly exciting, do an effective, workmanlike job.
In fact, the star of this film is its splendidly quick pacing. French films can often (and I'm going to generalize here) be slow-moving, with multiple lingering looks at images elbowing aside the dialogue. Not here. The Easy Way Out cares about words and their snappy delivery, which gives The Easy Way Out more of the feel of an American film than one would expect.
Not that the visuals are not stunning. The Parisian backgrounds are quite an eyeful. If it is a travelogue you want, than Cauvin delivers. Odd angle shots of the Eiffel Tower and the backstreets of this eternally romantic city offset the somewhat moribund lives of the main characters. Though the footage of Brussels is hardly a travel agent's dream.
McCauley's novel is set in Massachusetts, but transfers surprisingly well to a more glamorous setting. Amatory discontent is universal.
---
Paul Dervis has been teaching drama in Canada at Algonquin College as well as the theatre conservatory Ottawa School of Speech & Drama for the past 15 years. Previously he ran theatre companies in Boston, New York, and Montreal. He has directed over 150 stage productions, receiving two dozen awards for his work. Paul has also directed six films, the most recent being 2011's The Righteous Tithe.