The Aga Khan Museum should also be appreciated as a source of inspiration at a time when the civilization that produced its art has become horrifically vulnerable, even teetering on extinction.
Aga Khan Museum is located at 77 Wynford Drive, Toronto, Ontario.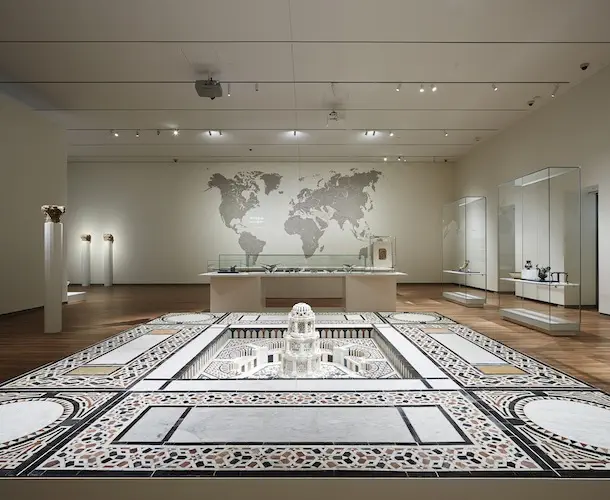 By Robert Israel
In late 2014, the Aga Khan Museum – home to an extensive, private collection showcasing Islamic arts and Muslim culture — opened to the public on a 17-acre site in Toronto, Ontario. From its first day, the museum has been a source of radiance during dark times.
Its Brazilian granite exterior rises above an expansive, welcoming courtyard with pristinely landscaped gardens, reflecting pools, and flowering trees. Though within earshot of the Don Mills superhighway just beyond its perimeters, once you are inside the building the distractions of the outside world vanish. The museum encloses visitors in a relaxing atmosphere of civility, sensuality, and contemplation.
This is by design. The museum's namesake and benefactor, his Highness The Aga Khan Shah Karim, the 49th Imam (part of a dynasty that dates back to the 1800s) acquired the Toronto site in 2007. Soon afterward, he hired Japanese architect Fumihiko Maki to undertake the museum's design. Maki's mandate was to make the building pay homage to the concept of light, "to direct and to diffuse light into the building in ingenious ways," according to the museum's website, which adds that the building should be "positioned 45 degrees to solar north to ensure that all exterior surfaces receive natural light over the course of the day."
Yet the Aga Khan Museum should also be appreciated as a source of inspiration at a time when the civilization that produced its art has become horrifically vulnerable, even teetering on extinction. Escalating ground battles and airstrikes have reduced thousands of acres in the Middle East to a wasteland, as revealed by satellite images acquired by Amnesty International and published in the New York Times.
If this destruction is not tragic enough, just three months ago, in early March, via televised images from Mosul, Iraq, the world looked on in horror as black hooded members of the Islamic State, or ISIS, ransacked museums, toppled ancient statues, and demolished artwork across Syria and Iraq. These artifacts, housed in mosques and other holy structures erected by Muslims and Shiites, were deemed "unpure" by ISIS warriors.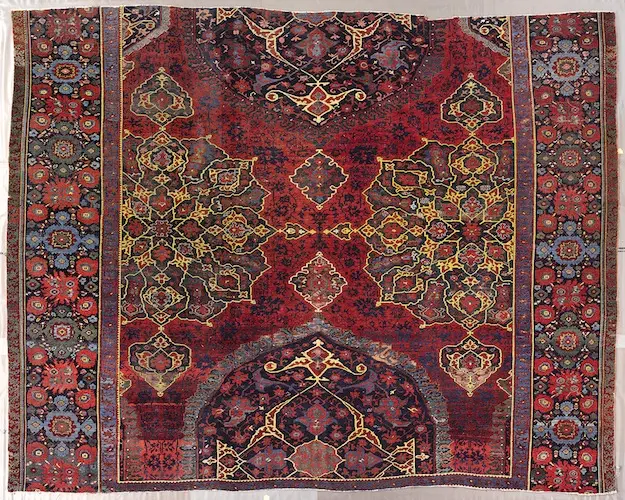 "The destruction is on a scale the world hasn't seen since World War II, and it's accelerating," Boston University archaeologist Michael D. Danti told the Boston Globe. "It's certainly the gravest cultural emergency of our times."
It is also a time when these highly publicized global incidents are inciting isolated outbreaks against Muslim men, women, and children who legally reside in Canada (an estimated one million Muslims live in Canada), according to Canada's National Post.
This is how Shahad Salman, a lawyer and researcher at McGill University in Montreal, Quebec, talked about the issue of violence in a conversation with the National Post: "We've had incidents of Muslims being directly targeted in the streets [in Quebec]. That's where it becomes really dangerous. This year, the Charlie Hebdo shooting and ISIS, and those youth leaving for Syria – I think certainly that's made it even worse. There are so many people who directly relate terrorists to Muslims, especially on social media. What we need, on all levels of government is a clear statement on unity and to stand firm against Islamaphobia."
With these Canadian and global incidents in mind, I asked Linda Milrod, head of collections and exhibitions at the Aga Khan Museum, about how the museum was responding to the state of emergency that exists in the Middle East and the climate of unease that seems to be spreading throughout Canada. Is the museum undertaking rescue missions to save the endangered artwork? Are there outreach programs to better educate the Canadian population? "There is no organized effort per se to rescue endangered artwork at this time," Milrod responded. "But new works are being acquired and commissioned all the time. And the museum is actively involved in programming a full range of arts and outreach programs that draw from Muslim civilizations, past and present."
In recent months, artists from India, Iran, Siberia, China, and Canada have been invited to perform at the museum. The shows include live theatre, films, musical presentations, and lectures.
As I gazed upon on the museum's dazzling collection, which includes calligraphy, ceramics, metalwork, tapestries, paintings, and luxury objects, I noted a common thread among many of the pieces. A number had been created during (and sometimes even depicted) periods of barbarism and widespread conflagration — from Hannibal and Genghis Khan to the British Raj and beyond — that have afflicted the Middle East, Europe, and South Asia. Indeed, over time many museums have acquired masterworks by taking advantage of political chaos; only in recent history, thanks to persistent reparation efforts, have several of these art works been returned to their rightful heirs or, in a few instances, to their homelands.
Yet sometimes these lustrous art objects were not stolen, but had been obtained, at considerable expense, during historic journeys made along the Silk Road and other trade routes. A current exhibit at the Aga Khan (through October 18) displays objects on loan from the Metropolitan Museum of Art in New York and other collections titled, "A Thirst for Riches: Carpets from the East in Paintings from the West." One gazes upon sumptuous paintings from mid-17th-century Holland that spotlight Eastern carpets in luxurious settings. The depiction of these embroidered rugs symbolized their owners' wealth and status as well as their penchant for vanity. One painting shows opulence in overabundance; a mirror on a rear wall reflects the shadow of a servant holding a tray upon which rests items she will serve to her masters. The artist encourages us to gaze at the room and gawk with wonderment and envy at the lavish lifestyle, because these handsome folks have truly arrived, while we, alas, are mere slack-jawed interlopers.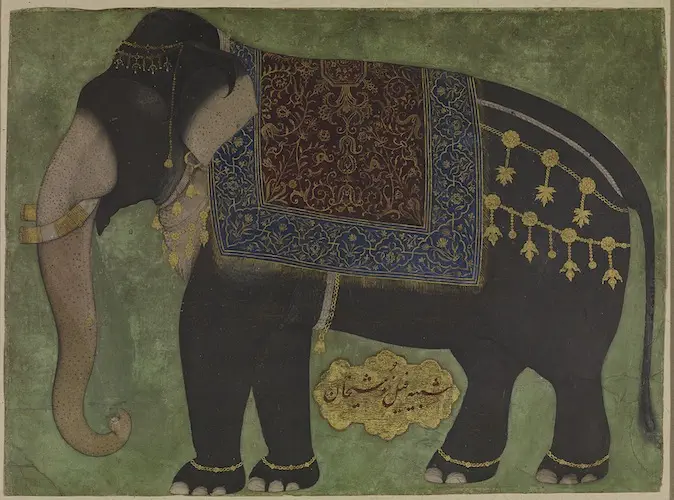 A concurrent exhibit, "Visions of Mughal India," depicts images of elephants, massive pachyderms parading through densely populated villages or, adorned in military regalia, engaging in battle. It brought back memories of my own elephant obsession. There was the time when, as a boy, I badgered my father about a preposterous notion — letting me adopt a baby elephant. He finally gave me a perfumed sandalwood elephant miniature purchased for a single rupee at a shouk in Delhi. Seeing the elephant tapestry brought me back to my youth; the images evoked the majestic qualities of the animal, suggesting why they are revered so deeply throughout South Asia. Howard Hodgkin's abstractions are hung nearby, pictures painted with wide brushstrokes, displaying the brilliant colors one sees in India — ochre and sienna and ruby red.
There are dozens of similar objects that transport a visitor to another time and generate myriad sensations. There are objects that contain lines written in ancient Persian attributed to the poet Rumi from the 13th century; the lines are etched onto parchment, or brass. Nearby, one can view holy verse written on the delicate contours of a scallop shell. There is an ivory horn called the Oliphant, carved between the 11th or 12th century in Italy, that depicts a hunting scene: it is crowned with bands of English silver. There are original editions of the Qur'an that date from ancient times, when scribes used a single quill to express, in words, their devotion to their deity.
At closing time I made my way to the ground floor cafeteria adjacent to an outdoor courtyard that was drenched in light and mist. I drank a confection saturated in rose water. Here was a place where it seemed appropriate to forget the intractable conflicts of our troubled world, to reflect on how one's spirit, grown weary from struggles personal and political, eagerly longs for an experience of peace. At the Aga Khan Museum — soothed by exceptional images, sounds, and words — tranquility becomes a permissible possibility.
---
Robert Israel writes about theater, travel and the arts, and is a member of Independent Reviewers of New England (IRNE). He can be reached at risrael_97@yahoo.com