A round-up of films seen and people talked to at this year's Provincetown International Film Festival — a moveable feast.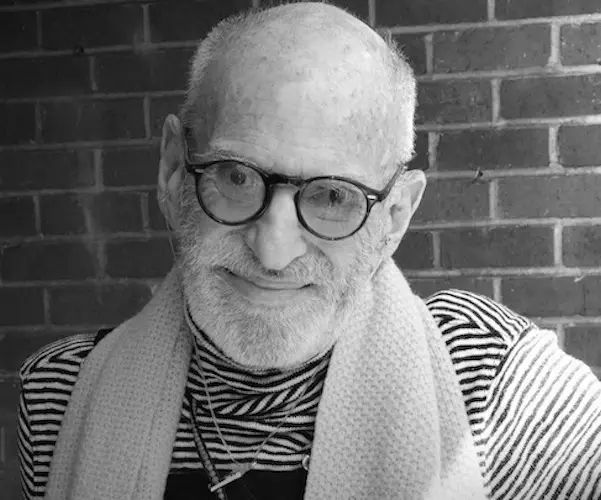 By Gerald Peary
I saw the best superhero movie of 2015 at last week's 17th Provincetown International Film Festival. It's the stirring, explosive HBO documentary, Larry Kramer in Love and Anger, about the novelist, playwright, and gay activist who almost singlehandedly got the US government under Ronald Reagan to recognize that AIDS was a plague ravishing the nation, and that major medical funding was needed to stop its spread. Yes, Larry Kramer, superhero, who publicly accused the mayor of the real-life Gotham City, the nefarious Ed Koch, of hiding his head about the AIDS epidemic because hizzoner feared being outed.
Nearly dead on the operating table from a liver transplant, the HIV-positive Kramer has willed himself back to an approximation of health. Though stooped and hobbled, he was there in Provincetown for a book signing of his brand new novel, The American People. This starstruck film critic got him to autograph my coveted first edition of Faggots, his volatile 1978 novel. I got the additional signature of "David Webster, AKA Dinkey Adams," Kramer's designer and architect husband, who was conveniently standing by.
Happy birthday, Larry! 80 years old on June 25.
If Kramer had alienated many in the past by his overbearing righteousness and anger, and by his condemnation of gay promiscuity as dehumanizing, all seems forgiven. Kramer now is an elder statesman, a gay patriarch with an astonishing resumé of past accomplishments. He started the Gay Men's Health Crisis and also ACT UP, the legendary organization of in-your-face activism. He authored one of America's best plays about gay history, The Normal Heart. Understandably, there was great appreciation from the overwhelmingly gay and lesbian P-Town audience for Larry Kramer in Love and Anger. But after a screening of the James Franco-starring I Am Michael, which had premiered this year at Sundance, there was only a trickle of applause and noticeable silence.
Perhaps some people hated the film, and were insulted that screen time was devoted to a based-on-fact protagonist, Michael Glatz, who turned his back on his gay identity, declared himself as straight, married a woman, and became a Christian minister. I think most in the audience were puzzled by the movie, didn't know exactly what to think. To me, that's a good thing, that one's liberal consciousness was challenged a bit, in an unsettling way, and aided by one of Franco's most subtle, heartfelt performances. In fact, I wish that I Am Michael was a bit more ambiguous at the very end, where the pro-gay sentiments of the filmmakers reveal themselves too unequivocally.
What famous woman bedded down two famously homosexual men, both Paul Bowles and John Cage? The proudly promiscuous star of the documentary, Peggy Guggenheim-Art Addict, about the brilliant art dealer who put high modernist art on the map with her patronage of Surrealism and then Abstract Expressionism. Between lovers. She wrongly married and divorced Max Ernst, a narcissist and obsessive adulterer. She discovered and championed Jackson Pollock, and had a one-afternoon romp with him when Lee Krasner was away. This film directed by Lisa Immordino Vreeland is overlong and a bit conventional in its storytelling. That's too bad, because Guggenheim was delightfully unconventional, and someone who never held back on what to say. Her boldness is everywhere on some tapes recently discovered of an interview granted before her 1979 death, and which becomes the basis of the film's audio track.There, she spoke frankly and amusingly about her raunchy love affairs, using the "F" word when applicable.
Provincetown: A Moveable Feast. My wife Amy and I had breakfast with Andre Gregory, who lectured me how, giving up sugar, bread, alcohol, and other goodies, I could lose tons of weight as he did recently with an 800 calories-a-day diet. Over a fast lunch at a party, John Waters revealed how he knew he was gay at 8 salivating over thin, sultry Elvis wiggling away on the TV screen. "And people who choose to be gay?" asked Waters. "Well, that's all right too!" Finally, Amy and I had dinner with my old friends, Shari Springer Berman and Robert Pulcini, the married director duo behind American Splendor and other fine films.
Berman and Pulcini had come to show their new feature, Ten Thousand Saints, also a Sundance premiere. Happily, I liked this tender, engrossing story which, set in the 1980s, shifts again and again from a small town in Vermont to the East Village New York of CBGBs and the Tompkins Square Park Riot. It's about teenagers becoming adult, and divorced parents acting like teenagers, and everyone somehow coming together in a loose semblance of family. Something like 2015. Ethan Hawke as a dope-growing, irresponsible dad heads a stellar ensemble cast of talented youngsters: Hailee Steinfeld, Asa Butterfield, Avan Jogia, Emile Hirsch.
And what was Provincetown's number one dud? Easily, Noah Baumbach's Mistress America, a dreadful attempt at speeded-up screwball comedy, stylized in a Whit Stillman way but without a modicum of Whit's wit. Boy, was this movie not funny! Remember the wonderful Baumbach of The Squid and the Whale and Greenberg? Recall that he left his wife, Jennifer Jason Leigh, and ran off with Greenberg co-star, Greta Gerwig. And since, Gerwig, a most minor talent, has been Noah's muse. He's obviously crazy about her, allowing her to hog the screen in the mildly cute Frances Ha, and to hog it even more in Mistress America. Gerwig, playing a flighty, impulsive, phony phony New Yorker a la Holly Golightly, is unbearably self-loving on screen. Did I mention that she co-wrote the screenplay? Yes, an homage to herself!
---
Gerald Peary is a professor at Suffolk University, Boston, curator of the Boston University Cinematheque, and the general editor of the "Conversations with Filmmakers" series from the University Press of Mississippi. A critic for the late Boston Phoenix, he is the author of 9 books on cinema, writer-director of the documentaries For the Love of Movies: the Story of American Film Criticism and Archie's Betty, and a featured actor in the 2013 independent narrative Computer Chess