Poet Klaus Merz wields his deceptively simple diction in order to pry open our hidden secrets: what we leave unsaid, what we neglect, avoid.
Out of the Dust, by Klaus Merz, translated from the German by Marc Vincenz. Spuyten Duyvil, 79 pp., $15.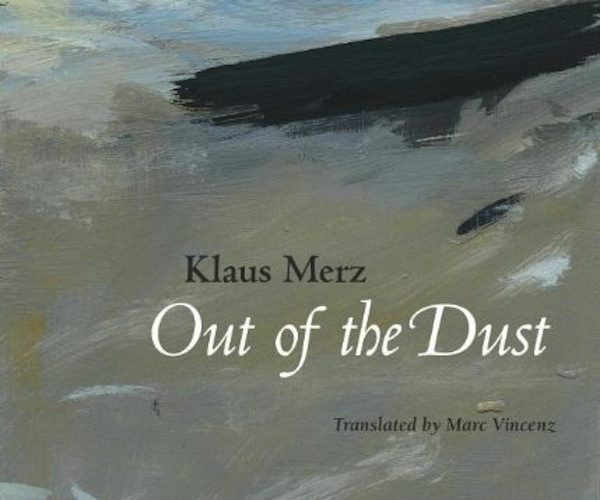 By John Taylor
"There are sentences / which heal." These two opening lines of a love poem entitled "Light" indicate one of the directions taken by the Swiss-German poet and prose writer Klaus Merz (b. 1945): he sees writing as a way of approaching others and the world, of reconciling oneself with being, of re-immersing oneself in daily life. This poem is included in one of Merz's important recent collections, Aus dem Staub (2010), which has now been given a sensitive and accurate translation by Marc Vincenz.
A major literary figure in his native Switzerland, where his prose narrative Jakob schläft (Jakob Sleeps, 1997) is considered a modern classic, Merz writes short verse that appears simple on the surface. But closer inspection reveals that what seem to be bald statements in his poetry are actually provisional understatements. Although his verse might initially seem naïve, it probes ever more deeply into essential issues and questions. Here is a particularly subtle poem, "Preparatory She-Night," that also evokes "scars" and thus healing or, perhaps, the ultimate impossibility of healing:
Sometimes before day arrives,
my life becomes accessible
deep down
into childhood.
Scars glimmer on
a verse: I cool them down
with rain, with snow.
Future remains fleeting,
only the dead are close
and the future loses
its consequence.
Some poems are about getting along with one's fellow human beings, who might well include a mistrusted neighbor who suddenly "raises his hand / to open you up / with caresses." Interestingly enough, such images, though they approach sentimentality, do not make us snigger; instead, they encourage us to think more sincerely about possibilities — given that so much seems impossible when it comes to human interactions. Such is the paradox of Merz's deft use of irony. The irony shifts the reader into a more authentic vantage point. Yet that vantage point is by no means without its awareness of mankind's incurable potential for cruelty. "We sharpened our / glances," the poet writes in a three-liner, "Until the whole area / was full of knives."
Several pieces use a tongue-in-cheek humor that is somehow both factual and abstract. A case in point is "Three Short Stories," a brusque piece that simply lists three words—story titles—in italics: "Windrose. Harelever. / Signalbell." Merz then concludes wryly: "Resistance / to detail / still grows." What, in fact, are the true details in our own stories? What are the things to which we are attached, without really knowing so, or from which we unconsciously feel estranged? Even when Merz notes, elsewhere, that he is recording a "nail-biting event" with "cold fingers," nothing cold truly permeates the funny, sometimes absurdist touches in his poetry. At times, his odd juxtapositions make the reader wonder just how he or she is supposed to react. With a chuckle? With a shudder? Or both at once? "Big Night" notably begins with "your heart- / beat on my ear" near the sea, but finishes in Karakorum where
Genghis Khan has set
his horde in motion
again. Bring me pictures
of Mars, he orders his
retinue, go forth.
Ögedei!

Above all, Merz wields his deceptively simple diction to pry open our hidden secrets: what we leave unsaid, what we neglect, avoid. As a tool, his poetics seem soft, but they are sharp. He restores the "old questions," as one of his poems is in fact titled:
Can life
Can love
the beating of a heart
the flowing of blood
the fermentation of dough
snow falling
be learned?
There is an obviousness about such lines that makes us realize that we have forgotten how to speak genuinely like this, how to ask such fundamental questions. Here is a poet who brings us back home, then leaves us in a meditative mood that is rarely comforting:
Towards midnight a yodeling
moped driver zips
past my window
with his visor open, as if
he were going off to a happy war.
Why then, a little later,
does the noise
of my burning cigarette paper
terrify me?
---
The opening essay in John Taylor's collection A Little Tour through European Poetry (Transaction) is on Klaus Merz's oeuvre. Taylor has recently translated Philippe Jaccottet's The Pilgrim's Bowl (Giogrio Morandi) and Georges Perros's Paper Collage—both published by Seagull. His personal books include If Night is Falling (Bitter Oleander Press) and The Apocalypse Tapestries (Xenos Books).