An amiable musical revue about two guys who kick up their heels after global warming finally boils over.
The Last Two People on Earth: An Apocalyptic Vaudeville, conceived by Paul Ford, Taylor Mac, Mandy Patinkin, and Susan Stroman. Staged by the American Repertory Theater at the Loeb Drama Center, Cambridge, MA, through May 31.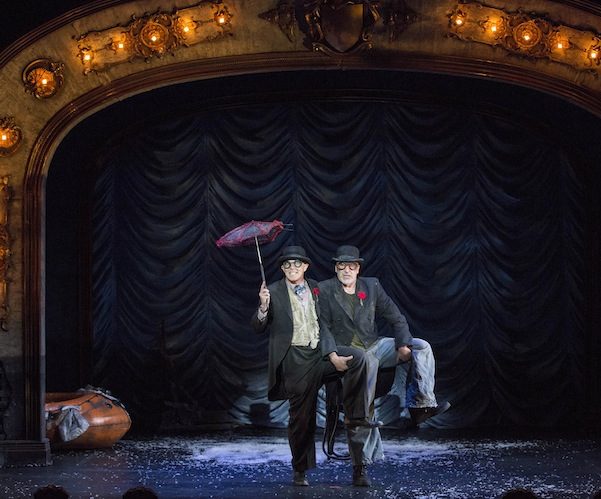 By Bill Marx
Nero fiddled while Rome burned, but he neglected to leave a boffo show behind. If he had been smart, Nero would have whipped up a musical entertainment that he (and his hot troupe) would have performed for future out-of-town engagements. Director/choreographer Susan Stroman, Mandy Patinkin, Taylor Mac, and music director Paul Ford aren't leaving anything to chance with The Last Two People on Earth: An Apocalyptic Vaudeville, their amiable musical revue about two guys who kick up their heels and sing after global warming boils over. The world may be waterlogged, but don't worry, these are not angst-ridden, Beckett-inspired tramps warbling atonal ditties. There are no downers allowed in this genial, white bread version of catastrophe — baggy pants humor and tunes old and (relatively) new provide pleasant diversion while the planet gurgles and drowns. We're going to leave the performance feeling just fine about extinction.
[Perhaps as a (guilty?) reaction to the A.R.T's repeated doses of musical sentimentality, there seems to be a catastrophic bent to the theater's line-up. There will be a version of 1984 next season, though George Orwell's dystopia will not come in the form of a musical, and that is a bitter disappointment: "A Boot in Your Face for the Rest of Your Life" would be a killer dance number.]
The end-of-the-world serves as a somewhat amusing (if a touch exploitative) backdrop to the comic antics that knit together the evening's tunes, which are favorites of Patinkin and Mac. The latter sails via a rubber boat onto a dilapidated stage, pulls Patinkin out of an old trunk, and the two sort-of pals don derby hats and clown around with silent film–inspired capers in between songs — there are even canned sound effects. Some of this physical comedy charms, but for me the New Vaudeville (pulling lit candles out of pants, magic tricks, etc.) has become about as moldy as the Old Vaudeville. How does dancing around with an adult-sized plastic female push theatrical boundaries? And how in the world does this slight piece raise "questions about our changing planet and our future," as A.R.T. artistic director/entrepreneur Diane Paulus claims in her program notes. What we have here is a chic theatrical framework that helps Mac and Patinkin present songs they both love — proclamations of relevance is a nervy stretch.
The musical choices are somewhat safe and conservative. Songs bound to please the oldsters by Richard Rodgers, Irving Berlin, Jerry Herman, Cy Coleman, and Tom Waits are well accounted for. Thankfully, there are some curios along the way that add some unpredictable bite and/or askew emotions, such as "Where Did Robinson Crusoe Go with Friday on Saturday Night," "Fear" by Taylor Mac, and "The Pie Song" by Randy Newman. The vocal performances are fine, with Patinkin bounding up and down the register, growling one moment and then floating up into creamy highs the next. Mac is not quite as nimble a singer, but he holds his own while he takes on many of the comedy chores. The vocalizations work best when then they come to us stripped down and direct, as with a moving rendition of Paul Simon's "American Tune." Unfortunately, at times Ford's arrangements sounded like the kind of soft pop/rock renditions that are played at wedding receptions.
Director Stroman keeps the proceedings moving at a crisp pace, though the format of two guys getting on each other's nerves is awfully limited. Why couldn't a woman have survived? Or a person of color? Some cultural/sexual variety would have made the show much less comfortable — there's too much whimper and not enough bang in this apocalyptic entertainment.
---
Bill Marx is the Editor-in-Chief of The Arts Fuse. For over three decades, he has written about arts and culture for print, broadcast, and online. He has regularly reviewed theater for National Public Radio Station WBUR and The Boston Globe. He created and edited WBUR Online Arts, a cultural webzine that in 2004 won an Online Journalism Award for Specialty Journalism. In 2007 he created The Arts Fuse, an online magazine dedicated to covering arts and culture in Boston and throughout New England.