The collaboration with the mortally ill Ed Pincus, Lucia Small explains, came about from a mutual desire to experiment with documentary form.
One Cut/ One Life, directed by Lucia Small and Ed Pincus. At the Coolidge Corner Theatre, Brookline, MA, May 15 through 21.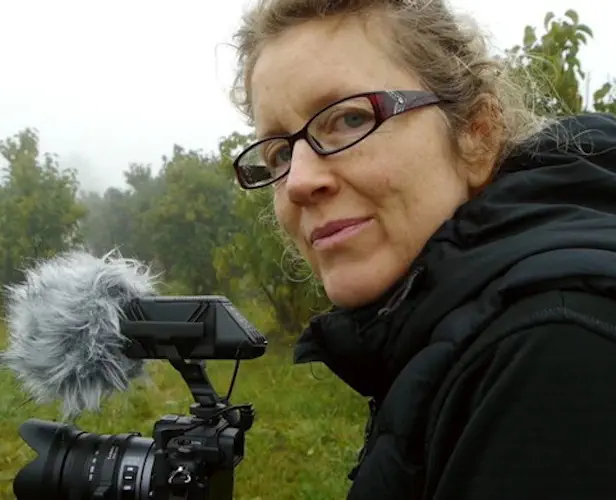 By Tim Jackson
One Cut/One Life is a first-person non-fiction film collaboration between the late Ed Pincus and Boston filmmaker Lucia Small, narrated and developed by both filmmakers. As Pincus reflects on his mortality toward the end of his life, Small struggles to fathom the sudden tragic death of two close friends, significant artists in their own right, and her place in the scheme of things. In order to better understand the complicated relationships among the documentary's subjects and its layering of stories, themes, and images, I spoke with Lucia Small from New York, where the film was being screened in conjunction with panel discussions. At the Coolidge Corner Theatre there will be three post-screening panels.
Ed Pincus helped define the style of the personal documentary, which he preferred to call "first-person non-fiction film." Along with the Maysles brothers, DA Pennebaker, Richard Leacock, and Frederic Wiseman, he was formative in pioneering verite documentary. About Pincus's landmark film Diaries, respected director Ross McElwee has nothing but praise: "one of the most remarkable non-fiction films ever made. From 1971 through 1976, Ed Pincus recorded, on 16mm film, episodes of his life with his wife, Jane Pincus, their two young children, and the several women with whom Ed had love affairs. It's also a portrait of … the post-1960s … unadorned, direct, and honest .. not a sense of voyeurism, but of privileged intimacy."
Lucia Small's 2002 film debut was with My Father, The Genius. It is also a first-person narration, a portrait of her father, the eccentric visionary architect Glen Howard Small, who had requested that his daughter document his work. It also explores the conflicted relationship Small had with her father. It won several top film awards, including Grand Jury Prizes for Best Documentary and Best Editing at the Slamdance Film Festival. The movie was edited by her good friend, Karen Schmeer, one of Boston's finest editors. Schmeer, just shy of her 40th birthday, was struck and killed in 2010 in New York City by a car that was being pursued by the police. The year before this their good friend and former roommate Susan Woolf, a talented artist living in New York, was slain by her boyfriend. Then, in November of 2013, Pincus, who was suffering from Parkinson's disease, died from MDS, a form of leukemia.
Before his death the two filmmakers decided to collaborate. One Cut/One Life is shot by both directors, each filming the other, blending Pincus's attitudes regarding the end of his life with Small's thoughts on how we manage to make sense of what life throws at us. The film leaps back and forth in time, delving into the filmmakers' shared history as the narrative progresses in chapters according to the seasons. The movie is an intimate meditation on love, fate, and mortality, finding optimism and humor in a world filled with randomness and uncertainty. Elegant shots of the natural Vermont countryside, where the Pincus family lives, together with the busy New York Streets, generates a vision of life as both transitory and immutable.
Writing in tribute to Pincus, Small explained the attraction: "Before I met Ed, I was unaware how much his work had indirectly influenced so many of us … I was influenced by the work of Ross McElwee, Robb Moss, Nina Davenport, Steve Ascher, and Jeannie Jordan. So when I met Ed and was exposed to his early work—and not just Diaries — I was pretty floored by the profound impact he had on so many of us . . . He had an incredibly dry sense of humor. He once said to me that all his films are comedies, once you understand what they are about: the human comedy. I think that is also a more subtle influence that he has had on nonfiction work."
The collaboration, she explains, came about from a mutual desire to experiment with documentary form: "With what was going on in both our lives the two views seemed to make sense. I'm interested in the female voice playing up against Ed's voice. At first we didn't know what we were doing: we would go in the studio and ad lib, we'd drive in the car, send ideas back and forth. We co-wrote the narration pretty much. His voice was first because we didn't know how long he had and he was struggling with the Parkinson's as well."
At first, Pincus's wife Jane resisted the idea of "Lucia processing her grief" along with a graphic exploration of her husband's struggle at the end of his life. Small explains: "Jane hasn't seen it [One Cut/ One Life]. It's too hard for her. She thinks it's a love story between Ed and me, but I think it's a much more complicated film than that. It is a story inextricably entwined with Jane's support and ambivalence around filmmaking."
Therein lies another thread that the film courageously follows: the voyeurism inherent in all documentary film. When the distance between filmmaker and subject becomes close, reality is inevitably shaped in intimately unpredictable ways. When the subjects of the film are the filmmakers themselves the dynamic inevitably becomes both thorny and delicate. Small is fascinated by this give-and-take: "The power structure is the issue. The person who holds the camera is the person in control much more than the subject. That is why I asked Jane to film, and I thank her for opening her heart to this."
Working in what Small calls "bursts of creativity," she managed the difficult task of editing an initially four-hour long film down to a seamless 107 minutes. I found One Cut/One Life comforting in its acceptance of life's inevitabilities. So does Small: "I make films in an attempt to match the complexity of life, to frame some of the pain of the world, and the joy, and the beauty. If I can translate that joy, despite all the layers of uneasiness, I think I fulfilled my duties as a filmmaker, as a storyteller, and as an artist."
---
Tim Jackson is an assistant professor at the New England Institute of Art in the Digital Film and Video Department. His music career in Boston began in the 1970s and includes some 20 groups, many recordings, national and international tours, and contributions to film soundtracks. He studied theater and English as an undergraduate and has also has worked helter skelter as an actor and member of SAG and AFTRA since the 1980s. He has directed a trio of documentaries: Chaos and Order: Making American Theater about the American Repertory Theater, and Radical Jesters, which profiles the practices of 11 interventionist artists and agit-prop performance groups. His third documentary, When Things Go Wrong, about the Boston singer/songwriter Robin Lane, with whom he has worked for 30 years, has just been completed. He is a member of the Boston Society of Film Critics. You can read more of his work on his blog.
.