It's not by accident that some of the greatest coming-of-age stories are concerned with deconstructing social stereotypes.
We All Looked Up and We All Looked Up: The Album by Tommy Wallach. Simon & Schuster Books for Young Readers, 384 pages, $17.99.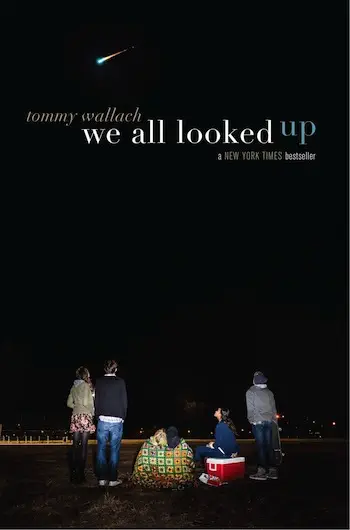 By Matt Hanson
One of the occupational hazards of being an adolescent is that life often feels like it's coming to an end. In Tommy Wallach's We All Looked Up, his debut novel and it's companion album, the perennial complaint of teenagers everywhere is turned into a literal and — surprisingly — empowering reality. An asteroid nicknamed "Ardor" has been spotted, tracked, and is slowly but surely making a slow descent towards a collision with earth, forcing the kids in a Seattle-area high school to face personal truths that shatter the confining roles that have previously been imposed on them from the outside.
The story begins with Peter, the good-looking and popular athlete with a lucrative basketball scholarship lined up ahead of him who's looking for something more meaningful in life than glory on the court. Peter secretly pines for Eliza, the promiscuous amateur photographer who is recovering from the spur-of-the-moment kiss she received from him in the school's darkroom. She is also  grappling with her confusion about her role as an attractive young woman and her growing understanding of the power of a photograph to influence public opinion.
Anita is the overachieving child of status-conscious, domineering parents who are myopically adamant about her attending Princeton. She dreams of becoming a singer, but Anita is a mix of ambition and insecurity: her desire for a life on the safe side drives her to the privacy of her closet, where she can sing her heart out to no one but herself.
Andy is the disaffected slacker who is living for not much more than skateboarding and scoring drugs with his burnout friends. His seeming indifference to the world around him eventually comes into sharper focus when his boyish obsession with losing his virginity gradually sets up a moral choice and the risk of emotional vulnerability.
Wallach is admirably sympathetic; he treats his characters with the respect they deserve but often don't know how to give to each other. Part of the reason why so-called 'teen movies' (such as The Breakfast Club) are still rightfully considered 'classics' is that they treat adult issues of identity and emotional self-reliance with sharp-eyed perception rather than condescension. Wallach is wise to establish his characters initially as standard archetypes and then slowly crumble their smothering carapaces, gradually breaking down the artifice of social conventions in order to show the complex human beings underneath.
It's an excellent idea to pair a novel with an accompanying soundtrack. It fits the milieu Wallach is writing about perfectly. When you're young and looking for ways to define yourself, books and music offer not only an escape from the anxieties of adolescence but also a profound source of inspiration, a lodestar to follow into puzzling territory of adulthood. Matching a collection of songs with a novel is an exciting concept that needs to be explored more often by writers and publishers alike.
Wallach's relatively brief album can stand alone as a well-crafted and engaging song cycle. It's not necessary to have read the novel to enjoy his music, but being familiar with inspiration behind the points of view of the tunes greatly enhances the listening experience. This is an impressively innovative approach: Wallach sings what his characters might say if only they could find the proper words or the melody to articulate their feelings.
We All Looked Up: The Album weaves thematically in and out of its companion novel's various plot twists. The opening track, the piquant "A Natural Disaster" combines the cheeky sexuality of teen lust with the expectation of something more apocalyptically urgent: "This is just another natural disaster/ Won't you kiss me, make my heart beat faster." The songs set a mood of ominousness, as in "Countdown" and "Bad Bad People" that fits the sense of catastrophe that looms throughout the narrative. The lovely "Madeline" closes the album with a hushed, lilting ambiguity. Is it a prelude to destruction or a reverent ode to salvation?
Wallach's vocals are tastefully pitched between  earnest  romantic longing and  a wistful remembrance of things and times past. On occasion, his voice recalls the intimate swoon of Jeff Buckley,  a resemblance highlighted by the album's haunting piano and lush, echoey production. At others, Wallach's voice resembles the theatrical flourishes of a mellower, more introspective Freddie Mercury. The LP proffers a warmth and cinematic vividness that will no doubt inform the production of the movie version. The film rights for We All Looked Up were snapped up before the novel went into publication and it is easy to see why — many of the story's more dramatic moments can easily be imagined on the silver screen.
It's not by accident that some of the greatest coming-of-age stories are concerned with deconstructing social stereotypes. One of the most painful ironies of growing up is that precisely at the moment when a young person is making his or her first tentative steps toward the life-long process of self-discovery, the compulsion to pigeonhole shapes, perhaps even blocks, the process of growth. We All Looked Up, as novel and album, carries on the tradition of smart, socially conscious tales of what growing up is really like and turns the perpetual confusions of adolescence into art.
---
Matt Hanson is a critic for the Arts Fuse living outside Boston. His writing has appeared in The Millions, 3QuarksDaily and Flak Magazine (RIP), where he was a staff writer. He blogs about movies and culture for LoveMoneyClothes. His poetry chapbook was published by Rhinologic Press.